The CC Rentals minivan was filled to capacity with me, Li, Abe, Carrie, Zac, Derek, and Bones. The ride was quick and before I knew it I was 1-4 defeating a mana screwed Scapeshift deck.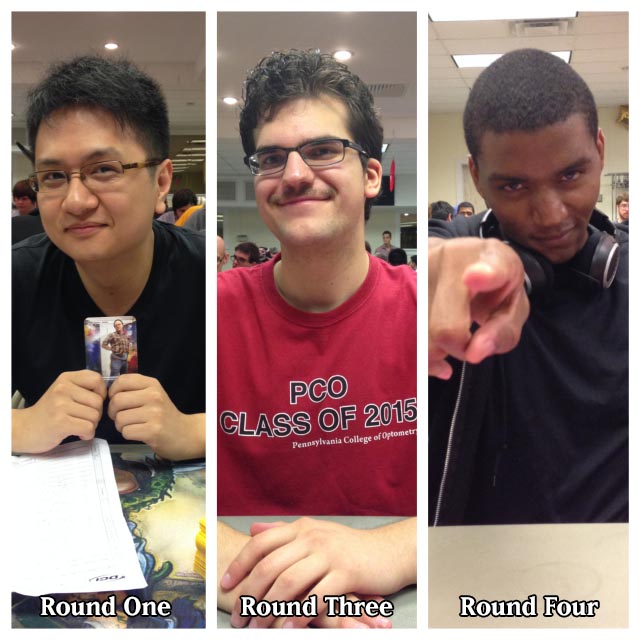 I lost round one to Li in the mirror (my deck is a clone of his and he taught me how to play it. Round two I lost to UWR (Michael didn't want his picture taken). He sided in multiple Wrath of Gods, a card I thought they kept out in our match-up, and I walked right into one. Round three was the aforementioned Scapeshift win. Round four I lost hard to Lowry's Blue Moon. Round five I got slaughtered by Evan's Living End (and missed taking his photo for some reason). All of my matches were fun. I mulliganned more than average (I wonder how many times I talk about mulligans in my articles). Each opponent was fun to play Magic with.
We drove back and ate Korean wings because Li said they are awesome (he's correct, they're awesome). I hungered for more Magic.
Li and Kadar came over to record a Modern Daily event. We ran Twin.
Round one we lost to bad draws against Blue Black Fae.
Rounds two through four we played a weird Grindclock deck, a Mono Green deck, and a Tron deck that mulliganned to four or something game three.
The stream was fun, well-ish attended by our community, and my computer had a really hard time translating the FLV file into MP4 and/or other file formats I can edit. I've posted both conversions below.
Turn your sound off 'cuz our recorded stream is a piece of shit. Really awful noises. If you're interested in four and a half hours of soundless MTG play, this video is for you!
Even worse (or better) is this version of the FLV to MP4 conversion. The colors exploded.
Neither of these videos are particularly useful but gain certain aesthetic value.
Kadar's convinced me to play Junk for the PTQ that happened yesterday. I hope I did well.
His argument is solid.
Here are a couple of screenshots from games I had fun playing.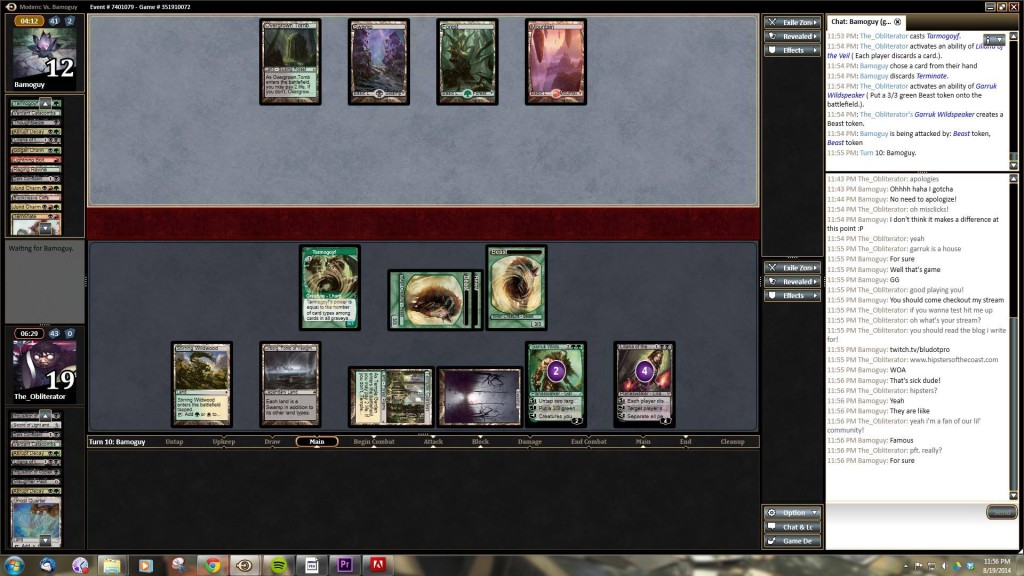 It's hard to beat playing with both Liliana and Garruk. Pretty sure you can open the image file in a new window if you're having troubs seeing how dope the board state is.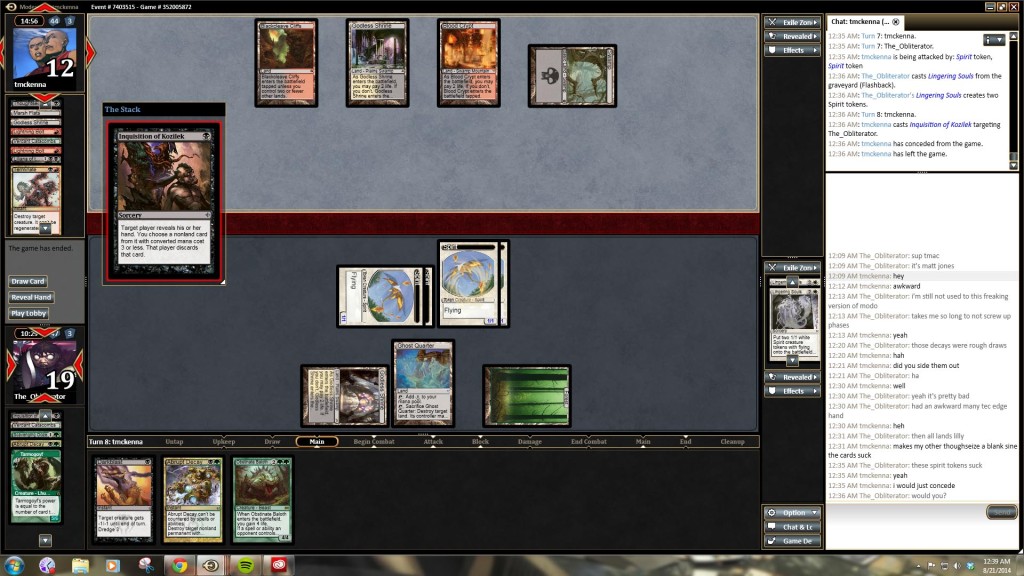 This game I'd mulled to five and totally pulled it out. After whining about how ugly the spirit tokens are, McKenna suggests he'd scoop because of them. He Inquisitioned me and I asked, "Would you?" and upon seeing my hand he scooped.
Here's the list I'd run if the event was this evening (I'm writing this on Friday afternoon, Aug 22nd).
Die_Junk Deck—Modern
And, for good measure, here's a video of Forker taking his turn in a game of HORSE.
Thanks for reading!
Matt
Matt Jones (born 1980, Rochester, New York) is an artist living and working in Brooklyn, NY. Matt works between a variety of inter-related genres that explore mythology, archaeology, ancient history, theoretical physics, comedy, and the paranormal—all developed and inspired by research and personal experience. Together his bodies of work form a way for Matt to evaluate, negotiate, and play with the world around him. You can check out his art at www.mattjonesrules.com.
Matt's played Magic since early 1995, took a break for a decade or so, and came back to the game the weekend after the Scars of Mirrodin release. With Hugh Kramer he formed New York's Team Draft League and is one of the original writers for Hipsters of the Coast. Matt's been sober for seven years.