Welcome to Modern Hero
Where do I even begin? This is a question many Magic players ask themselves when they get ready to play a new format for the first time. Wizards of the Coast has attempted to help you answer this question. They have created the Modern Event Deck. This B/W Tokens mid-range deck costs $75, a reasonable price compared to the hundreds of dollars required to play a deck with Scalding Tarn, Misty Rainforest, Tarmogoyf, or Dark Confidant. But, is it even worth the investment?
That's where Modern Hero comes in. I'm going to buy the Modern Event Deck and put it to the test. Here's what you need to know:
I will be using the actual event deck purchased from my local game store
Every week I will enter a four-round Modern tournament hosted at my LGS for a $10 entry fee
After each tournament I will post a report on the deck's performance that week
The tournament reports will end with a poll for voting on improvements to the deck
A budget of $10/week will be used for making the improvements
Any prizes I win at my LGS will also be used to make improvements
After 8 weeks of testing, I will play the deck at Grand Prix Boston/Worcester
Once all is said and done, post-GP Boston, we will be auctioning off the final deck for charity
The total budget for this project is $275 which includes the $75 event deck, eight weeks of tournament entry ($80), eight weeks of improvements ($80) and the $40 entry fee to Grand Prix Boston/Worcester. You'll get to follow along week-by-week and see the improvements and help direct the changes made to the deck. In the end, we'll have a community-built deck to be proud of.
Last Week on Modern Hero
Last week we wrapped up our final foray into testing the Modern Event Deck at our LGS here in Brooklyn. After all was said and done we posted almost an exact .500 record, winning just over half of all our games and matches. The deck proved to be very well balanced against the rest of the field.
But after eight weeks, what did the rest of you think?
Modern Hero - What Did You Think?
I was on the fence about the deck, but you've convinced me that the deck can be a good entry point into Modern (43%, 406 Votes)
I always had faith that the Modern Event Deck would be playable with some improvements (31%, 289 Votes)
I thought the deck was garbage but you've managed to convince me it is okay, but not great, and I still wouldn't recommend it (13%, 121 Votes)
I was on the fence about the deck, but now I see that the deck is very limited in it's abilities and would not recommend it (6%, 61 Votes)
This deck is, was, and will always be garbage to me (4%, 33 Votes)
I thought the deck was garbage but you've managed to convince me it's actually quite good (3%, 31 Votes)
Total Voters: 941
Loading ...
It's been a great trip and I think we've all learned a lot about the deck along the way. Many of you have either bought the deck personally or recommended it to a friend. A few of you now know that the deck is not for you at all. This is the kind of marketing Wizards ought to have done when they released the deck.
Below are two deck lists. The first is the 75 cards I'll be taking to GP Boston-Worcester. This includes an additional $40 in changes from the final week in order to round out the deck. Here are those additions explained, followed by the list:
March of the Multitudes
Also, because a lot of people were asking for it, here is the deck I would run if I was not confined to any budget:
March of the Multitudes - No Budget
You can head over to eBay and check out our listing now! The bidding began at $0.99 and hopefully it's risen since then. If not, then you should be the first to bid on this deck! You'll get all 75 cards from the original deck including the packaging, the tokens, the spin-down and the sleeves (unopened). Also, you'll get all the cards I've added along the way (including ones that are no longer in the deck like Torpor Orb). You can check the changelist or the listing to see the complete details.
All of the proceeds (minus the eBay fees) will go to Gamers Helping Gamers, a charity that provides scholarships to members of the Magic community. Their board includes several well-known pro players including Jon Finkel, Chris Pikula, and Bob Maher, Jr.
If you have any questions, please don't hesitate to ask. Bidding ends on Sunday, August 3rd a little after 8pm EST. Don't miss out!
Matchup Analysis
Affinity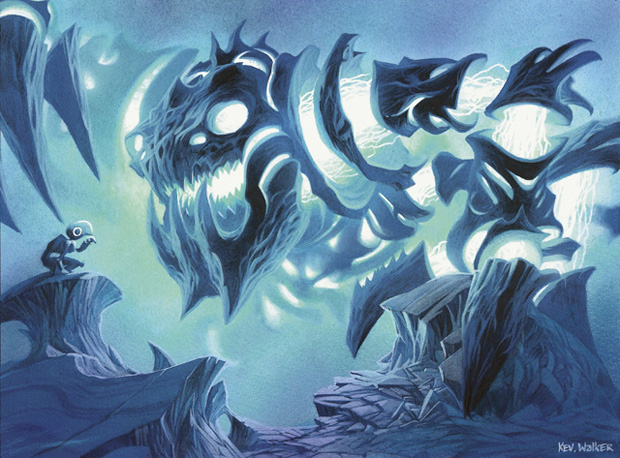 When playing against Affinity we are generally in the control role of the match. Our objective is to make sure that we don't allow our opponent to swing through an egregious amount of damage either from Arcbound Ravager shenanigans, Cranial Plating, or just a large army of robots.
The key cards in game one are going to be Zealous Persecution, Dismember, and Path to Exile. Basically, timely removal spells. You'll also want to be able to chump block their biggest threats while assembling a large enough army to swing back with.
In games two and three you'll have access to a handful of cards that completely shut down the Affinity decks. Stony Silence and Suppression Field will both be significant setbacks to their plan by preventing them from using any of their activated abilities. Sundering Growth replaces Dismember as a much more effective removal spell in this match.
The big finishers, Sorin and Hero of Bladehold, aren't as important against Affinity. They don't have a lot of resistance to an army of flying creatures. Post-board their biggest threat will be Etched Champion. He doesn't have protection from Zealous Persecution. Also we need to avoid over-extending into Whipflare.
Sideboard Strategy
Birthing Pod

Birthing Pod decks come in several different flavors, the most popular of which is Melira Pod. In game one you're often racing against their combo which requires a lot of pieces to assemble. Landing some disruption spells early can go a long way towards securing victory. Well-timed Zealous Persecutions can also swing games in your favor.
Almost the entire sideboard is relevant against Birthing Pod. Duress comes in to replace Inquisition of Kozilek. This is because we want to hit Birthing Pod itself. The small creatures we can mostly deal with anyways. Rest in Peace and Suppression Field will effectively disable their infinite combo. These six cards come in for the six anthem effects, which are not as important in this match. Dismember can come out for Sundering Growth as a way to destroy the engine. Stony Silence also serves this purpose and comes in for Hero of Bladehold and one copy each of Zealous Persecution and Lingering Souls.
If your opponent is not playing Melira pod you need to change things up. If they are on the Archangel of Thune combo then you don't want to bring in Sundering Growth because they'll just win off of Chord of Calling. Also, it's much more important that you have effective blockers in the sky for that match, so instead of taking out all four copies of Intangible Virtue, take out both copies of Sorin and both Tidehollow Scullers.
Sideboard Strategy
Hate Bears

This match can be a bit of a pain. They have Flickerwisp to kill our tokens and Scavenging Ooze to prevent us from flashing back Lingering Souls. Also, Qasali Pridemage can destroy our anthems. That said, most of their cards will be blanks. We're not running Marsh Flats so we don't have to worry about Leonin Arbiter or Aven Mindcensor. We should also be able to block their creatures or use removal spells on them. Hero of Bladehold and/or Sorin should be able to lock up a victory.
We don't have a lot of sideboard against this deck but I would bring in Stony Silence and Sundering Growth to deal with Engineered Explosives, Aether Vial, and possibly Worship. We can take out a few of our anthems here since they'll be the main targets of our opponent's hate spells anyways. We can also cut some Lingering Souls to hedge against our opponent's Scavenging Ooze and/or Rest in Peace.
Sideboard Strategy
Jund

Jund is a pretty decent matchup for the Modern Event Deck. Most of their removal is of the one-for-one variety and their creatures don't have evasion. In game one, use Thoughtseize, Inquisition of Kozilek, and Tidehollow Sculler to disrupt their hand. Zealous Persecution can take care of Dark Confidants and the rest of your removal can handle Tarmogoyf. Liliana of the Veil can be a pain to deal with, but you can often kill her quickly.
Out of the sideboard we'll want to add Duress to bolster our disruption. Rest in Peace can also come in to cripple Tarmogoyf and Scavenging Ooze. Watch out for Chandra, Pyromaster and don't overextend into Anger of the Gods and this should be one of our more favorable match-ups.
Sideboard Strategy
Living End

Game one here is going to be a bit of a coin flip. You'll either have enough disruption to prevent them from getting their combo going or you'll try to race them. It's a very difficult race to win. After game one we get a bit of help from the sideboard. Rest in Peace is obviously the big winner in this match. Another helpful card will be Suppression Field which affects all of their cycling.
Sideboard Strategy
Merfolk

Merfolk can be as brutally aggressive as our own best draws. The key to winning this match is efficient use of removal spells. Zealous Persecution is an absolute beast in this match since Kira can't protect them from it and it blows out Master of Waves. Landing two of these in combat will usually win the game. Hand disruption is also very important in this match. The biggest threats are Spreading Seas and Aether Vial.
Post-board we'll need to address both threats. Stony Silence and Sundering Growth are the direct route. Suppression Field is a solid Plan B which can disrupt Cursecatcher, Spellskite, and Mutavault.
So long as we can prevent them from swinging in with a bunch of islandwalking lords, we can chump block and manage combat efficiently. This match is usually a 50/50.
Sideboard Strategy
Red Deck Wins

I hate this match-up so much that I dedicated two sideboard spots for Kor Firewalker just for Red Deck Wins. This match is often a race, and one that we will struggle to win. Firewalker, which is worth trying to mulligan into, can easily turn the tide. You'll also want those two extra copies of Duress.
This match-up is very difficult to win. In an ideal world we would have four copies of Leyline of Sanctity. I will hope to avoid this match.
Sideboard Strategy
RWU Midrange/Tempo

I have a lot of faith in our ability to win this match. There are only a handful of cards which can cause trouble for us in the long-run. Keranos, God of Storms can be a handful since his effect triggers every turn. Cryptic Command can act as Fog. Wrath of God can cause major headaches. These should be prime disruption targets.
Out of the board we'll need Duress instead of Inquisition of Kozilek (not a lot of creatures to hit anyways) and we'll want to bring in Rest in Peace to shut down Snapcaster Mage. So long as you can deal with the limited number of major threats, they don't have much to deal with our army of tokens in the late game.
Sideboard Strategy
Scapeshift

Ah, another deck to race against. This time at least there's only one card we need to disrupt. The goal will be to get Scapeshift out of our opponent's hand. This can be very tricky due to all of their counter-magic in the form of Remand and Cryptic Command.
This is another time where we'd love to have access to Leyline of Sanctity. Instead, we're just going to hedge our bets and hope for the best.
Sideboard Strategy
Soul Sisters/Martyr of Sands

These two decks function on similar life-gaining premises. They should not be able to win through the kind of disruption packages that the tokens deck is running. They have eight creatures which can attack for damage in the form of Serra Ascendant and Ajani's Pridemate. They're going to gain a lot of life, so make sure to kill these with Path to Exile or chump blocking.
Zealous Persecution once again has a great opportunity to shine. Not much in the sideboard will have any impact. If you see a lot of disruption post-board from your opponent, consider bringing in Duress or another appropriate card. In general though, there's nothing we really need to win this match.
Sideboard Strategy
Splinter Twin

This is the match-up I have the most faith in. In the main deck for game one we have access to Path to Exile, Dismember, and Zealous Persecution. All these cards are effective ways to beat the Twin combo. That doesn't even mention Thoughtseize, Tidehollow Sculler, and Inquisition of Kozilek as ways to disrupt them.
After sideboarding we add Duress, Sundering Growth, and Suppression Field to the mix. If you have the non-budget version then you're using Auriok Champion to negate their combo instead of Sundering Growth. I'm not saying this is a perfect match-up, but if I see enough Splinter Twin on day one I might just make day two.
Sideboard Strategy
+2 Duress
+3 Suppression Field
+2 Sundering Growth
-1 Hero of Bladehold
-2 Honor of the Pure
-2 Intangible Virtue
-2 Sorin, Lord of Innistrad
Storm

Traditionally, hand disruption decks do very well against combo decks. This match-up should be no different. I've only tested against it a little, but being able to use cards like Thoughtseize, Inquisition of Kozilek, and Tidehollow Sculler to keep them off their combo usually results in a quick victory for us. Post board we'll need to worry about bounce spells but in the meantime we'll have the beastly Rest in Peace to deal with any problems, along with the addition of Duress.
I wish I had more to say about this match-up but it really should play out very simply. Obviously you want to make them discard cards that are key to their combo. The biggest threat is Pyromancer Ascension. After that I would be worried about Goblin Electromancer and Past in Flames. Grapeshot probably isn't worth getting out of their hand unless the rest of their hand is draw spells.
Sideboard Strategy
The Rock

This match plays very similarly to the Jund match, but you don't have to worry about cards like Lightning Bolt and Anger of the Gods. Woohoo! What you do have to worry about is some early Tarmogoyf or Scavenging Ooze shenanigans. 'Goyf is a big threat and should be the target of most of our disruption. Thrun and Courser can also be problematic, but they can also be chumped block for a long time. Another card I always worry about is Liliana of the Veil, but with any luck you'll always pitch Lingering Souls or an extra land to her +1.
After sideboarding, the Rock deck has access to a lot of ways to mess with us, but the most worrysome is Drown in Sorrow. Don't over-extend into this card (similar to Anger of the Gods). You'll want to bring in Rest in Peace which completely shuts off 'Goyf and Scooze.  Duress is also worthwhile for the chance to hit Liliana and removal spells. Hero of Bladehold is a bit weak in this match because of all their removal. Also, since you won't likely be able to trade while blocking, anthems aren't very effective. However, Sorin's lifelink creatures could be very helpful.
Sideboard Strategy
Urza 'Tron

This is our toughest match-up by far. Our disruption package can do little to impact any variety of 'Tron deck. While we're not terribly concerned about cards like Wurmcoil Engine or Sundering Titan, we can get wrecked by an early enough Karn or Emrakul. I've survived several Emrakul attacks before, but not for long. Another major threat are the white variants which can use Unburial Rites and Gifts Ungiven to lock us out with Iona or Elesh Norn. My best advice is to just keep the most aggressive hand you can, and hope your opponent takes a bit longer to assemble their Voltron.
Post board I would ideally want to be running four Leyline of Sanctity to shut off cards like Mindslaver, Karn, and Gifts Ungiven. We'll have to settle for Rest in Peace to prevent infinite shenanigans from the graveyard. That's really only helpful against gifts. Against the R/G variants we can bring in some Sundering Growths to deal with their artifact creatures. The goal will be to build a big enough board position quick enough to survive Emrakul.
Sideboard Strategy
+2 Duress
+3 Rest in Peace (vs Gifts/Mindslaver)
+2 Sundering Growth
-1 Hero of Bladehold
-1 Honor of the Pure
-2 Sorin, Lord of Innistrad
-3 Zealous Persecution (vs Gifts/Mindslaver)
UWR Control

Outside of repeated use of Cryptic Command to act as Fog, this should be a winnable match-up. Most of their removal will only be a one-for-one which means our biggest threat (besides CC) is Snapcaster Mage. Make sure you aim your disruption spells at these targets and you should be able to outpace your opponent afterwards. Don't forget that Keranos (if he's in there) dies to Dismember and don't forget about Celestial Colonnade (I do this too often).
Our plan against control is very focused. Prevent any Snapcaster shenanigans and then overwhelm them. They could have Porphyry Nodes and Wrath of God post-board. Don't bring in Sundering Growth until you know for sure they have Porphyry Nodes. Kor Firewalker gives us a creature that can't be touched by burn spells and also gains us a bit of life, but you probably won't need it. I usually take Tidehollow Sculler out of this match because all he does is eats a removal spell, of which your opponent has an infinite number. If you'd rather keep him in, you can take out two Honor of the Pure. Then, if you need to bring in Sundering Growth you should board out Sorin.
Sideboard Strategy
+2 Duress
+3 Rest in Peace
+2 Sundering Growth (if you see Porphyry Nodes)
-2 Honor of the Pure (Sundering Growth)
-2 Tidehollow Sculler
-3 Zealous Persecution
Grand Prix Boston Worcester
I'll be heading up to Worcester early on Friday with some fine folks from Brooklyn including our own Matt Jones. You should be sure to stay tuned to the official @HotCblog twitter account for weekend updates. Be sure to check out tournament reports from both myself (next Friday) and Matt (the Monday after that most likely). Also playing in Worcester will be HotC writers Derek Galen, Tim Akpinar, and Dave McCoy (sorry for anyone I missed).
If you're going to be in Worcester and want to test your deck against the Modern Hero feel free to message me on Twitter @HotCblog to set something up.
Statistics
Money Spent on Deck: $75
Money Spent on Entry Fees: $80
Money Contributed to Improvements: $80
Money Earned from Cards Sold: $6
Tournament Winnings: $41
Money Spent on Improvements: $120.00
Remaining Budget for Improvements: $7.00
Total Expenses: $235
Total Winnings: $41
Cards Sold: $6
Net Expenses: $168
Overall match wins: 19-18-1 (.509)
Overall game wins: 32-31-1 (.500)
Vs. Affinity: 2-0-0 (1.000)/4-1-0 (.800)
Vs. BG Rock: 1-1-0 (.500)/3-2-0 (.600)
Vs. Faeries: 1-0-0 (1.000)/2-0-0 (1.000)
Vs. Jund: 4-1-0 (.800)/9-5-0 (.643)
Vs. Kiki Pod: 0-1-0 (.000)/0-2-0 (.000)
Vs. Melira Pod: 1-2-1 (.333)/5-5-1 (.485)
Vs. Merfolk: 2-2-0 (.500)/6-5-0 (.545)
Vs. Mono-R Burn: 0-2-0 (.000)/1-4-0 (.200)
Vs. Mono-U Tron: 0-3-0 (.000)/1-6-0 (.143)
Vs. UW Control: 1-0-0 (.100)/2-1-0 (.667)
Vs. UW Tron: 0-2-0 (.000)/1-4-0 (.200)
Vs. RUG Twin: 2-1-0 (.667)/4-2-0 (.667)
Vs. RWU Control: 1-2-0 (.333)/4-6-0 (.400)
Vs. Splinter Twin: 2-0-0 (1.000)/4-2-0 (.667)
Vs. Storm Combo: 1-0-0 (1.000)/2-0-0 (1.000)
Change Log
Grand Prix Prep:
Week 8:
-1 Sword of Feast and Famine (MD)
+1 City of Brass (MD)
Week 7:
Week 6:
+1 Godless Shrine (MD)
-1 City of Brass (MD)
Week 5:
+2 Thoughtseize (MD)
+1 City of Brass (MD)
-2 Soul Warden (MD)
-1 Vault of the Archangel
Week 4:
+2 Dismember (MD)
+2 Stony Silence (SB)
-2 City of Brass (MD)
-2 Dismember (SB)
Week 3:
+2 Thoughtseize (MD)
+2 Suppression Field (SB)
-2 Shrine of Loyal Legions (MD)
-1 Duress (SB)
-1 Kataki, War's Wage (SB)
Week 2:
+1 Hero of Bladehold (MD)
-1 Elspeth, Knight-Errant (MD)
Rich Stein is a former amateur Magic player turned Magic journalist. He came very close to making day two of several Grand Prix tournaments before metaphorically hanging up his playmat. He now returns to the table to sling spells in the guise of investigative journalism. You can also check out his weekly news column: What We Learned, which appears on Mondays on this very site.