Lately, I've been feeling tired. I don't know if it's the heat, boredom, or just the nagging disquietude of everyday life, but I find myself in bed right after work most days. I haven't been making plans, doing dishes, or even playing Magic. This is weird for me. Not the dishes part, I never do those. But the feeling of not really wanting to cast spells, especially on a competitive level, is out of character for me.
Since I stopped playing Standard every week for the article, I haven't really kept up with the format. I lost interest in Pack Rats, Master of Waves, and even Sphinx's Revelation. I burned through all my tickets on MTGO failing to fully grasp Vintage Masters as a Limited format, and have been apprehensive about the new client shit show. I have slowly been putting cards aside to build a Yisan EDH deck, but haven't started making cuts or sleeving it up. Mostly, I just half read articles and skip around draft videos. Unless they are LSV videos. I still watch those all the way through.
Anyway, I can't say I was expecting too much from GP Worcester 2014 this past weekend. I was quietly dreading the crowds, the overpriced arena food, and having to pilot a new deck for nine rounds. Yet, it's not everyday there is a GP within an hour's drive of me, and since I had finally finished building the Amulet of Vigor deck I figured that it would be pretty stupid not to go. So I pre-registered online, put some new sleeves on my deck, and hid some granola bars in my bag. I was doing this.
Here is the list for reference:
Amulet
The Tournament
The event was split up in two with half of the players stuck in the convention center and the other half playing in the hockey arena. I was lucky enough to play in the arena which was significantly less crowded and less hot but slightly more surreal than the other room.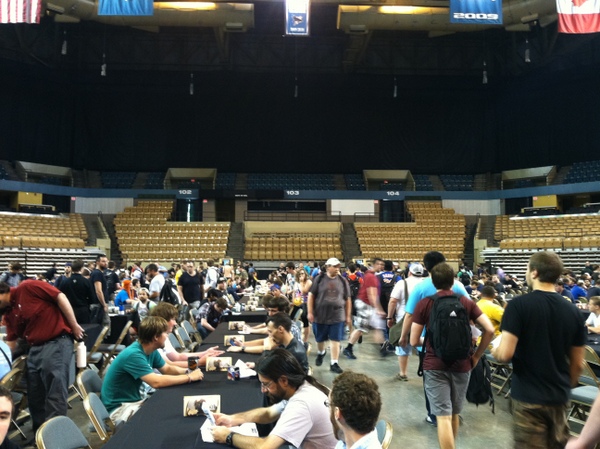 The surreal kicks in because I had spent such a large amount of my childhood in this room. Every weekend me, my dad, and my brother went to see AHL Hockey; our team was called the Worcester Ice Cats, though it's long since been changed to the Sharks. I saw my first real concert without my parents here, which I'm embarrassed to say was Korn and Rob Zombie. I remember buying a Rob Zombie beanie with a pentagram on it and felt like a badass when my teachers made me take it off at school.
Regardless, this was the first event I've ever been to in an arena where there was more people playing on the floor than in the stands watching.
I sat across from my brother for the player meeting.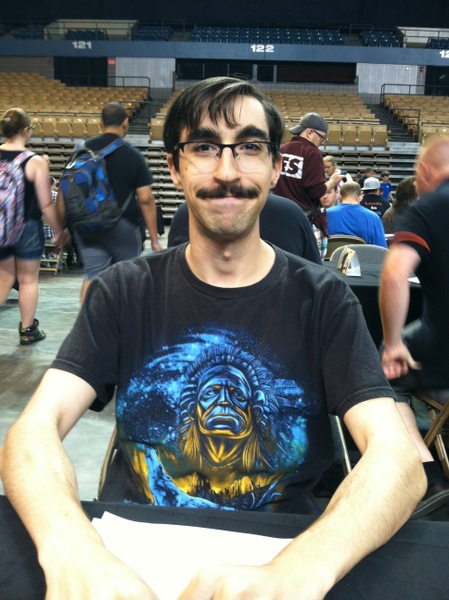 We talked about how every time the Ice Cats won, they handed out coupons for free Wendy's chili. "When the Ice Cats get hot, you get chili."
ROUND ONE—Dwanye with Kiki-Pod (1-2)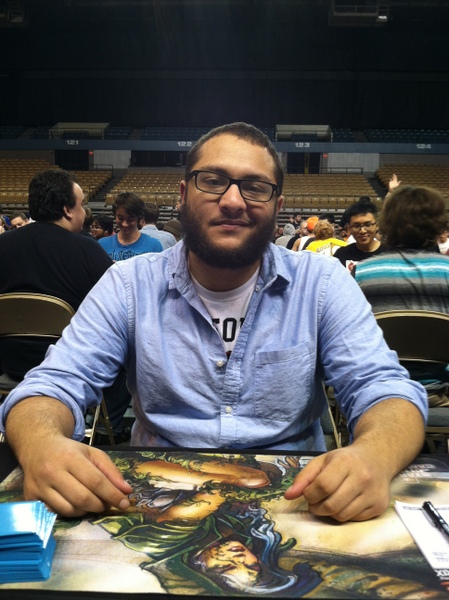 Dwayne was playing a foiled out Kiki Pod deck. Game one, I had a turn three kill off of Hive Mind and Slaughter Pact-ing a Birds of Paradise to cut him off of black mana. Though Dwayne was very friendly and an all around nice guy, I still feel a little vindicated every time I beat someone with a foiled out deck with a deck that is approximately 1/20th the monetary value.
SIDEBOARD:
-3 Azusa, Lost But Seeking
-1 Hive Mind
+1 Pyroclasm
+2 Firespout
+1 Pithing Needle
Azusa is usually the first card to come out when sideboarding. It seems a little weird that a deck built around getting additional land drops wants to cut cards that allow you to have additional land drops, but most of the time Azusa is just a bad Summer Bloom. Cutting Azusa does make the deck a bit less redundant, but allows for more powerful cards in specific matches to be boarded in. Here I brought in Firespout and Pyroclasm to kill off early mana dorks and Pithing Needle to stop Birthing Pod. Though Pyroclasm effects are better against the Melira version of the deck, I think you still need to bring them in here to kill Birds and Hierarch; the Kiki manabase is so bad.
Game two, I kept a slower hand with a turn three titan but he combo'ed off on turn four.
Game three, I mulliganed to four cards: Gemstone Mine, Simic Growth Chamber, Amulet of Vigor, and Primeval Titan. If I drew a Summer Bloom, I could have played a turn two Titan and most likely could have taken the game. I didn't and started the day off at 0-1.

ROUND TWO—Eric with Scapeshift (2-1)
As I sat down for this round, I had a flashback to my last big competitive event, a Star City Open a month ago, where I 0-2 dropped. I get that it happens to everyone, even the best players, but I was determined not to do it here. At this moment, I didn't feel tired, I felt awake, focused, and ready to crush this round. I was feeling the vigor.
Game one, I made a turn three titan. I killed him over the next two turns and made sure to transmute Tolaria West for Pact of Negation, to prevent a possible Cryptic Command bounce on my titan or a Scapeshift win.
SIDEBOARD:
-1 Khalni Garden
+1 Ghost Quarter
There was nothing I really wanted to sideboard here. I figured Ghost Quarter might be able to blow up a Valakut if he played one out early so I brought it in for Khalni Garden. The Amulet combo is faster than theirs and while Scapeshift does have control elements, if we can stick an early Titan it seems very hard for them to win.
Game two, I kept a slower hand capable of making a turn four titan. I didn't have a Tolaria West to get Cavern but I ran out my Titan with Pact of Negation back up. Eric had Counterflux to punish me. He was able to combo out two turns later.
Game three, I started the game with back to back Amulets. On Turn three, I made a Primeval Titan and had enough mana/untaps to give him haste and swing in with a 10/6 with doublestrike.
ROUND THREE—Hugo with Obliterator Pod (2-0)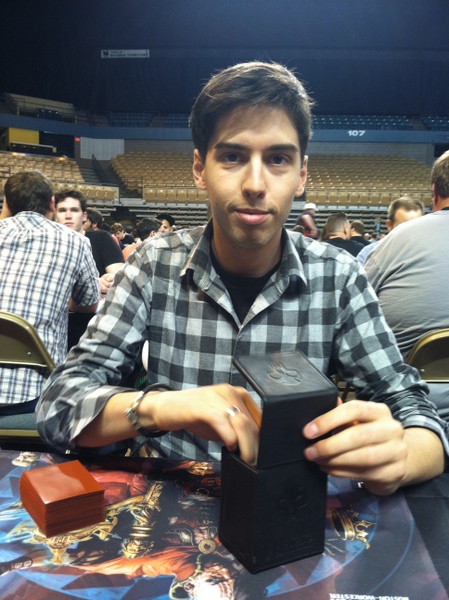 Hugo brought his own brew to the GP, a cross between GB Rock with Phyrexian Obliterators and Melira Pod. Our first game was pretty awkward because he was able to play a Phyexian Obliterator and I couldn't attack with my Primeval Titan. Then when I was able to make another Primeval Titan, he played another Phyrexian Obliterator. I was able to set up the game so that I was attacking with three Primeval Titans and able to give the unblocked one double strike.
SIDEBOARD:
-1 Azusa, Lost But Seeking
+1 Pithing Needle
I had no idea how to sideboard in this match-up. I figured he would have Thoughtseize after boarding and maybe Liliana of the Veil. I opted to bring in Pithing Needle to potentially deal with Liliana or Pod, whichever came first.
Hugo did have a turn one Thoughtseize but I had enough redundancy that I could still make an early titan and start swinging. We had another stalemate when he played a Phyrexian Obliterator but I was able to set up Hive Mind and Pact of Negation my own Azusa for the win.
ROUND FOUR—Greg with Affinity (2-0)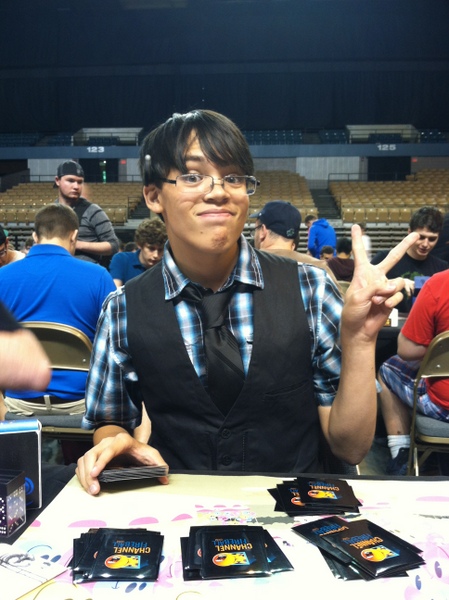 Greg saw my Hipsters of the Coast shirt and asked me if I was the Modern Hero. I told him that Rich wrote Modern Hero and I was the guy who writes Ensnaring Cambridge. He very politely told me that he had never read my articles but that he was excited to be a part of the next one.
Game one had the interesting board state of me attacking with a 6/6 double striking titan and him blocking with a 2/2 Etched Champion. Do you know how much damage goes over? It turns out that it's eight damage because the protection clause causes the Champion to be dealt "lethal" damage both times. This is different from indestructible creatures which only need to be dealt "lethal" damage once. I guess that after 12 years of playing this game I should understand how protection works, but I've always felt like the protection clause was all sorts of inelegant and that the one word, protection, basically constitutes four separate clauses (related to damage, enchantments, blocking, and targeting). I digress, despite not knowing exactly how protection worked in this case, I still won this game.
SIDEBOARD:
+3 Creeping Corrosion
+3 Seal of Primordium
+2 Firespout
+1 Pyroclasm
+1 Ghost Quarter
+2 Chalice of the Void (Only on the play)
-3 Hive Mind
-3 Azusa, Lost But Seeking
-2 Pact of Negation
-1 Ancient Stirrings  (-1 more on the play)
-1 Khalni Garden
-1 Slaughter Pact (Only on the play)
So my guess is that LordCommanderSnow, the MTGO user who came up with this list, played against Affinity a lot online and decided that they didn't ever want to lose to it. With 10-12 sideboard cards, I think this match-up, which was already okay in the first place, becomes very hard to lose. Moving forward, I think it might be okay to trim some of the anti-artifact cards in the sideboard to allow for more ways to combat Blood Moon.
Game two, I had three Amulets of Vigor. I was able to create multiple titans and fetch up a Ghost Quarter when Greg tried to go all in, putting Ravager counters on Inkmoth Nexus. Greg quickly conceded.
ROUND FIVE—Melissa with Affinity (2-1)
I knew Melissa was on Affinity because I had read her excellent primer on the deck on TCGplayer. I definitely liked the Affinity match-up and knew I had an insane board plan against it, but this match was pretty ugly. While I felt that I knew the lines of play in my deck reasonably well, I found myself floundering throughout our games. In game one, I had Slayer's Stronghold and Boros Garrison in my hand and couldn't search them up with my turn three Primeval Titan. Because I ended up durdling, the game was extremely close with Melissa being a turn away from killing me.
SIDEBOARD:
+3 Creeping Corrosion
+3 Seal of Primordium
+2 Firespout
+1 Pyroclasm
+1 Ghost Quarter
+2 Chalice of the Void (Only on the play)
-3 Hive Mind
-3 Azusa, Lost But Seeking
-2 Pact of Negation
-1 Ancient Stirrings  (-1 more on the play)
-1 Khalni Garden
-1 Slaughter Pact (Only on the play)
Game two, Melissa Thoughtseized away a Creeping Corrosion and despite having multiple Firespouts, Etched Champion with a Cranial Plating made short work of me.
Game three, I was able to play an early Titan but still couldn't sequence my plays in a way to end the game quickly. I had a brutal Creeping Corrosion which took out four artifacts on Melissa's side of the board but also took out my Amulet of Vigor which I didn't account for correctly. It took me an additional two turns to close out the game despite being very ahead most of this game.
I felt bad about winning this match. I ended up apologizing for my abysmal game play, though Melissa took the whole thing very well and didn't seem salty about the loss. At the end of the day I realize that Magic is a game of variance as well as good and bad match-ups, but I can't help but feel a little bothered when I punt my way through a match and get a win over an opponent who played well.
ROUND SIX—Chris with Melira Pod (2-1)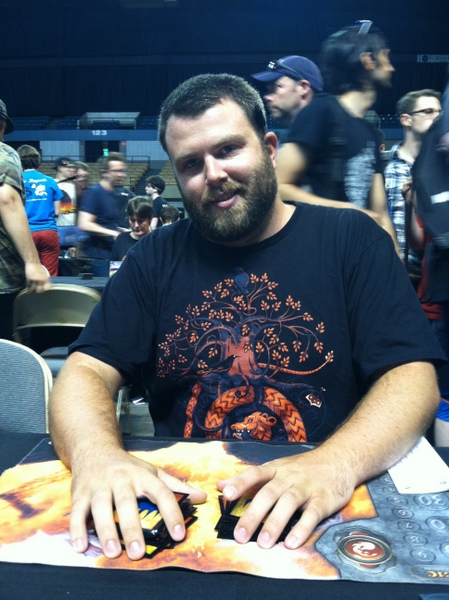 Though every person I played at the GP was friendly and well mannered, I think Chris may have been my favorite opponent of the day. Our games were intense but still felt casual, which is pretty much the ideal for higher level play.
Game one, I played a turn two titan and won the game without too much resistance.
SIDEBOARD:
-3 Azusa, Lost But Seeking
-1 Hive Mind
+1 Pyroclasm
+2 Firespout
+1 Pithing Needle
Game two, I was leaning pretty heavily on a Pithing Needle and a Firespout to buy me time. This just wasn't enough to stop Chris from putting a bunch of junk on the board and killing me before I got the ball rolling.
Game three…well, game three was weird. On turn two, I meant to play a bounce land returning my Gemstone Mine to hand, but instead I just passed without playing a land. As soon as I said "go" I realized that I just F6'ed my turn in real life. Somehow I still managed to win this one off Hive Mind, though even this requires a story. On my turn, I played Hive Mind, Slaughter Pact-ed his creature and then maintained priority to Pact of Negation my own Slaughter Pact. For the record this is not how you should sequence the spells. I should have Slaughter Pact-ed his creature, let his copy resolve and then targeted my initial Slaughter Pact with a Pact of Negation. That way Chris would have to pay 8 mana during his upkeep. The way I sequenced the spells, he was able to Pact of Negation his copy of Slaughter Pact, and only have to pay five mana during his upkeep. Fortunately, I also had the Summoner's Pact to make it nine mana during his upkeep.
ROUND SEVEN—Robert with Melira Pod (1-2)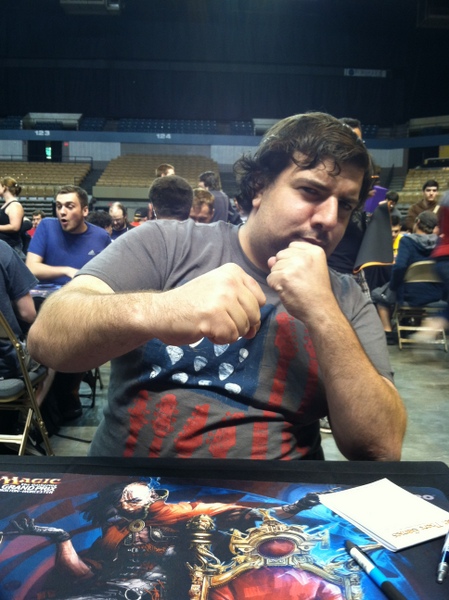 Robert wrote up a Melira Pod primer for the site a while back. Robert's a regular at 20 Sided Store and I'm probably the only person writing for Hipsters who hasn't sat down across from this guy before.
Game one, Robert was pretty far ahead and had the infinite life combo in play. Fortunately, I was able to hit six mana the turn before he had lethal and Hive Mind-ed him out of the game. I fixed the pact mistake I had made in the previous round but was told by a judge watching that I could not stack the spells the way I had intended. Fortunately, he went and found another judge and told me that he had been mistaken, and that I could in fact let his copy resolve then target my initial copy with Pact of Negation. I'm glad I got a second opinion.
SIDEBOARD:
-3 Azusa, Lost But Seeking
-1 Hive Mind
+1 Pyroclasm
+2 Firespout
+1 Pithing Needle
I have no recollection of the second game, which Robert won, but I do remember that I mulled to five during game three and Roberto destroyed all of my lands with Acidic Slime and then Restoration Angel to blink Acidic slime. Robert took a picture of my empty board before we packed up.
ROUND EIGHT—Matt with RUG Tempo (1-2)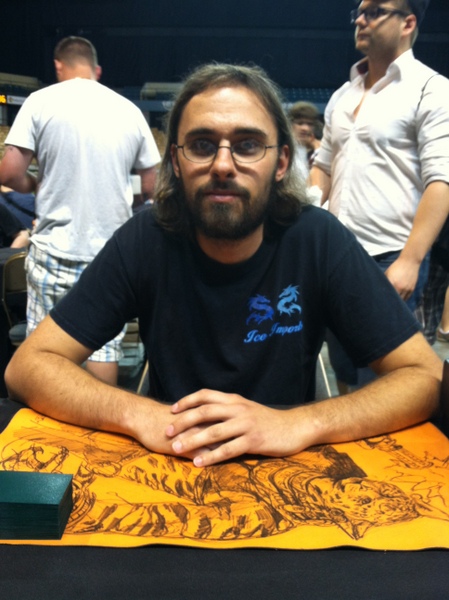 At this point I'm 5-2 and have to win the last two rounds in order to day two.
Game one, Matt mulliganed to five and I won on turn four without actually seeing anything but a Stomping Ground from him.
I figured Matt was on Tarmo-Twin, which I don't have much of a board for so I didn't sideboard.
Game two, Matt Ancient Grudged an Amulet, played Huntmaster of the Fells, and then cast a Blood Moon. Turns out he was playing a RUG Tempo brew.
SIDEBOARD:
+3 Seal of Primordium
-3 Azusa, Lost But Seeking
The last game came down to a major punt on my behalf. I had played a Titan and the following turn Matt played a Blood Moon with two mana up. I figured he had a Remand or Mana Leak. I had a Pact of Negation. Instead of Pacting the Blood Moon, I got myself into a bizarre line of thinking, that he would counter my spell but that I'd still need to pay for the Pact on my following turn but I couldn't since Blood Moon would be out. The thing is, if he has the counter for Pact, I obviously don't have to pay the cost. I'm not sure what made me think this was the case but it certainly led to me losing a game where I was reasonably far ahead. The Blood Moon did shut Matt off of Cryptic Command mana but unfortunately he was able to play a 5/6 Tarmogoyf and then flash in a Snapcaster Mage to block and kill my titan. I never saw another Seal of Primordium and I was officially dead for day two.
ROUND NINE—Eric with UR Delver (1-2)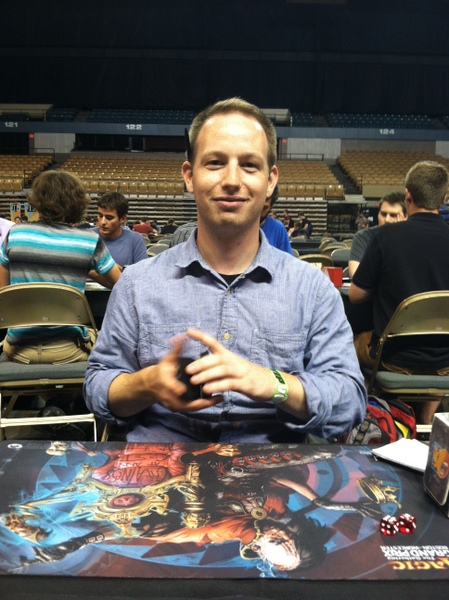 Eric is a local Boston player who I recognized from Pandemonium. Our games were pretty friendly, especially considering that we were both out of contention for day two.
Game one, Eric mulliganed to oblivion and I Hive Mind-ed him out of the game on turn four.
SIDEBOARD:
-3 Azusa, Lost But Seeking
-3 Hive Mind
+3 Seal of Primordium
+1 Pyroclasm
+2 Firespout
Game two, I attempted to resolve a Seal of Primordium. He countered it and slammed a Blood Moon. I lose.
Game three, I played two Seal of Primordiums. Eric played two Spellskites. Then Eric played a Blood Moon. I lose.
I finished the GP with a lackluster 5-4 record. Despite this, I really enjoyed myself. I felt that the deck performed very well and it was mostly my questionable game play, especially in round eight, that led to my poor record. I got a little bit lucky to not play against Junk/Jund because they have infinite removal/discard spells but I felt that the decks I played against were fair indicators of the meta at the GP. I played most of my games against Pod and Affinity and I like Amulet's chances against both. While Amulet lacks ways to protect itself, especially against land destruction, the deck can go on the offense very quickly and end games often before land destruction is relevant. If you expect a lot of aggro decks (Burn/Affinity/Bogles) or other creature based strategies (Pod/Infect) and enjoy playing turn two Primeval Titans, I would certainly consider playing Amulet. If you expect a lot of fast combo (Twin) or Jund/Junk Midrange, I would probably leave the Summer Blooms at home and look elsewhere.
At age 15, while standing in a record store with his high school bandmates, Shawn Massak made the uncool decision to spend the last of his money on a 7th edition starter deck (the one with foil Thorn Elemental). Since that fateful day 11 years ago, Shawn has decorated rooms of his apartment with MTG posters, cosplayed as Jace, the Mindsculptor, and competes with LSV for the record of most islands played (lifetime). When he's not playing Magic, Shawn works as a job coach for people with disabilities and plays guitar in an indie-pop band.