I flew home last Monday, marking the end of my two week European trip. And since then, I haven't been doing much of anything: sleeping, applying sepia filters to my bad vacation photos, and occasionally emerging from my room to cook and eat fried eggs (accompanied by fresh salsa, which is about the best food combination in the world).
Yesterday, I figured I should dust off the cobwebs, boot up MTGO, and fire off a few drafts. Journey into Nyx is still new to me—I think I played like two paper events before going on my summer Magic hiatus. But I heard and read a lot of good things about the new format from Hipsters and other players. No more voltrons! Plentiful removal! Something about interactive Magic, whatever that means!
I topped off my Magic Online account with more tickets and went right into a Swiss draft.
Pack 1 pick 1:
My Pick:

I love BW decks in Theros Limited. But I figured that first-picking a gold card was too risky, and decided to hedge on Big Stupid Hydra.
Pack 1 pick 2:

My Pick:

This was probably the wrong choice. I was pretty torn between this guy, Hubris, and possibly the black board wipe.
Pack 1 pick 3:

My Pick:

Hydra is joined by his friend, Big Stupid Whale. Supply-Line Cranes might have been a better pick, but I figured Scourge could end games efficiently and reliably (as it turns out, it did neither).
Pack 1 pick 4:

My Pick:


This is why you never doubt the Cranes. I was leaning toward an evasive GU deck—get big monsters, give them flying, and smash face.
Pack 1 pick 5:

My Pick:


Was tempted to try out the Cyclops.
Pack 1 pick 6:

My Pick:


Didn't end up playing this guy. But by this point, packs were running very thin, and I wasn't happy with any of my possible options.
Pack 1 pick 7:

My Pick:


Seventh-pick Bassara Tower Archer: evidence that either green is wide open or I value this card way too highly.
Pack 1 pick 8:

My Pick:


This guy, however, is justifiably strong. Vigilance is such a house and he can eat 2/2s all day.
Pack 1 pick 9:

My Pick:

Not sure where I was going with this. In retrospect, at this point, GW may have been the better colors to be in.
Pack 1 pick 10:

My Pick:


Yawn.
Pack 1 pick 11:

My Pick:

I figured the extra ramp would be helpful, but I think this was a sloppy pick. Rise of Eagles gives me a late game evasive threat, while this card ended up being a dead draw on several occasions.
Pack 1 pick 12:

My Pick:


What the heck.
Pack 1 pick 13:

My Pick:


Should have been switching to white at this point. Instead, I stubbornly chose to continue forcing blue and suffered for it throughout.
Pack 1 pick 14:

My Pick:

Pack 1 pick 15:

My Pick:

Pack 2 pick 1:

My Pick:


Bad pick. I was given the holy trinity of Sudden Storm/Retraction Helix/Divination and didn't take any of them. Hydra is okay, but nothing spectacular.
Pack 2 pick 2:

My Pick:


A good way to help my ground fatties connect.
Pack 2 pick 3:
My Pick:


Can't go wrong with the wolf. Graverobber Spider, even off color, was a close second.
Pack 2 pick 4:
My Pick:


Uninteresting pick from an uninteresting pack.
Pack 2 pick 5:

My Pick:


I like how Phenax is just chilling. GU does not seem open at this point.
Pack 2 pick 6:
My Pick:


At least it cycles and gives me the potential to create a big flyer. Useful, but not super exciting.
Pack 2 pick 7:

My Pick:


Same as above: cycles, probably useful, always boring.
Pack 2 pick 8:

My Pick:


Sideboard fodder.
Pack 2 pick 9:
My Pick:


I'm glad the Helix wheeled. My deck is still in need of a lot of help.
Pack 2 pick 10:

My Pick:

Pack 2 pick 11:

My Pick:


The spider! This was a nice surprise.
Pack 2 pick 12:

My Pick:

Pack 2 pick 13:

My Pick:

Pack 2 pick 14:

My Pick:

Pack 2 pick 15:

My Pick:

Pack 3 pick 1:

My Pick:


Bounce is always good in UG. I love building tempo-oriented decks in Limited, even if they rarely work out for me.
Pack 3 pick 2:

My Pick:


Double the fun!
Pack 3 pick 3:

My Pick:


I don't really like how creature dependent this card is, especially how it does absolutely nothing if you're behind on board state. But removal is removal.
Pack 3 pick 4:

My Pick:


A suitable late game finisher.
Pack 3 pick 5:

My Pick:


I picked Courser over the added ramp and flexibility of Burnished Hart. This draft was filled with tough calls, and I'm not entirely sure if this decision was correct.
Pack 3 pick 6:

My Pick:


Asp vs. Naiad! I chose the snake in the end, but I'm sure you can make very strong cases for both creatures. Triton Tactics is also really, really good.
Pack 3 pick 7:

My Pick:


Cheap flier; necessary two-drop.
Pack 3 pick 8:

My Pick:

Pack 3 pick 9:

My Pick:

Pack 3 pick 10:

My Pick:


IS NOBODY AT THIS TABLE DRAFTING WHITE.
Pack 3 pick 11:

My Pick:

Pack 3 pick 12:
My Pick:

Pack 3 pick 13:

My Pick:

Pack 3 pick 14:

My Pick:


I don't even know how this packs make sense. Did someone decide that a basic land would improve their card pool more than either of these creatures?
Pack 3 pick 15:

My Pick:

I submitted a deck that looked mostly like this: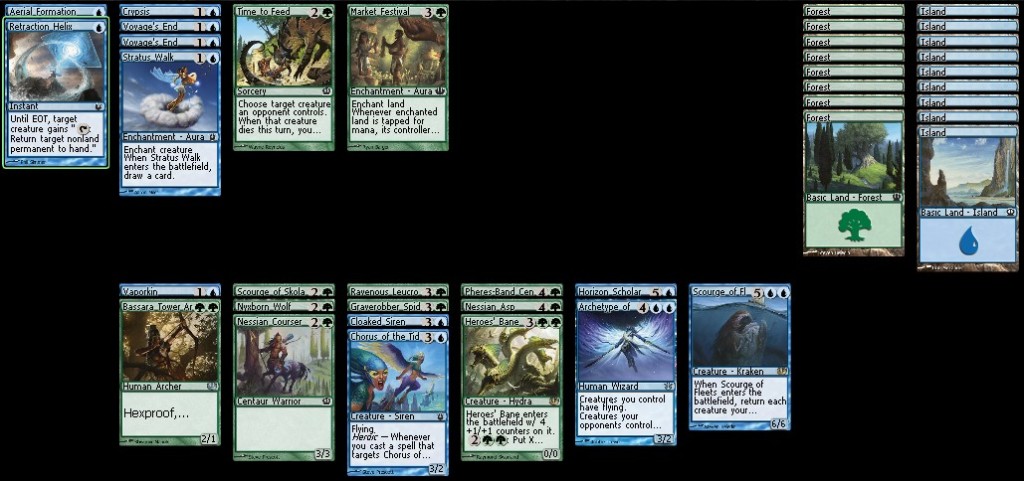 No complaints—I have a decent creature base and a decent, if high, curve. My removal/bounce is nothing is write home about. But I'm hoping it will help keep me afloat long enough to resolve a big hydra-whale.
Match One (1-2):
I'm paired up against an aggressive BR deck. I've played against a lot of Rakdos aggro in Theros draft, and I have yet to win a single match versus it.
My opponent started off game one with an Ill-Tempered Cyclops that, embarrassingly, I wasn't able to deal with before it got me down to critical life. I revolved my Asp, Scholar, and Scourge in rapid succession and hoped that I could stabilize. For some reason, I chose to play around Harness by Force, attacking conservatively with my flier. In the end, he managed to remove my creatures and trample in for enough damage.
Second and third games were much less interesting. My opponent is stuck on black mana and I curve out, landing my threats and bouncing away his creatures to swing for lethal.
In game three, I'm not able to deal with a two-drop sporting a Fearsome Temper. I take twelve damage before playing my first creature, and I can't seem to find the right cards to stabilize. This was a disappointing loss.
Match Two (0-2):
Opponent mulligans to four and wins after I get stuck on two lands.
At this point, I'm a little bit on tilt. And game two escapes me after the late pick Phenax joins the party. Boo.
I get a bye round three. The free booster pack is pretty neat, but I left the draft pretty unhappy about my own performance. After taking a long break from Magic, I found myself repeating old mistakes and playing into the same traps. Magic, like a lot of other involved skills, deteriorates pretty rapidly without consistent practice. That doesn't really bode well for me. Staying sharp and on top of the MTG scene takes some work and commitment, making it less scrub-friendly than other games, but more rewarding in the long run. I think.
In other news, this scrub is going to China! I'll be interning in Shanghai for a month and exploring the local MTG scene. I'm not totally sure what to expect, and my command of the Chinese language is approximately zero. So that should be for a nice learning experience, or at least something for you guys to read to laugh at.
Tony is the Hipster's resident scrub, and he writes about learning Magic. Find him at tonymei.com.