Hey guys, I am back with an updated version of my Melira Pod Primer!
I recommend reading the original primer here, as a lot of what I said still holds true today.

So, you want to play Pod huh? Welcome aboard a frustrating and very rewarding bus of power in both body and mind. Pod is the kind of deck that rewards you for knowing your deck, and more importantly the modern format, better than your opponents. Is Pod the kind of deck that if you had never played before I would recommend to slap together and go to a PTQ with? No, it is the kind of deck we want to have a lot of experience with before charging into battle. But if you choose to go to an event such as a PTQ, a Grand Prix, or even Tuesday night Modern at Twenty Sided Store (where you can see me every week) with Pod, have no fear, I am here to provide a little insight into the deck based around the powerful artifact.
First of all, let's talk about the biggest change that happened to Pod since the posting of my last article. On February 3rd, Wizards of the Coast banned Deathrite Shaman as a way to weaken the boogeyman of the format, Jund. This also caused splash damage to a lot of other decks including our beloved Melira Pod. However if you recall from my last article I said,
"Shaman doesn't ALWAYS make mana; a draw of Razorverge Thicket, Overgrown Tomb, and Shaman as your only accel can be a rough one, especially if your opponent goes turn one Urza land or Inkmoth Nexus and is playing a deck without fetches (you only have eight fetches!)"
However, we needed another one-mana source. We needed someone to step-up to the noble task of giving us turn two Pod. We needed someone to be at the top of the hierarchy of mana dorks besides our beloved Birds of Paradise. Alright, I'll stop with the puns, we turned to this old friend: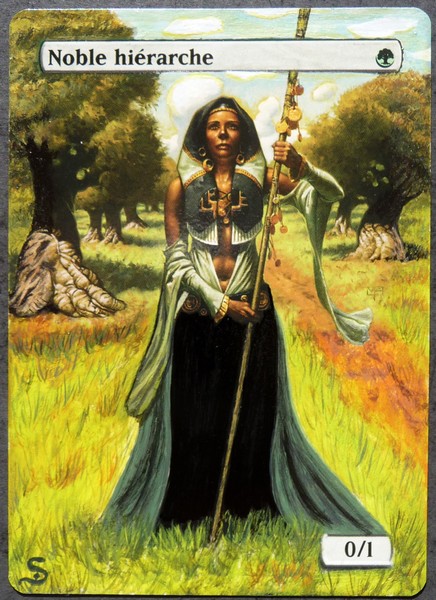 Legacy Maverick players know just how strong Noble Hierarch is. Basically as a one-mana pump spell plus mana dork, she does so much once you get her down into the trenches. Exalted is a serious ability in a format full of races and attrition battles; also consider what I said about Deathrite Shaman not always making mana and you will see why Pod was able to seamlessly move on without DRS.
Directly after the ban list there was a pro tour in Valencia where the constructed portion of that event was Modern. Jacob Wilson got second place with this Melira Pod list.
Jacob Wilson's Melira Pod
At this event the return of Wild Nacatl had many players scared of the return of Zoo. A 3/3 for one mana is no joke and won't be playing games if your deck does the smallest bit of stumbling, so Wilson added a second wall of roots and main decked the Shriekmaw, as well as the massive amounts of removal in the sideboard.
The interesting part of this list is the lack of Spike Feeder and Archangel of Thune, the reason for this is that Archangel is an extremely poor card to draw in your opening hand and a lot of times is a reason to mulligan an otherwise reasonable hand.
A lot has changed since the Pro Tour, however, and Wild Nacatl basically didn't turn out to be the force that everyone expected it to be. So, Pod decks split into two camps:
On one side is the Sam Pardee camp, which believes Archangel of Thune is as clunky as Hexplate Golem, and on the other is LSV's camp, which believes Archangel of Thune is the best card since Jace, the Mind Sculptor.
LSV actually went so far as to cut Melira entirely on his way to a top 16 at GP Minnesota:
LSV Meliraless Melira Pod
Now that is some spice! The core reason to cut the Melira combo is the understanding that Melira Pod is NOT a combo deck; it is a midrange value creature deck that just happens to have a combo-kill available. By cutting three Kitchen Finks, Melira, Viscera Seer, and Ranger of Eos you open up six slots in a deck that was super tight on space to main deck such bullets as Sin Collector, Thoughtseize, and Harmonic Sliver, which makes a lot of matchups much easier in game one.
I personally am not on board with Luis simply because I don't feel that cutting three Kitchen Finks is where I want to be in a Lightning Bolt format with my deck that deals itself a consistent 8-11 points of damage.  By all means give this a try but I wouldn't recommend it.
I recently have left the LSV camp, as a lot of Modern decks are getting very streamlined; with Twin adding Tarmogoyfs and UWR adding Kiki Jiki, I don't ever want to draw Spike Feeder and Archangel of Thune. As sweet as they are, it can lead to some very awkward draws.
Here is my current list, with the creatures broken down by converted mana-cost, to better illustrate the different Pod chains available:
Pompa Pod
Any card that has lingered over from the last article I will pass on explaining, but anything new I will go over in detail here:
Sin Collector is an incredible threat that gives you the information needed to craft a game plan, and against some decks (Burn, UWR, Storm) is an incredible dagger to have access to for game 1. Even when his trigger whiffs, he is still good at gaining information, which allows us to use our tutors more efficiently.
At the time I wrote my last article I was still playing Cartel Aristocrat and Varolz. Now with only one Viscera Seer as my sacrifice outlet we need a way to go grab it out of the deck. Ranger of Eos is great at being an awesome value card, and just so happens to conveniently give us another method of getting Seer out of the deck. He also trades with a lot of good creatures in the format. Just an all around awesome creature.
This latest piece of technology has made me wonder why we didn't run it all along. This card is great at playing around Anger of the Gods, it is great at fighting through counters, and it just makes a lot of our one of, "enter the battlefield" ability creatures virtual two-ofs. And don't get me started on what happens when we blink a Reveillark. A++ card that not everyone expects.
Entomber Exarch is an awesome piece of spice that is used to create a back breaking chain of Sin Collector into Entomber Exarch into Reveillark. Remember that Exarch can take land and the disentomb ability is also extremely relevant.
Here is a cool combo you can do with Sin Collector, Entomber Exarch, Viscera Seer, and Reveillark (note you can replace one of the first two with Eternal Witness):
Reveillark is on the table along with a Viscera Seer with Entomber Exarch and Sin Collector in the graveyard. In your opponent's draw step you can sac the Reveillark, bring back Exarch and Collector, use the disentomb ability of Exarch to return Reveillark to your hand and use Sin Collector's ability to discard their draw step. This is only broken up by a Snapcaster Mage, but by the time you do this a few times you basically cripple them while scrying every turn.
(Editor's note: savvy readers may notice that this combo is easy to set up, as it's a perfect Pod chain if you go Collector -> Exarch -> Reveillark; this also sets up the two smaller dudes in the graveyard for Rev to do it's thing)
This was Ethersworn Canonist for the longest time but now we have a card that is easier to Pod into that doesn't die to Lightning Bolt, basically making it Echoing Truth or bust for Storm to go off. This card is also good vs UWR because they can't kill it, outside of Verdict, and it makes Snapcaster Mage significantly worse.
Thrun, the Last Troll and Sigarda, Host of Herons
Both of these cards are absolute beating for Jund and UWR. Sigarda is basically Kingdom Hearts 1 Sephiroth on Proud Mode with a broken controller level of end boss for decks like Jund, BWR, UWR, and Living End. Thrun is in a similar vein but just in a smaller easier to resolve body.
Sideboarding Guide
As I have mentioned before, these are my ideas for sideboarding and of course you should see opponents' tendencies and adjust on the fly, if needed; these are just basic guidelines. For example, if you see your UWR opponent has the tendency to flash in Restos and attack you and use burn to the face instead of creatures I recommend cutting less Kitchen Finks than I show on my guide.
UWR Control
-1 Abrupt Decay
-1 Viscera Seer
+4 Thoughtseize
There is way too much removal from their side to try and combo, so we basically want to transform into a value Rock deck and grind them out of a game. Beware Lightning Bolt becoming Lava Spikes and taking too much damage; it is not unreasonable to be way ahead, only to witness the following sequence: Bolt you, Snapcaster – Bolt you, flash in a Resto – blink Snapcaster – Bolt you, animate Colonnade, attack for lethal out of literal nowhere. Sigarda helps a lot, and we no longer cut Linvala due to the existence of Kiki-Jiki.
Affinity
This is odd to some but Finks doesn't fly; you die to fliers like Nexi and Vault Skirge. Finks is actually really clunky vs Bots, but we leave in one for the combo. Plan is the same as before: jam Kataki and the combo. A lot of people find this to be a bad matchup, but I think that as long as Affinity doesn't draw unreasonably, this matchup actually favors Pod.
Jund
-1 Viscera Seer
The "All removal, all Scavenging Ooze" deck makes the combo nigh-impossible to pull off, so we basically try to go bigger than they are, while taking to the skies with Lingering Souls. If they play Olivia the matchup is significantly harder, but at times Linvala can be crushing for them.
UR Twin
+4 Thoughtseize
If you have Slaughter Pact in your hand and they have three mana up, JAM your most expensive spell into their three open mana. If they have the combo they will not resist going for it and you can blow them out with Slaughter Pact. Same as before: Linvala, Pridemage, and Spellskite are all awesome.
Feel free to message me any questions. I go to Twenty Sided Store every Tuesday and you can see me playing Pod there (where you can also sometimes see Evil Tim and Zac the Durdle Magus losing to event decks). I will be at Philly this weekend for the PTQ and if you choose to bring your Pods to battle, I wish you all luck!
Until next time, fellow magicians.
Robert Pompa really likes Birthing Pod.