Chapin vs. Duke. Kibler vs. Kastle. Juza vs. Stark.
This is a tournament that needs no introduction.
Pro Tour Journey into Nyx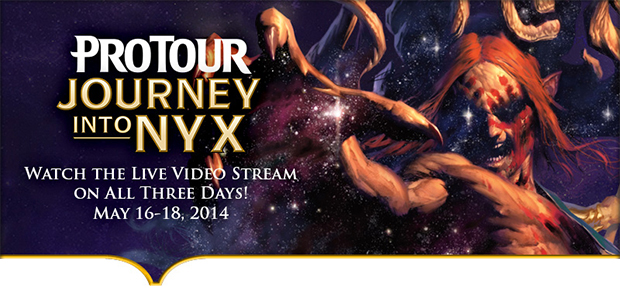 Day One – King of the Hill
Friday in Atlanta kicked off with three rounds of Theros/Born of the Gods/Journey into Nyx booster draft. The coverage kicked off early following the draft and then moving onto feature matches. Text coverage was a bit slow to update with only the first round (Juza vs. Stark) published by the time the fourth round was underway.
The coverage filled the empty space between rounds with a variety of specials including Pro Player interviews, a break-down of the upcoming block constructed format, and a look at the top 25 pro rankings. As expected the focus was on the importance of team testing and interactions leading up to the tournament.
One of the biggest coverage improvements I noticed was a scrolling bar at the bottom in-between rounds. Before the first round of constructed, the list of 3-0 drafters was rolling along the bottom of my screen. Since the main coverage standings hadn't been updated it was nice to see who was sitting at the top of the standings heading into the Theros block constructed portion.
Oh yeah, all day Friday included these cute little commercials advertising a special Conspiracy announcement following round 11 on Saturday. Kudos to Wizards for getting people to tune into parts of coverage they otherwise may not have.
Constructed kicked off with a high-profile feature match between Team Pantheon member Reid Duke and Pro Tour Hall of Fame member Patrick "The Innovator" Chapin (also supposedly of Team Pantheon though he was wearing a StarCityGames shirt). Chapin would win the epic match and go on to sweep the constructed portion of the day, finishing with a perfect 8-0-0 record.
Joining Chapin at the top was reigning player of the year Josh Utter-Leyton. Nipping at their heels with 7-1-0 records were Joel Larsson, Todd Anders, Darwin Kastle Mess, Andrea Mengucci, Reid Duke, Ricar Sanchez Garrido, Marcelino Freeman, Jared Boettcher, and Andrew Baeckstrom. Surprisingly missing the cut to play in day two were (11) Shaun McLaren (16) Jacob Wilson, both from Canada, and Melissa DeTora and Christian Calcano also missed the cut.
Day Two – Conspiracies
Saturday began with another round of Theros/Born of the Gods/Journey into Nyx drafting. The top table was absolutely stacked. Patrick Chapin. Josh Utter-Leyton. Darwin Kastle. Joel Larsson. Reid Duke. Ricardo Garrido. Andrea Mengucci. Todd Anderson. If you have any interest in analyzing limited play you'll check out this draft viewer.
After the first round of draft, Chapin was sitting undefeated at 9-0-0 (he beat Josh Utter-Leyton in round nine). After the second round of draft, Chapin was sitting… well a little more defeated at 9-1-0 having lost to Reid Duke (you may recall Chapin defeating Duke on day one in constructed). The "Innovator" was not phased and finished the draft portion 2-1-0 for a 10-1-0 record after the 11th round.
Also following the 11th round was this:
That's right. Conspiracy season is now in full swing. The kind folks over at Reddit compiled a list of the reprints and the new stuff that was spoiled in the video. Obviously the big news is the reprinting of Brainstorm and Swords to Plowshares along with the reveal of the new Conspiracy card type. All-in-all this looks like an absolute blast to draft. We're now less than a month from the release. Don't miss it.
The rest of day two held two incredible stories. The first was Patrick Chapin's continued domination, finishing the day with a 13-2-1 record, good enough for first overall. The more impressive story is that of South Korea's Sung Wook Nam. Nam finished the first day with 15 points, already sitting on three losses. But then he won round 9. And then round 10. And 11, 12, 13, 14, and 15. Seven straight wins allowed him to finish off an amazing day two by drawing into the top 8.
Top Eight – The King Reigns Supreme
The first thing we learned from the final tables of the Pro Tour is that Courser of Kruphix is a good card in Theros block constructed. Then we learned that Elspeth, Sun's Champion is even better. Seven of the top eight decks were running Courser. The only player without it was Stanislav Cifka playing RW Heroes. Cifka lost in the quarterfinals to Josh Utter-Leyton who was running Courser.
Four players were running Elspeth. Chapin, Wook, Mengucci, and Ichikawa. Chapin and Wook both advanced against players without Elspeth while Mengucci defeated Ichikawa. Then Chapin defeated the Elspeth-less Josh Utter-Leyton while the South Korean Nam Sung Wook continued his amazing streak , defeating Menguicci's red/green deck which splashed white for Elspeth. The finals featured an epic Elspeth vs. Elspeth duel, really highlighting how powerful and dominating a six-mana white planeswalker can be. When the dust settled, The Innovator was still The King.
Khans of Tarkir
Oh yeah. After the quarterfinals on Sunday we learned a bit about the fall set, previously code-named "Huey." Here's the short video reveal:
Very exciting stuff. Obviously we'll be going to the homeland of Sarkhan Vol, dragon-master-slash-planeswalker extraordinaire. We don't know very much, but here's what we've been told:
The set releases on September 26th, 2014
Mark Rosewater is the lead designer
Erik Lauer is the lead developer
The Rosewater/Lauer pair also brought us Innistrad and Theros
There will be "something old" and "something new" in the set
The block format will be large-small-large (similar to Innistrad)
Personally, I hope the "something old" isn't contraptions or horsemanship because those are both a pain. I have no idea what they'll be, but expect something unexpected. No, not banding. Not that unexpected.
The Quick Hits
Wallpaper of the Week
The run of Journey into Nyx deity wallpapers has been interrupted. After Athreos, Keranos, and Pharika we've been interrupted by Selvala, Explorer Returned. Do I sense a conspiracy? Probably, since even though this wallpaper is tagged with "Vintage Masters," Selvala actually comes to us from the upcoming Conspiracy set. Definitely something sneaky going on. I better give her a good grade so I don't get on her bad side.
Grade: A-
The Week Ahead
Now it's time to digest everything we learned this weekend. Some of us will be pouring over the Pro Tour results, surely trying to predict the post-rotation Standard environment coming this fall. Others will be gearing up for the Conspiracy release, only three weeks away now. Finally, there will be the self-proclaimed Nostradamus among us trying to guess at what Khans of Tarkir holds in store for us. Oh, and if none of that floats your boat, there's a Grand Prix tournament in Atlanta just a few days from now! Theros block limited is the format. Don't miss the exciting post-Pro Tour coverage.
What We Learned is a weekly feature here at Hipsters of the Coast written by former amateur Magic Player Rich Stein, who came really close to making day two of a Grand Prix on several occasions. Each week we will take a look at the past seven days of major events, big news items, and community happenings so that you can keep up-to-date on all the latest and greatest Magic: the Gathering community news.