A couple months back, Ben Stark wrote an article about the complexity of drafting and how he saw two basic modes of drafting a set: the easy way and the hard way. If you draft the easy way, you jam the cards you want to play without really reading signals and adjusting your deck based on what you are passed. In contrast, someone drafting the hard way, would be willing to abandon early picks if the color wasn't open. Someone drafting the hard way would put aside their preferences and build the best deck given the cards being passed to them.
The Stark article resonated with me because the notion of easy way vs. hard way can be transposed and reapplied to, well, just about everything. The easy way to play constructed is to copy a list someone else tested and perfected. The hard way would of course be to empirically test a variety of decks and the individual cards within them. I, like a lot of people, don't really have the time to play constructed on hard mode. I let the pros and brewers do the bulk of the work and then try to tweak some numbers and change around a few cards to better suit my local metagame. I'm okay with doing this, and then writing about it, because I believe there is value in discussing the tweaks, the individual card choices, and the last few sideboard slots. Furthermore, I believe there is value in writing about the games I play; having to go back and process each of my matches gives me insight into the decks I play and the game I love. More importantly, if done correctly, it can give others insight or at the very least, reminders of what not to do.
The problem with writing about Magic is that it's difficult to master and easy to screw up. Or rather, good writing is time and skill intensive to produce. When I started this column, the last thing I wanted to do was to offer up a glorified recap of the games I play on Wednesday night at Pandemonium Books & Games. While I find myself reading just about every Magic article I can find on the internet, I am disdainful of tournament reports that vaguely discuss games without offering real usable information about them. I really love reading about interesting in-game scenarios, but only when all the information is available to fully detail the situation. Unfortunately, I have read, and written myself, many sentences that tell you what happened in the game without actually showing you the processes at work. Here's a sentence from a fairly recent article I wrote that I would describe as "easy way" writing: "Game three, came down to his Elspeth racing my Aetherling. I was able to put David to one but he made quick work of me the following turn with his 12 soldier tokens." The problem I have with this sentence is that it doesn't tell you anything except that, under some circumstances, an Elpeth, Sun's Champion can outrace an Aetherling. If I were to write this out the "hard way" I would have provided information on in-game resources (life totals, hand sizes, other relevant permanents), my in-game thoughts about how I could potentially win or lose the game, as well as conversation between myself and my opponent about the game state. This is the stuff that makes for an interesting and interactive read.
I tried to model this column off of Jon Corpora's fantastic series, "52 FNMs", where he wrote about the deck he was piloting that week and the matches he played. The thing was, he was really fucking awesome at it. The column was insightful, though Corpora is certainly no pro, but more importantly it was funny and easy to read. The problem I'm having with Ensnaring Cambridge is that I'm not Jon Corpora and his set-up isn't really working for me. This is not to say that I'm unhappy with my column, I think I've written some pretty good articles over the course of the past 7 months, just that the formula is feeling a little stale. Moving forward, rather attempt to write about every game I play, I'm going to write about one or two interesting in game scenarios in detail. Also, I'm planning on switching formats a bit more often and writing more about Modern, as it's the format I like the most outside of Cube and Commander. Lastly, I'd like to discuss some Magic finance as well as I spend an inordinate amount of time on Quiet Speculation and the MTG Finance Reddit reading about specs, spikes, and buy-outs and think I might have some things to contribute.
While I'm excited to try switching things up a bit, what I really want to talk about right now is Alms Beast.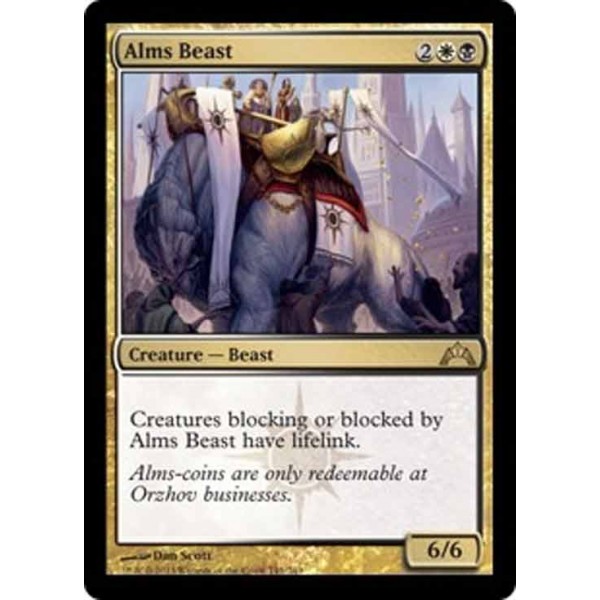 After seeing the Orzhov Beast being played in a top eight deck from SCG Nashville, I knew I had to try running it in Orzhov Control. While I cringed when I desleeved my Desecration Demons in favor of this bargain box staple, I realized it wasn't that long ago that the Desecration father himself was residing in the 50 cent bin at every LGS in America, and that maybe Alms Beast was just a sleeper, a really deep sleeper. Here is the Beast-y list I played this week:
Orzhov Control 2.0
I'm not entirely sure Alms Beast and Desecration are mutually exclusive in their roles in BW Control, but I would guess that you don't want eight idiotic four drop creatures in the deck, if just for curve considerations. Regardless, I somehow came across this image online that shows at least one person disagrees with me: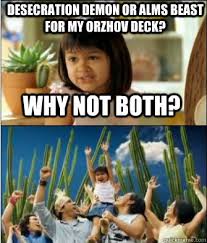 After making the switch this week, there are a few areas where I think Alms Beast excels over his more popular 6/6 cousin.
1. Alms Beast is better against Red Deck Wins and other all-in aggro strategies. Alms Beast blocks everything, doesn't get tapped at the beginning of combat, and requires a combination of burn spells to actually remove.
2. Alms Beast can't be Ultimate Priced or Plummeted.
4. If for some inexplicable reason it was in combat with Baneslayer Angel, it would kill the Angel whereas Desecration Demon would not.
Yeah, that's about it.
This week I did play one match against Red Deck Wins and was able to stabilize with Alms Beast where Desecration Demon would have tapped under pressure, so I suppose I can see playing this card in a field of really aggressive decks. Yet, I have a hard time believing a four drop is the solution to winning aggressive match-ups at it often comes down a little too late to stem the bleeding, or the burning as the case may be. Also, Alms Beast is so ridiculously bad against Mono Blue Devotion, where it blocks approximately no creatures, and UW/x Control, where it doesn't disrupt their plan whatsoever, that I can't in good conscience recommend playing this card now.
Despite the Alms Beast experiment being a bit of a failure, this thought experiment has lead me to consider whether Orzhov Control really wants either Alms Beast or Desecration Demon. If I were going to play Orzhov Control again this week, I would want to be playing Lifebane Zombie in the starting 60.
Lifebane Zombie is a card that had seen some maindeck support in the past when Thragtusk was a card in Standard, but has since been relegated to Mono Black/Orzhov sideboards. But given that last weekends SCG Open Top Eight looked liked this, I think it might be time to bring it back in the fold: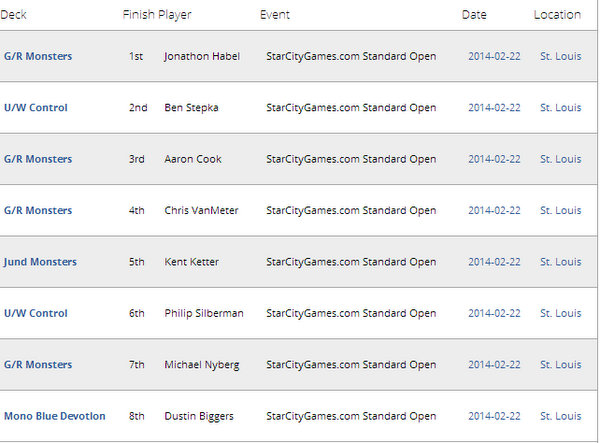 Against G/R Monsters, Lifebane Zombie snags Polukranos, Boon Satyr, Xenagos, Scavenging Ooze, Ghor-Clan Rampager, and more. After exiling the card, so that Ooze can't snack on it, the Zombie sticks around to provide an evasive threat that puts a lot of pressure on Domri Rade and Xenagos (the planeswalker). Even in match-ups like UW Control where Lifebane does get to exile anything, it still provides valuable information as to the contents of their hand while leaving behind a body that can't be Last Breathed or blocked by Mutavault. If your meta doesn't look like this top eight, well Lifebane Zombie snags opposing Blood Barons and Obzedats, which are obviously awesome against us, Brimaz, Ephara, Lyev Skynights, and Banisher Priests. Seriously though, this card is the real deal, and even provides two black for devotion purposes if you do happen to be on the Gray Merchant plan.
If I was going to play BW Control again, my list would look like this:
Orzhov Control 3.0
Aside from eschewing Desecration Demon in favor of Lifebane Zombie, I also added a singleton Ratchet Bomb. I like Ratchet Bomb as an additional answer to opposing Pack Rats and Master of Waves tokens as well as a reasonable catch-all for stuff like Detention Sphere and Underworld Connections which can't be removed otherwise. I really like the addition of Revoke Existence in the sideboard, as it deals with all of the gods, D-sphere, and the occasional Pithing Needle. Most of the other sideboard stuff is pretty standard, though having 5 discard spells to bring in against control might actually be enought to make the match-up a bit better.
Despite wanting to change up the format of the article, I still want to showcase my awesome opponents who let me awkwardly take pictures of them before games. So here we go:
Round 1—Kyle with Mono-Blue Devotion (1-2)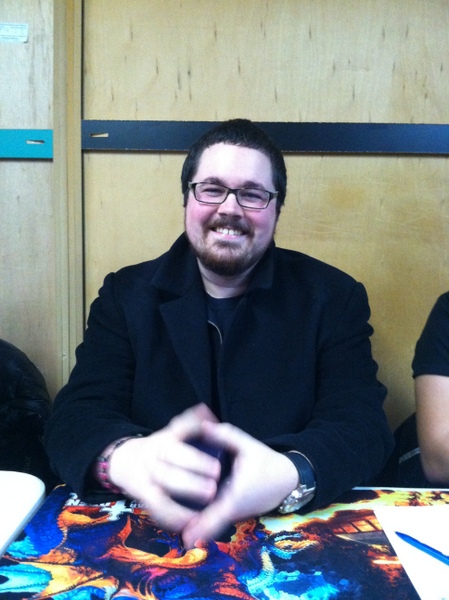 I told Kyle that for his Birthday we would end up playing. I'm really sorry if this somehow accidentally used one of your birthday wishes, Kyle.
In game one, Kyle was on the play and had a Cloudfin Raptor. I Thoughtseized him on my turn to see two Nightveil Specters, two Islands, and a Judge's Familiar. Since I had Bile Blight in my hand, I really wanted to see if I could two-for-one his Nightveils and ended up taking Judge's Familiar with Thoughtseize. Next turn, Kyle ended up drawing another Judge's Familiar and evolved his Cloudfin Raptor before attacking me with it. Turn three, Kyle played the first of his Nightveil Specters and I did nothing while he attacked me. On the following turn, I expected Kyle to play another Nightveil Specter before attacking, in order to level up Cloudfin. Instead he went right to attacks, putting me in an awkward position. I had a Doom Blade and a Bile Blight in hand and felt that I should use one of them to prevent taking too much damage. I ended up Doom Blading the Cloudfin Raptor, thinking that he would likely still play the other Nightveil post-combat as he only had two cards in hand. Meanwhile, Nightveil hit me, took a swamp, and then Kyle opted to pass the turn without playing anything. On my turn, I played my fourth land and played an Alms Beast, thinking I could bate out the other Specter if I tapped out for a threat. On Kyle's turn, he hit me with Specter, took a Thoughtseize off the top of my deck, cast it off the swamp I gave him, and safely played out another Nightveil Specter after snagging my Bile Blight. I lost the game after he played a Thassa which had more than enough devotion to kill me very quickly.
The lesson here is, don't get too greedy. While I believe I would certainly win the game if I blighted both Specters, since Kyle wasn't playing into it, and it would have been better to pull the trigger and kill one of them.
Round 2—Rob with Junk Midrange (2-0)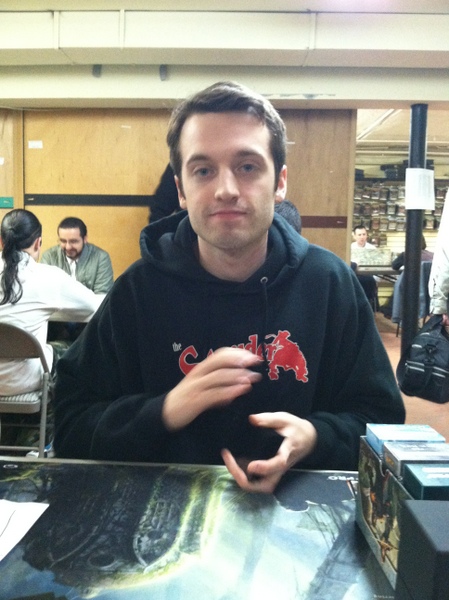 In Game two, Rob played a turn one Pithing Needle naming Pack Rat. I felt conflicted about this play. What I liked about it was that Rob used his mana efficiently and correctly named a card I had in my hand which can singlehandedly take over games. What I didn't like about the play is that it presumed a lot about the game without having knowledge of the way that it would play out. While it's unlikely that I sided out my Pack Rats in game two, there is some chance I did, or some chance that I never end up drawing one. Since I have a bunch of other Pithing Needle targets, like Elspeth and Underworld Connections, I like the idea of waiting until you know what you're up against to name something. This is worse in some situations, like when a single Elspeth +1 is enough to change the way combat plays out, in which case playing a preemptive needle makes a lot of sense. Without knowing what else was in Rob's hand, which could certainly change the situation, I would have held on to the needle until I was sure it was Pack Rat, and not an out of control Underworld Connections, I needed to blank.
Round 3—Jeff with Red Deck Wins (2-1)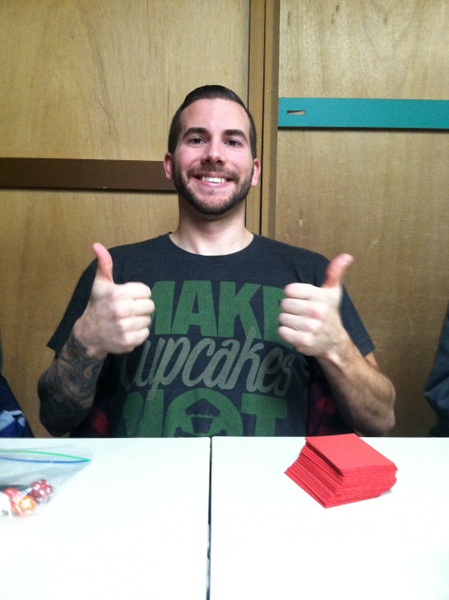 It feels weird not writing anything here, but these games were fairly textbook. As mentioned earlier, Alms Beast certainly helped me clinch this match, but Whip of Erebos and Blood Baron certainly didn't hurt either. Sorry you got stuck on mana in game three Jeff.
Round 4—Charlie with Esper Midrange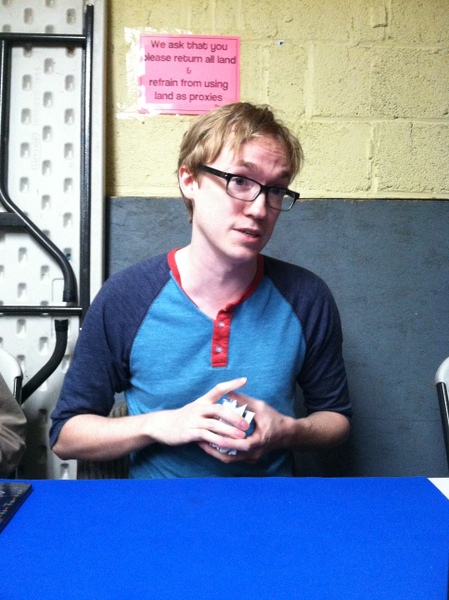 Charlie was playing Makahito Mihara's list from the Super Sunday Series. I'm not sure about how the deck matches up against Orzhov or Mono Black, but I was a big fan of this deck. Basically the deck seeks to use Ephara as a card drawing engine by playing stuff like Brimaz, Precinct Captain, and Heliod to repeatedly draw cards while beating down. In case you missed Mihara's list, like I did, here it is in all of its card drawing glory:
Ephara & Friends
At the end of the night I finished with a 3-1 record, meaning I went 6-2 with variations of Orzhov Control over the course of two weeks. While I think that the deck might have a difficult time beating G/R Monsters, which appears to be pretty dominant right now, moving Lifebane Zombies into the main should go a long way in shoring up the match-up. Orzhov Control also struggles with UW Control but I think the match-up is winnable especially with the plethora of discard between the sideboard and main deck. So yeah, I think Orzhov Control is a good choice for the current meta and probably not going anywhere for a while. But Alms Beast sucks. Don't play that.
At age 15, while standing in a record store with his high school bandmates, Shawn Massak made the uncool decision to spend the last of his money on a 7th edition starter deck (the one with foil Thorn Elemental). Since that fateful day 11 years ago, Shawn has decorated rooms of his apartment with MTG posters, cosplayed as Jace, the Mindsculptor at PAX, and competes with LSV for the record of most islands played (lifetime). When he's not playing Magic, Shawn works as a job coach for people with disabilities, plays guitar in an indie-pop band, and keeps a blog about pro-wrestling.