Three insanely sexy matches got left out of my last report, lost in all the Grand Prix madness. I got off the plane* from DC and instantly headed to Twenty Sided, hoping I made it in time for Monday Night LEGACY, BABY!!! Phew! I did. I played Shardless BUG again. The deck is like crack on top of crack. No offense to crack users out there, this shit's better. Cascade into Ancestral Vision? OK!
I got a bye round one. Fuuuuuuuuuuuuuuck, byes are the worst. These are the kinds of byes that you don't earn, that you're given arbitrarily every once in a while. Thanks for the three points, randomness. Really great.
Round Two vs. Justin's GP DC Day Two RUG Delver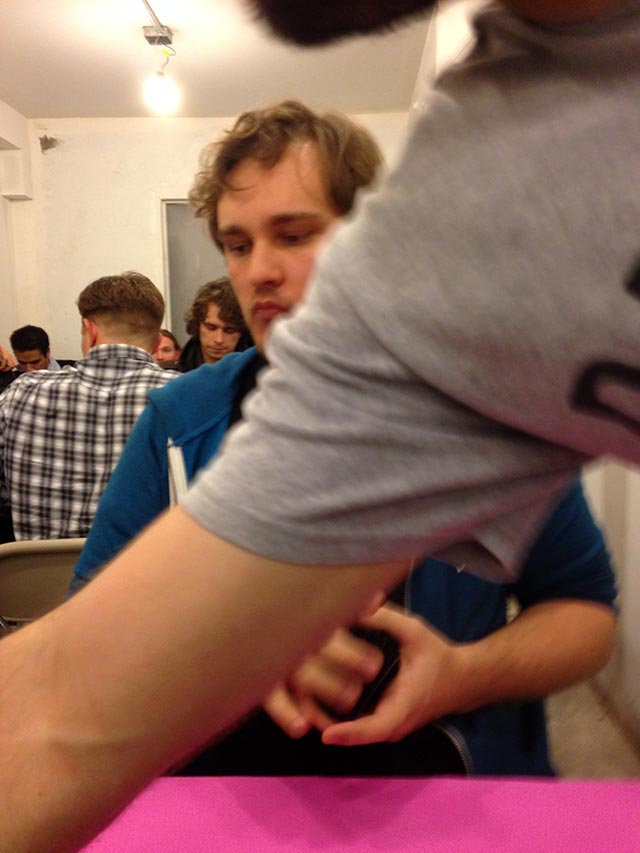 Justin slaughtered me. Who knows what happened? I didn't have ways to kill his True-Name Nemesis, mulliganned (probably), and ate shit. OH NO! Losing to such a master isn't so bad. I mean the guy is the only spell slinger in our crew to day two the GP.
Man, we suck. Why didn't more of us day two? Sigh.
Round Two vs. … wait I played some testing games against One-Tone's Miracles deck. We probably split our games. Miracles seems fun to play. Mike's a great guy to practice a match of Magic Cards with.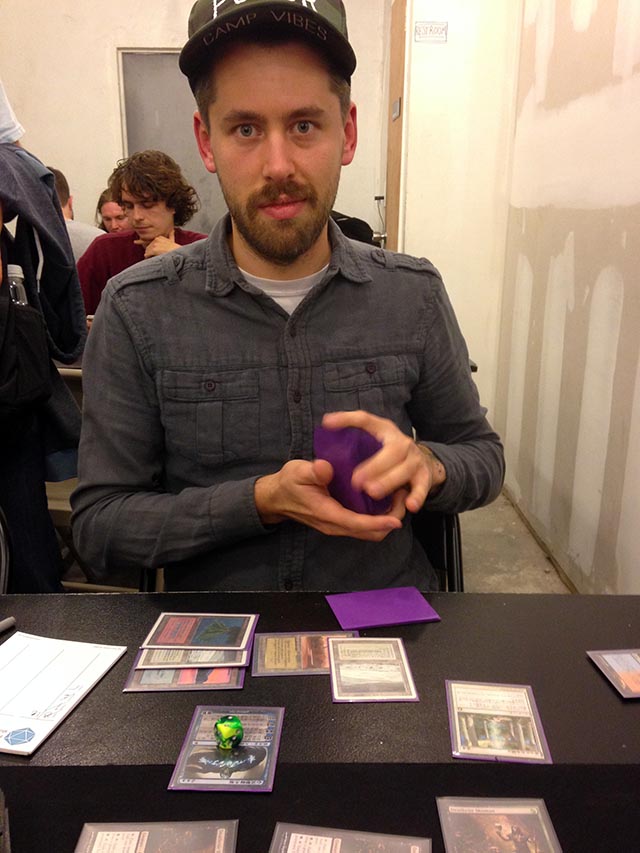 Round Two vs. … shit, another "wait" moment. Hugh, not wearing sweatpants (though these jeans are as close to sweatpants as jeans get, amirite?), battling Jon Sieber. BOOM. Hugh won. He had a foil Vendilion Clique, Glen Elendra Archmage (also foil?), and every faerie card ever. Jon's deck wasn't available for inclusion at press time.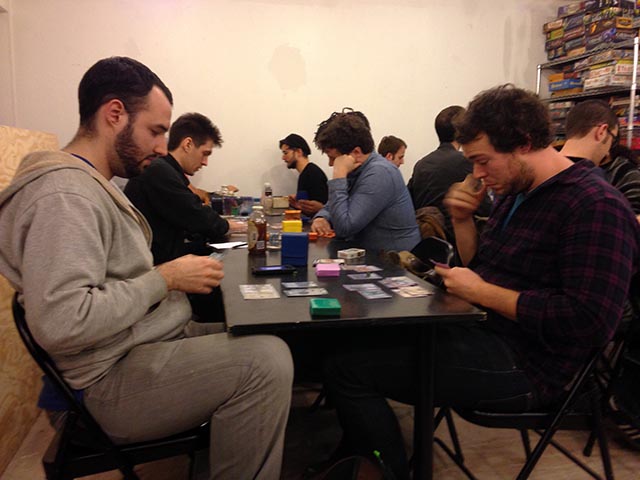 Round Three vs. Secret Miracles Player #1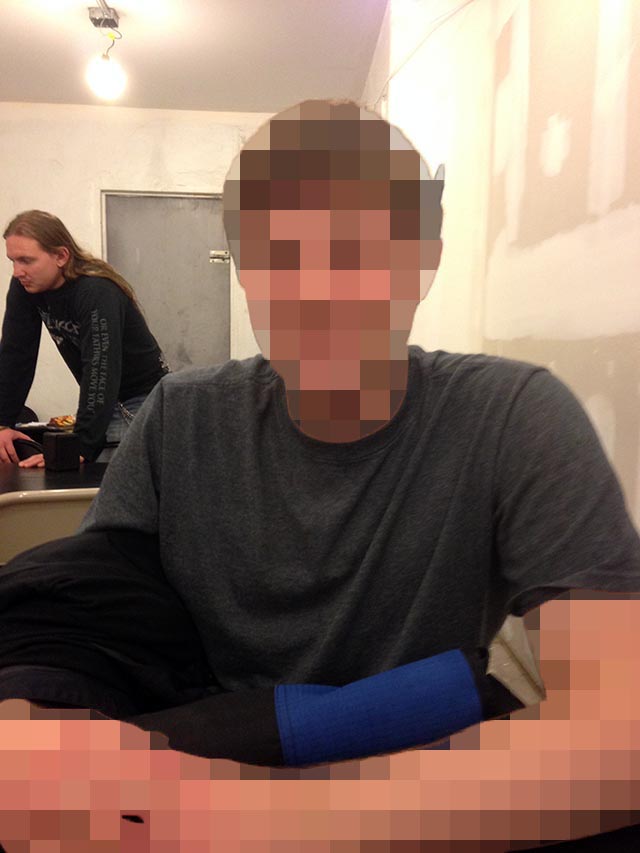 The stories this player told me about his time in the witness protection program. Jeez. I could write a book. It's his book, though, so I'll just share one story.
The reports had been on the radio all day, though she hadn't paid much attention to them. Some crazy man had escaped from the state asylum. They were calling him the Hook Man since he had lost his right arm and had it replaced with a hook. He was a killer, and everyone in the region was warned to keep watch and report anything suspicious. But this didn't interest her. She was more worried about what to wear on her date.
After several consultation calls with friends, she chose a blue outfit in the very latest style and was ready and waiting on the porch when her boyfriend came to pick her up in his car. They went to a drive-in movie with another couple, then dropped them off and went parking in the local lover's lane. The blue outfit was a hit, and she cuddled close to her boyfriend as they kissed to the sound of romantic music on the radio.
Then the announcer came on and repeated the warning she had heard that afternoon. An insane killer with a hook in place of his right hand was loose in the area. Suddenly, the dark, moonless night didn't seem so romantic to her. The lover's lane was secluded and off the beaten track. A perfect spot for a deranged mad-man to lurk, she thought, pushing her amorous boyfriend away.
"Maybe we should get out of here," she said. "That Hook Man sounds dangerous."
"Awe, c'mon babe, it's nothing," her boyfriend said, trying to get in another kiss. She pushed him away again.
"No, really. We're all alone out here. I'm scared," she said.
They argued for a moment. Then the car shook a bit, as if something…or someone…had touched it. She gave a shriek and said: "Get us out of here now!"
"Jeeze," her boyfriend said in disgust, but he turned the key and went roaring out of the lover's lane with a screeching of his tires.
They drove home in stony silence, and when they pulled into her driveway, he refused to help her out of the car. He was being so unreasonable, she fumed to herself. She opened the door indignantly and stepped into her driveway with her chin up and her lips set. Whirling around, she slammed the door as hard as she could. And then she screamed.
Her boyfriend leapt out of the car and caught her in his arms. "What is it? What's wrong?" he shouted. Then he saw it. A bloody hook hung from the handle of the passenger-side door.
Ha! Gotcha. That's "The Hook," an American folk tale I first encountered in Scary Stories to Tell in the Dark. This one can be found here and is retold by S.E. Schlosser.
My round three opponent just didn't want his presence on the interwebs. I get that. The interwebs is a dangerous place. Anyway, he had tough luck, mulliganned, a bunch, and my deck was firing on all cylinders.
Round Four vs. Death and Taxes (I think?) piloted by Hipsters' own Zach Barash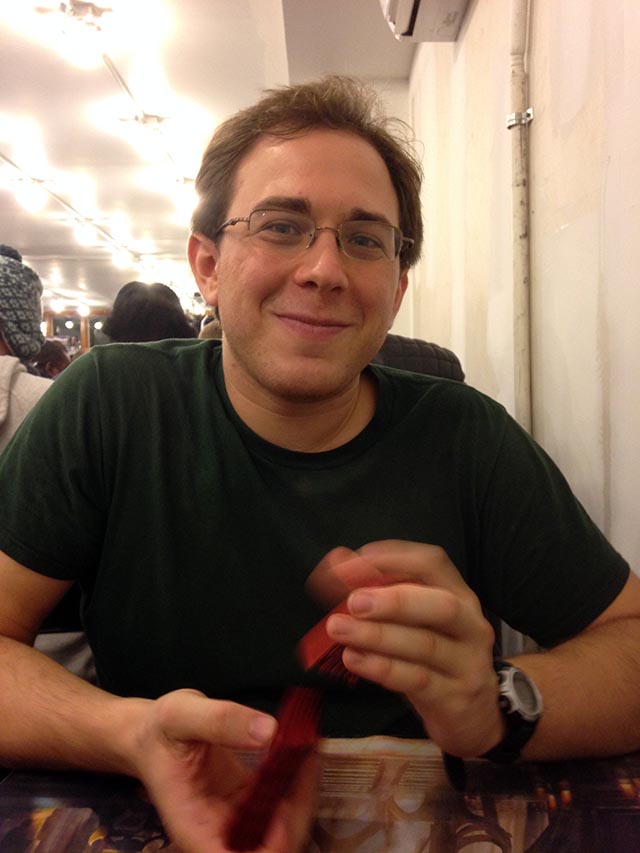 I'm wrong, it was a Bant list. Zach and I had a moment where I told him that "I hope you beat me," isn't particularly friendly way to start a match regardless of the speaker's intentions. Once that was out of the way we had a super fun match and his dream of a Jones victory was assured. 3-1. I still love Legacy and would stop writing this article if someone on this Northeast Corridor train approached me for some games.
Anyone wanna play Legacy?! No?! What the fuck?!
(Silence)
Back to writing, I guess. I wonder why no one's sitting next to me on this train.
Holy hell, Modern: The Gathering has become incredibly boring. Without a Modern GP anywhere near us, and Modern PTQ season more than 200 days away, the turnout for local Modern tournaments hasn't been so hot. It's not super bad, sometimes like twenty people, but mostly ten or less. I mean, what're we playing for, fun? Jeez, I guess so! If that's the gospel truth, then why do I keep playing Jund? I wanna play Hexproof and suit up some mini-beasts and elves.
"If you play Auras I'm going to just scoop to you," says ChinamanLX. Hm. Shit. Well I don't want that. I don't want to be the Lands player or the otherwise unfun combo player that people hate playing. When Li's out of town I'll give it a shot. There's always lots of work to do in the studio. I guess I could get on that and just skip Modern this week.
Remember when Sam Black played the Blazing Shoal/Dragonstorm turn two kill deck? Wasn't that exciting? Now all of the fun cards are banned. Zac Clark has been writing about banning and unbanning cards lately, so I might as well throw my two cents in. Here's a list of cards I think should be unbanned in Modern: The Gathering.
Ancestral Vision
Bitterblossom
Bloodbraid Elf
Chrome Mox
Cloudpost
Dark Depths
Dread Return
Golgari Grave-Troll
Green Sun's Zenith
Jace, the Mind Sculptor
Seething Song
Wild Nacatl
Funny how I cut and pasted the whole banned list with the intention of not changing anything but the artifact lands. Then I started trimming. I am not going to make the case for my choices beyond my boredom and desire for a shake up. If shit is truly too powerful (Bitterblossom does eat shit to Abrupt Decay, guys), then re-ban it. Mess with the market. Watch Jaces skyrocket then fall back down. It'll be fun! MAGIC IS FUN!
People inherently like stability and control, so Wizards won't do this. It'll hurt their profits. They don't make much money on Jace, the Mind Sculptor anymore.
I started looking up deck lists at work because, well, I was at work. Skipping Tuesday Night Modern on a non-Group Therapy evening seemed wrong. What could I play that wasn't the same old thing?
To quote ChinamanLX, "Modern is all good stuff decks," which seems a pretty legit analysis. The Twenty Sided Store is filled with Jund, attempts at non-Twin and non-Kiki blue decks, an occasional Hexproof deck, sometimes multiple Tron versions (One-Tone played against three Trons two weeks ago!), and a smattering of Melira Pods. Oh and Zac Clark plays Gifts. Combo Master, if he plays, plays Twin.
Jeez, it actually seems pretty damn diverse, right? It just doesn't feel that way. It feels like it's the same deck because all the decks have a similar power level. Fuck it, I dunno. It feels boring. Value value value, nothing cool, nothing exciting. Everyone knows the match-ups. Going through the motions isn't the preferred way to refer to Magic: The Gathering (the collectable card game of strategy and imagination). Where's the imagination?
Dedicated P&T readers know I've fallen in love with Legacy. If you read the first half of this article you'd know that, dedicated or not. Now there is a format with a diversity. It doesn't feel like the decks do more or less the same things. Maybe I'm in the honeymoon period with Legacy. It could all become dull, too, right?
Probably not. The format is so fun and I get to play my favorite deck of all time (Shardless). I need to draw more cards in Modern. How can I do this?
Mikey One-Tone and I chat a lot during the day over the world wide internets and we got to talking about what to we could play in Modern. I was pretty "meh" until I saw an elves list that looked sweet. One-Tone IM'd me with a list to another elves deck. I clickede the link.
On the same list of decks is a mono black list.
Mike says, "I found my deck!"
"Me too!" and I cut and paste the URL to him.
"Shit, that's what I want to play," says One-Tone.
We figured out that I had more of the cards than he did (or was willing to buy them) so I threw it together. The store had no Obliterators and mine were in my apartment, not my studio, which lead me to throwing in a couple Gatekeeper of Malakir and, at Orlando's relentless recommendation, an Abyssal Persecutor.
Mono Black Discard
Boy oh boy did Phyrexian Arena draw me cards. Holy smokes.
Hipster's own Zach Barash and I tested the deck against his UW pile. Mono B took both games fairly easily. A single Gray Merchant can 180 a game without warning. I had become an expert in Modern Mono Black Devotion those two games. I can't wait for round one!
Bye.
Third constructed tournament round one bye in a row. Zach, Fettoblaster, and I went to Blue Collar to get pudgy on some chicken sandwiches, fries, and a burrito Josh bought elsewhere. We ate like wild dogs and headed back to the store. I shot the shit with Luis for a while then round two was posted.
Round Two vs. Nick's Living End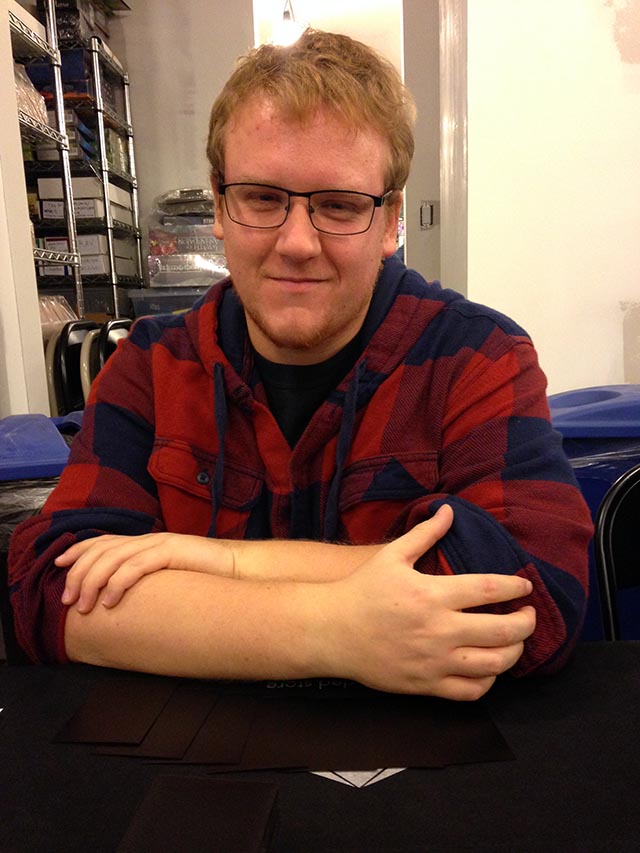 Nick, I miss this guy when he's not around. He got way ahead of me game one, Living End'd, and won. Games two and three I had Leyline of the Void in hand and on the table to before turn one started. That card makes Living End's shot at winning pretty difficult. Nick stuck it out and looked for a win. My Fulminator Mages were key in keeping him off the right quantity and quality of mana to mount a comeback. Game three he had his own Leyline of the Void and the match got super weird. How does my deck deal with four casting cost enchantments? What if someone Leyline of Sanctity'd me? I'd be fucked.
Round Three vs. Mark's Blue Tron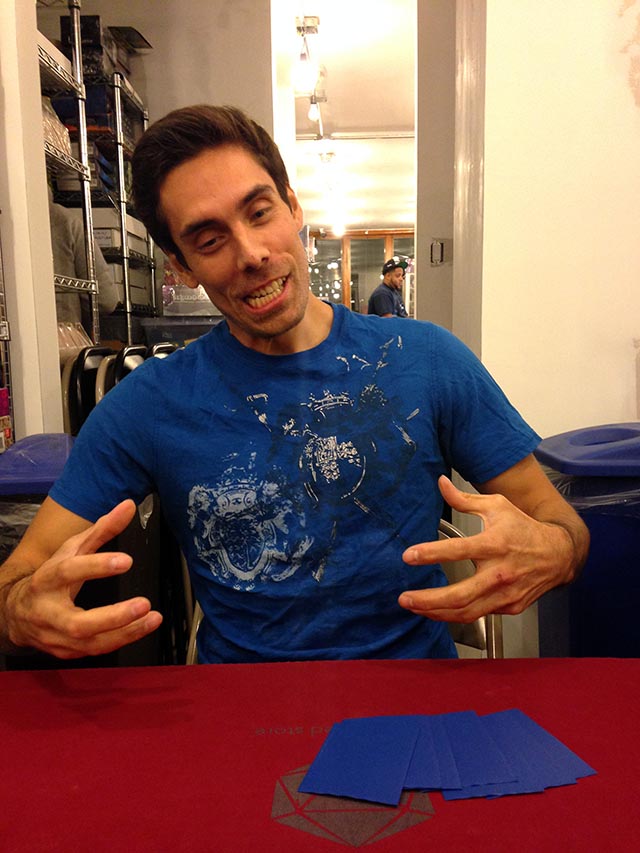 Mark had previously beaten my ass with his Troning. His deck is a solid reason why I'm playing Mono Black Devotion.
Mark didn't win a game this time. Combinations of mana screw, mulligans, unrelenting discard, and land destruction didn't give him much of a chance.
The final play in game two involved me potentially resolving a Gray Merchant for exactsies. When Mark passed the turn and didn't concede I figured he was up to something. He must have had a card that could get rid of some devotion thereby giving himself another turn. I drew Profane Command and double whammy'd him, draining his life nine points and bringing back buried Gray Merchant, putting Mark at negative nine life. Not bad.
We played one more for fun and Mark's mana troubles continued. When he was at negative four life thanks to Abyssal Persecutor I attempted to cast Liliana of the Veil to target myself and sacrifice a creature. He countered her. I played the second one in my hand and the game was mine. This deck is fun.
Round Four vs. Brook's Lightning Angel Deck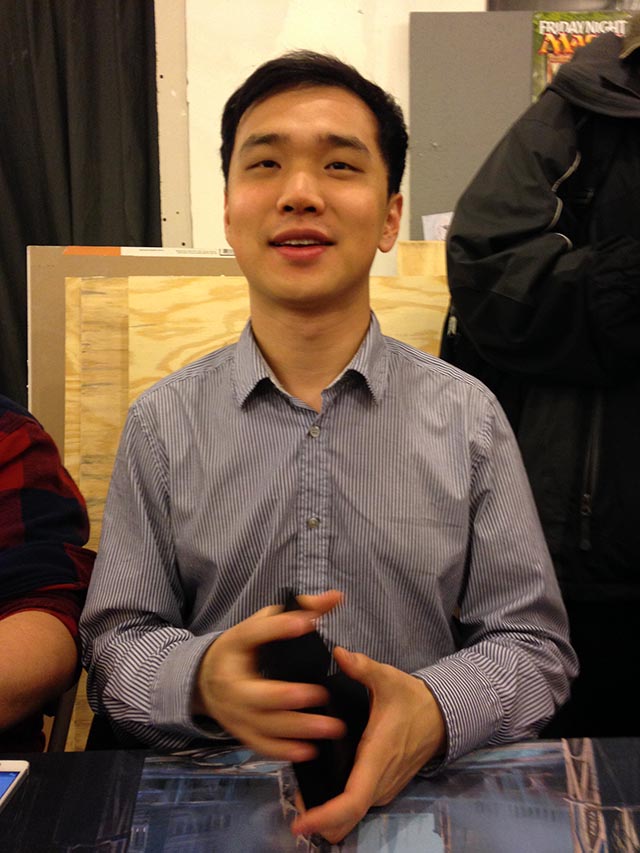 We barely played games. One game I had him at no lands and another game I had myself at no lands. One of our games was real-ish. Didn't matter, we had previously agreed to split which now means $30 in store credit. Fairly quickly I turned that into the aforementioned elves list.
What can I say? I had shit tons of fun playing this deck. I played it once online and got Leyline of Sanctity'd and lost. I'll keep trying. Li's brewing up a hell of a Jund Pod list that I'm excited to try out and Justin's up to some kind of madness with a deck involving Koth of the Hammer. WHAT IS HAPPENING?! Modern is starting to get exciting again!
Here, at Carrie's request, is the deck going forward.
Mono Black Discard
Thanks for reading! I hope you had an awesome Thanksgiving. I hope I'm writing next week as a GP Toronto Day Two'er.
Much love to all,
Matt
MTGO: The_Obliterator
Artist, cheerleader. Matt started playing at the end of The Dark, hit his stride during Mirage block, and quit Magic after finding booze, drugs, and sex during freshman year of art school. In 2011 or 2012 Twenty Sided Store opened eight blocks from Matt's apartment in Williamburg, Brooklyn. He kept his distance for a few months due to fear of the game's power over him but eventually caved. Matt's main MTG interests are Unhinged lands and constructed formats. Power and Toughness is his weekly summation/journal article and he writes an Arting Around article now and then.
*By "plane" I mean Mike Simpson's truck and I didn't leave directly from One-Tone's drop off spot (his house) and go to the store for Monday night Magic. I went home to sleep, worked a full day, threw some paint around, and made it in time for my round one bye.
**Additionally, as a public service announcement, a warning in the form of a story. I played a kid (under 20 years old) at the PTQ in Philly this weekend, maybe round five, that Hunter caught looking at my cards as he shuffled. I wasn't paying attention (shocker) so I didn't see this but it was enough to make Hunter call a judge to watch our match. The kid shuffled my cards in such a way that they were sort of face up as he shuffled, not a lot, but enough to see them. Hunter says the kid blatantly (and kinda sneakily) looked at my deck as he shuffled it. If it's true, and it probably is, fuck that guy. Cheating is the shittiest thing outside of homophobia, racism, or other bigotry, a player can participate in. Cut it out, kid. All you non-cheaters: watch your opponent when they shuffle your cards please. If you think someone's cheating you, call a judge.