Hey kids! This past week I did my first of this year's MTGO Holiday Cube drafts—and, well … I didn't do so great. I used to kind of hate Cube, but mostly it was because I didn't understand the whole "draft a deck, not (just) good cards" thinking. But after some moderate success in the online Cube last year, I warmed to it and enjoyed it. I've yet to play a Cube in real life, which is a damn shame, but I'm sure I'd enjoy that even more, given my strong preference for IRL versus online events. But, hey, you play when you can play, and this is what I drafted last week:
Pack 1 pick 1:
My Pick:
This is why some people hate powered Cubes: You gotta take the Pearl, right? Even though Consecrated Sphinx is more fun, as is Huntmaster of the Fells, moxen are just too strong. I thought about taking Time Walk, but as the guys on Limited Resources pointed out recently, sometimes Time Walk can basically just be an Explore, which isn't bad but isn't fantastic, either.
Pack 1 pick 2:
My Pick:
Here I just decided to stay cool and continue picking artifact mana; maybe the pick here should be Sylvan Library, but I'm never good at using that card.
Pack 1 pick 3:
My Pick:
This was kind of a weak pack, and I was thinking maybe I could try to go "big mana" and win with an Eldrazi?
Pack 1 pick 4:
My Pick:
The blank card is Aetherling; not sure why that didn't show up. Here I continue the "big mana" plan, although does LED even facilitate that? Sometimes I don't know which cards fit into which archetypes.
Pack 1 pick 5:
My Pick:
Again, the blank card is Unexpectedly Absent; I chose Maze because … it's colorless and I know it's powerful? I dunno, here's where I start to not know what I'm doing.
Pack 1 pick 6:
My Pick:
Big mana, back on plan! I know Deranged Hermit is really strong, but I felt like I needed to stick with my nascent plan.
Pack 1 pick 7:
My Pick:
This is probably just wrong, as I know from playing Modern Masters how strong the ol' Goatfather is—but the LR guys had recently been singing the praises of Hero, and so I decided to give her a whirl.
Pack 1 pick 8:
My Pick:
Again probably wrong, but—having not played Constructed—I find it hard to imagine how good Voice of Resurgence is, even though I know it to be so. And one-mana tutors are not weak.
Pack 1 pick 9:
My Pick:
Now I start taking lands/fixing.
Pack 1 pick 10:
My Pick:
Ditto. Moving towards thinking about green/white now.
Pack 1 pick 11:
My Pick:
Silverblade Paladin's not a bad pickup; maybe with this and Hero I can also apply some early pressure.
Pack 1 pick 12:
My Pick:
That's a blank Aetherling on the wheel.
Pack 1 pick 13:
My Pick:
And Unexpectedly Absent on the wheel, too, which I snapped up.
Pack 1 pick 14:
My Pick:
Pack 1 pick 15:
My Pick:
Pack 2 pick 1:
My Pick:
Again—is Holiday Cube boring? I wanted to take Wurmcoil Engine here, but moxen has to be the right play, right? Although maybe it isn't, what with the bits and pieces of fast colorless mana I'd already picked up.
Pack 2 pick 2:
My Pick:
Worn Powerstone doesn't seem like it's the strongest, so here I chose a (virtually) colorless Clone. I think this is part of my problem with Cube: I have a hard time staying on target.
Pack 2 pick 3:
My Pick:
That's True-Name Nemesis as the blank, and I probably should have taken it, seeing what it did to me later. Cradle ended up being just OK for me—it never did anything really stupid.
Pack 2 pick 4:
My Pick:
This is another bad pick, as Sun Titan didn't even end up making my maindeck; I probably should have picked Meloku, the Clouded Mirror or maybe even Time Spiral? It's those weird cards, though, that I never know how to properly deploy.
Pack 2 pick 5:
My Pick:
The Fishfather seemed like a fine pick-up here, as I knew my (theoretically) big-mana deck wouldn't be wanting to run land destruction.
Pack 2 pick 6:
My Pick:
Signets are strong, big mana, etc.
Pack 2 pick 7:
My Pick:
Yeah, the best big-mana card! (Maybe?) But here I did pass Opposition, and man if that card didn't straight-up fuck me later on. Is Opposition a "never-pass"? I don't know.
Pack 2 pick 8:
My Pick:
More fixing, this time in fetch form.
Pack 2 pick 9:
My Pick:
Get in my deck, dual land!
Pack 2 pick 10:
My Pick:
Nothing to see here. I suppose this card is good, but it's not quite Plow Under, is it?
Pack 2 pick 11:
My Pick:
Man these Karoo lands would later come back to bite me in the ass.
Pack 2 pick 12:
My Pick:
Colorless, so I took it, although it didn't make my deck.
Pack 2 pick 13:
My Pick:
More fixing, sure.
Pack 2 pick 14:
My Pick:
Not one but TWO elephants!
Pack 2 pick 15:
This guy helped kill me in my win-and-in match for top 8 of the PTQ at GP Toronto back in 2010. I was pleased to see his spiny ass go last-pick.
My Pick:
Pack 3 pick 1:
My Pick:
Not a super-exciting first pick, but she fixes for all my colors and ramps me, so it seems good.
Pack 3 pick 2:
My Pick:
Ajani Goldmane is kind of bad, right? And anyway, Prime Time seems like exactly what this deck wants. Talk about deck-thinning and ramping! (Although, sure, it happens at six mana.)
Pack 3 pick 3:
My Pick:
More ramp! Although maybe there is a better card for me here. I tend to get locked into these modes of "take all fixing/ramp/colorless" stuff
Pack 3 pick 4:
My Pick:
Fourth-pick Sword seems super-sweet and really late, right? (It's worth noting that this was a swiss draft.) I was happy to snag it here.
Pack 3 pick 5:
My Pick:
This is probably just a stupid pick, as I don't really have enough ramp/artifact mana to justify it, at this point; and the Tinker was long gone. But I thought, "Hey, this is what I've been aiming at doing, and I only have one other giant monster at this point, so let's go all in."
Pack 3 pick 6:
My Pick:
My first piece of removal.
Pack 3 pick 7:
My Pick:
More lands, although who cares at this point? I don't think I even had any black cards in my deck, and by pick seven of pack three I'm probably not looking to add another color, so … I dunno what. I don't think my deck wants any of these other cards, anyway, so maybe this is still a fine pick.
Pack 3 pick 8:
My Pick:
This didn't make my maindeck, which is fine … but I think I just have a limited imagination when it comes to what I can do with cards like Armageddon. Maybe I should have run it? Or otherwise I should have taken the Thrun, the Last Troll, I think.
Pack 3 pick 9:
My Pick:
I think this is a fine pick, but man I wish I had that Consecrated Sphinx from pack one. That sphinx makes this one look like crap.
Pack 3 pick 10:
My Pick:
Probably should have been Lightning Greaves, here. This version of Ajani Goldmane just seems not good, although maybe I should have taken it, anyway, as I might have been more likely to run him against, say, mono-red.
Pack 3 pick 11:
My Pick:
Nothing wrong with a late-pick utility creature.
Pack 3 pick 12:
My Pick:
I know Thawing Glaciers is a good card, but man it just seems so unbelievably slow.
Pack 3 pick 13:
My Pick:
I always liked Faith's Fetters. And it even hits planeswalkers and (if you time it right) Swords, too!
Pack 3 pick 14:
My Pick:
Damn Karoos.
Pack 3 pick 15:
My Pick:
So nobody was mono-red, huh?
Here's the deck: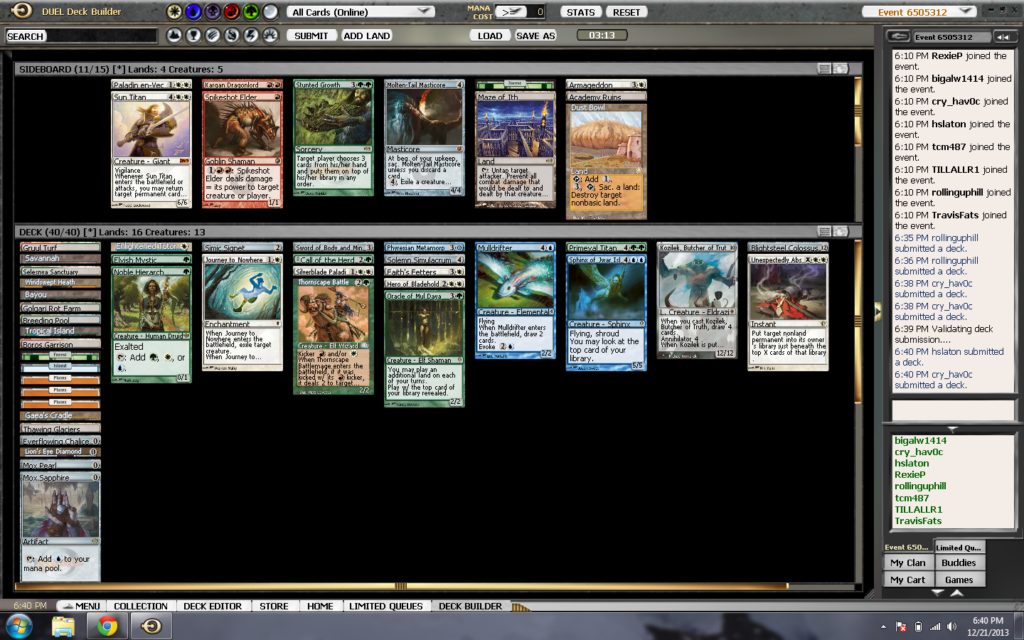 I dunno, it's not bad, right? I was glad to cut Sun Titan, as I really didn't have much important for him to get back—except for the Sword of Body and Mind, of course, which would have come in handy (returning it, I mean) at one key point in my games … so maybe I should have run him after all, perhaps instead of Blightsteel Colossus? I mean, 12 is just a billion man. Here's what happened in my matches—and, spoiler alert, it doesn't turn out well:
R1 G1—I got a Sword of Body and Mind out early and my opponent conceded.
R1 G2—Had a slow start thanks to too many Karoo lands and my opp. got Big Daddy Garruk online, making 3/3 beasts; I didn't have my Faith's Fetters online early enough to stop him.
R1 G3—Got off to a quick start with Sword of Body and Mind on a Elvish Mystic, but opp. had Wickerbough Elder to destroy the sword after one hit. Got back in game w/ Prime Time, and even made 2X Prime Times in a turn w/ Phyrexian Metamorph, but my opp. got out Meloku, the Clouded Mirror and Opposition and that was all she wrote. 0-1
R2 G1—Opp. was on reanimator; I had Journey into Nowhere for his T3 Sphinx of the Steel Wind, but had no answers for his True-Name Nemesis.
R2 G2—While I durdled with my lands, trying to get a Blightsteel Colossus into play off of Karoos and an Everflowing Chalice (a fool's errand, that) my opp. just beat my brains in with a Vampire Nighthawk, the 2/2 bounce suspend flier, and then a Batterskull. BOO. 0-2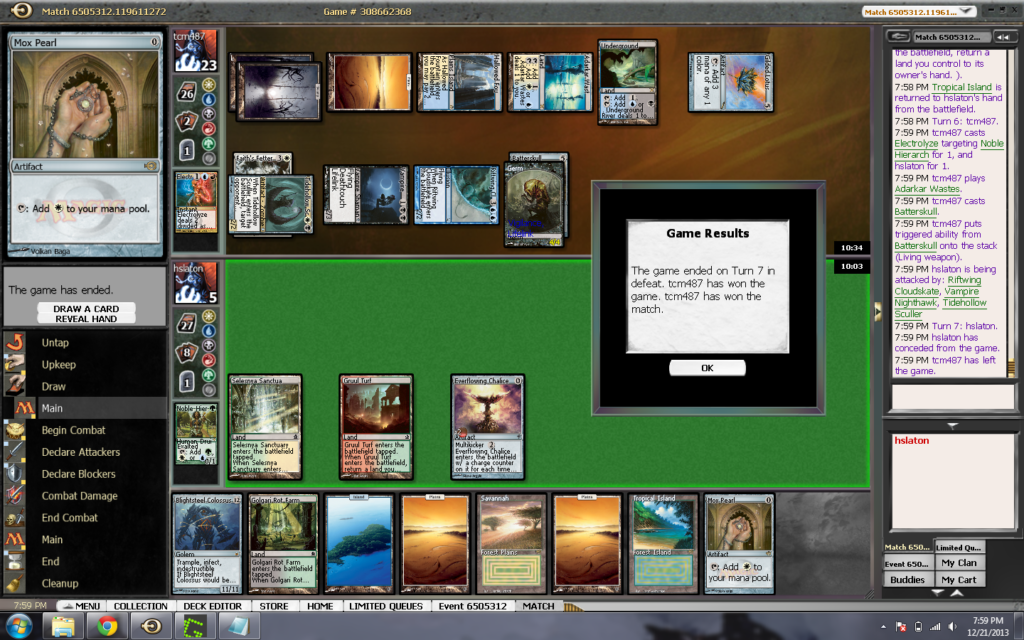 And then of course, while waiting for R3, I got a bye. Double boo. I wanted to try and get at least one honest win. Oh well. I'm going to watch some Cube videos and get back into it this week, now that I'm back in Brooklyn after a few days in Arkansas for Christmas. Wish me luck, everybody! Also: I would be curious to hear in the comments where you think my picks or deck went wrong. I want to get better at Cube, I really do!
23/17 is a Hipsters of the Coast column focused on Limited play—primarily draft and sealed, but also cubing, 2HG, and anything else we can come up with. The name refers to the "Golden Ratio" of a Limited deck: 23 spells and 17 lands. Follow Hunter at @hrslaton.