The weather here has grown colder as the 2013 Holiday Season draws nearer. With the once-in-a-lifetime occurrence of Thanksgivukkah this year, the shopping season starts early. There's no time to waste putting together the perfect gifts for the special planeswalkers in your life. It can be daunting to figure out what to buy these powerful mages for the holidays, but Hipsters of the Coast is here to help. We'll break down all the best gifts in the multiverse and how you can get a hold of them. Whether your special planeswalkers are competitive, casual, or just fans of the game, we have the perfect give for everyone.
2013 MTG Holiday Shopping Guide
For the Competitive Planeswalker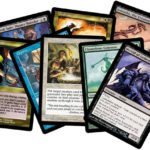 1. Single Cards – Competitive Magic players need competitive decks and that means acquiring singles. Now, no one is going to expect you to know what the hot cards in your friend's or loved one's favorite format happen to be right now. That's why StarCity Games sells Gift Cards in denominations of $10, $25, $50, and $100. SCG doesn't have the most competitive prices, but they have superb customer service and likely the largest selection of singles and supplies. You can't go wrong with these gift cards.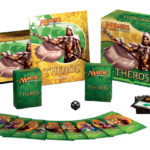 2. Booster Packs – Some competitive players prefer the thrill of opening packs, but also need a steady supply of them to work on their skills in various formats. No competitive player will ever be unhappy to see a pile of unopened packs of MTG cards looking back up at them from a just-opened gift-box. The latest set of cards is called Theros and you can pick up packs in many places. Your Local Gaming Store is the best place to go, but you can also pick these up in book stores and Wal-Mart as well.
For the Casual Planeswalker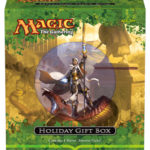 3. Holiday Gift Box – The 2013 Holiday Gift Box is the perfect gift for the casual Magic player, but also pretty good for most any Magic player. It serves as a box for up to 2,000 cards, and comes with four booster packs, twenty basic lands, six plastic dividers, a sheet of stickers to customize the dividers, and a special alternate-art version of Karametra's Acolyte. This gift set will be available on November 15th, just in time for Thanksgivukkah. Don't fret, since this box sees a very high print run and should be easy to obtain from the same places you can buy Booster Packs.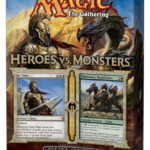 4. Other Box Sets – There are plenty of cool box sets that have been put out by Wizards. Among the most recent are the Heroes vs. Monsters box set, and the Commander 2013 box sets. These are in fairly regular print and you can find them easily at your Local Gaming Store, Wal-Mart, or Amazon.com.  The versus box sets, like Heroes vs Monsters, or Sorin vs Tibalt, come with two decks. This makes them a perfect gift if you have a couple planeswalkers you're buying gifts for. More than two? Then  I recommend several of the Commander 2013 boxes, or Intro Packs.
For the Digital Planeswalker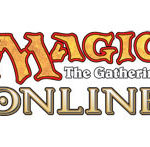 5. Magic Online – You can find everything you need to know about Magic Online, aka MTGO, aka MODO, by clicking this link. If you want to get a gift for someone who plays MTGO, then you have limited options unless you have access to their account. Barring that, a few of the more popular sellers of cards on MTGO sell credit that can be redeemed for cards online. CardHoarder is one such site. Another is MTGO Traders. If you want to give the gift of MTGO, you can download it for your planeswalker and purchase the $10 starter pack for them. It's the gift that keeps on giving. And taking. Mostly taking.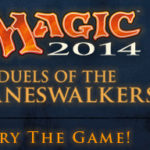 6. Duels of the Planeswalkers – DotP is a fantastic game produced by Wizards that allows you to play Magic on the computer, XBox, Playstation, or even on your mobile device through the Apple App Store or Google Play. If you are looking for a gift for a planeswalker who is always spending time playing games on one of these devices, look no further. Even if they already have the game, there are plenty of expansions with extra content they'll be happy to have.
For the Fashionable Planeswalker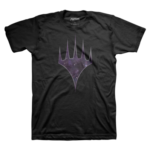 7. MTG Brand Clothes – Wizards sells officially licensed products through MTGMerch.com. They have a modest inventory of shirts with MTG paraphernalia on them. My top three selections, for the men, are Jace, the Mind Sculptor, the Vertical Logo Tee, and the Liliana Black Mana Symbol Tee. Unfortunately there aren't too many options for the Lady Planeswalker, but I highly recommend this Black Lotus Tee.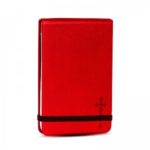 8. MTG Accessories – Accessories make the planeswalker. No mage wants to wade into battle without the proper tools. Sign in Blood, for example, makes exquisite notepads. Plenty of retailers, like MTGFanatic, sell supplies like play mats, life counters, and deck boxes. Finally, no mage is ready without the right sleeves for their deck. Plenty of stores online have a variety of sleeves including Troll & Toad, StarCity Games, ABU Games, and of course, Amazon.com.
For the Planeswalker Collector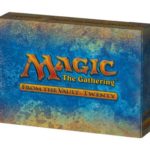 9. From the Vault – Every year, Wizards releases a high-end collector's box set known as From the Vault. This year's installment is FtV:20. You can still get some of these from a Local Game Store, but you may have to resort to eBay or an online retailer such as StarCity Games. All of these boxed sets are great for any collector. There are six of these to date, including Dragons, Exiled, Relics, Legends, and Realms. There are two other great collectors sets which are worth hunting down. The first is called Commander's Arsenal. This is a limited run boxed set from last year which may be tough to find. The other is an incredibly difficult to acquire set of promotional planeswalker cards which was only available at San Diego Comic Con this year.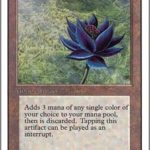 10. Power Nine – The premiere collectible in the MTG world is the group of cards collectively known as the Power Nine. This includes Black Lotus, Mox Emerald, Mox Jet, Mox Pearl, Mox Ruby, Mox Sapphire, Ancestral Recall, Time Walk, and Timetwister.  They are among the most valuable cards ever printed, and are in limited supply because they were only printed in three small sets in 1993. If you want to acquire one of these, eBay is a good place to start. Be wary of frauds though. You can search online for a reputable dealer in your area. Other collectible cards just below the Power Nine include Library of Alexandria, Time Vault, and The Tabernacle at Pendrell Vale.
Pro Tour Update
Grand Prix Valencia
Over a thousand players showed up in Valencia, Spain for a Theros Limited Grand Prix. It was a solid turnout with plenty of local talent. The only ranked player to compete was 18th overall Raphael Levy. The Hall of Fame Frenchman continues to impress playing at a highly competitive level. He finished 9th overall in Valencia, picking up 3 Pro Points and $600.
But, it was Samuel Marti who took home the trophy. The 20 year-old student from Switzerland drafted a U/G deck in the final table. The deck featured Boon Satyr and Arbor Colossus along with a very solid ramp plan that applied constant pressure. In the final match he beat out Ukrainian Andrii Gusiev, who was playing a U/W deck with plenty of cheap creatures and fliers to pair with Prognostic Sphinx.
The Theros limited metagame is now very well established. Check out the replays and recaps from Valencia for guidance on your next FNM or MTGO draft. There are only four Theros limited Grand Prix tournaments left until Born of the Gods hits stores in February. Enjoy it while it lasts!
Top 25 Update
Not much to see here. One Grand Prix last week had minimal impact on the standings. Mostly due to the timing used in calculating these rankings, Shuuhei Nakamura and Yuuya Watanabe are now tied for 5th place overall. I don't expect Valencia to have much of an impact either, but next week's Grand Prix in Washington, D.C. could shake things up if a large number of the North American pros show up. Coming off his top-4 finish in Vintage at Eternal Weekend, could Reid Duke make a push for the top overall ranking by finishing strong in DC?
October Player of the Month
Brian David-Marshall presented six nominees for this title, but in the end a write-in candidate  suggested by several pros on Twitter. Sam Black is the October 2013 Player of the Month!
Sam's performance in October did not get him any titles, but it was highly consistent. He finished in the final four of Pro Tour Theros in Dublin. He followed that performance up with a 5th place finish at Grand Prix Louisville.
On October 3rd, Sam Black was ranked 25th in the world by Wizards. After the solid performances he put up in the month, he is now ranked 10th in the world. The only other movement of such significance was by Paul Rietzl who went from not being ranked to 17th overall.
November will be an interesting month with only five Grand Prix events taking place (seven if you count the two that end on December 1st). This is similar to October which also had five Grand Prixs, but also included Pro Tour Theros. With GP Santiago and Valencia in the books, there are only three more opportunities to make a push for November Player of the Month.
The Quick Hits
Wallpaper of the Week
It's about time Commander 2013 got some love on my desktop. Wait, that didn't come out right. You know what I mean. Nothing like some sweet zombie-wizard action all up in here. Oh man, that wasn't right either. Moving on. This week's wallpaper is the stunning Nekusar, the Mindrazer. This Grixis general has a built in Howling Mine and Underworld Dreams for the equivalent five mana. He's also pretty good-looking in that blood-red armor, and with no skin. Am I right? Right?
Grade: A- for being awesome and from Commander 2013
The Week Ahead
Hot off the heels of Eternal Weekend, the Grand Prix returns to Washington, D.C. next week with Legacy as the format. This will be the first Grand Prix in the nation's capital since a Standard event in the spring of 2010. It will be the fifth Grand Prix ever held in Washington and the sixth Pro event, including Pro Tour Washington, D.C. in the fall of 1999. This will be the first ever Legacy Pro event in Washington, D.C.
What We Learned is a weekly feature here at Hipsters of the Coast written by former amateur Magic Player Rich Stein, who came really close to making day two of a Grand Prix on several occasions. Each week we will take a look at the past seven days of major events, big news items, and community happenings so that you can keep up-to-date on all the latest and greatest Magic: the Gathering community news.