I woke up on Sunday morning, earlier than I would for a work day, to play in the Theros Sealed Pro Tour Qualifier in Providence, Rhode Island. To be honest I wasn't feeling it. The vague apparitions of a cold had finally materialized to a full on sore throat, cough, and stuffy nose, and I wasn't sure I wanted to spend the day anywhere else but in bed. To top it off, I had a hamper full of laundry, a sink full of dishes, and a flat rear tire on my car that were going to remain in that state unless I did something about them. But despite feeling sick and guilty over my general lack of productivity, the thing about Magic is that it's awesome and ends up trumping the stuff in my life that isn't as awesome. So I was up at 7 AM, slugging DayQuil right out of the bottle, packing myself a lunch, and loading up my bag with Magic paraphernalia to spend the entire day in the hellhole that is Providence, Rhode Island.
Now I don't want to disparage Providence too much, rocks and glass houses etc., but the only good thing I see about Providence is that it has a relatively short driving distance to Boston. Yes, there are good things in the city—AS220 is a good venue, Trinity is a decent brewery, and Providence Place is awesome if you're really into malls—but mostly the place is just a desolate cultural vacuum home to bad drivers, boring nightlife, and a cityscape that makes even Worcester look nice. Normally I would expect hate mail for bashing the home city of a hundred fifty thousand people or so, but if you live in Providence, I'm pretty sure you agree with me.
The PTQ was held at a place called Mana Core. Mana Core itself is an interesting venue for Magic events. The store is located in an industrial part of town and from the outside looks more like a shipping warehouse than local game store. When you get inside though…Mana Core still looks like a warehouse. After walking in the front door, a dilapidated staircase leads up to the storefront and continues to the play area, a space my car mates referred to as the "murder loft." While pretty spacious, the murder loft was not very inviting; the cold room contained rows of well worn banquet tables, exposed pipes, broken windows covered with plastic wrap and duct tape, and bleak white brick walls in varying states of decay.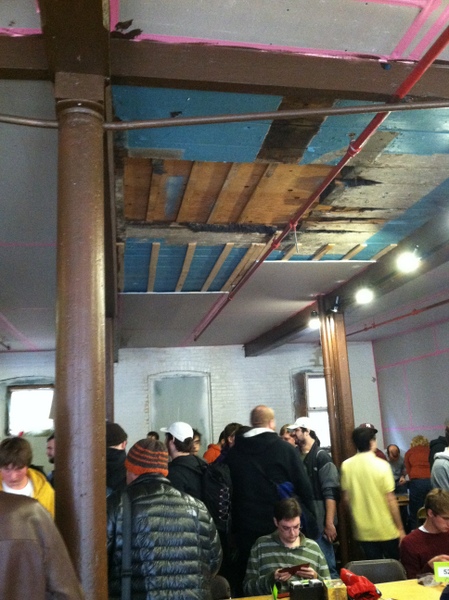 Despite the fact that the space was less than ideal, I do think it's important to say that the event was very well run, and that everyone from Mana Core was helpful and friendly. Also, I've heard that the event was supposed to be run at the local convention and was relocated to the murder loft only after a cancellation happened on the other end. I appreciate the fact that instead of canceling the event, Mana Core followed through and ran a pretty tight ship. Also, I want to give the store props for running Modern, instead of Standard, at Friday Night Magic. The area needs more Modern events especially with Modern PTQ season being moved to next fall.
After registering a lackluster pool with a foil Thoughtseize, I was passed this: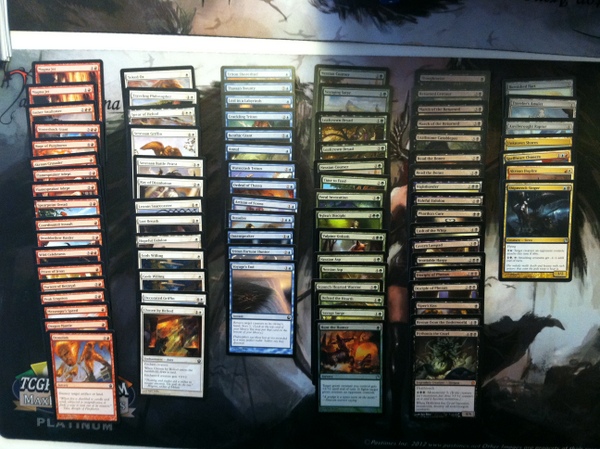 Shawn's PTQ Sealed Poo (R/W)l
Shawn's PTQ Sealed Poo (U/G)l
Shawn's PTQ Sealed Poo (B/Land/Artifact/Multicolor)l
Here are my rares (for those who use the rarity sort on MODO):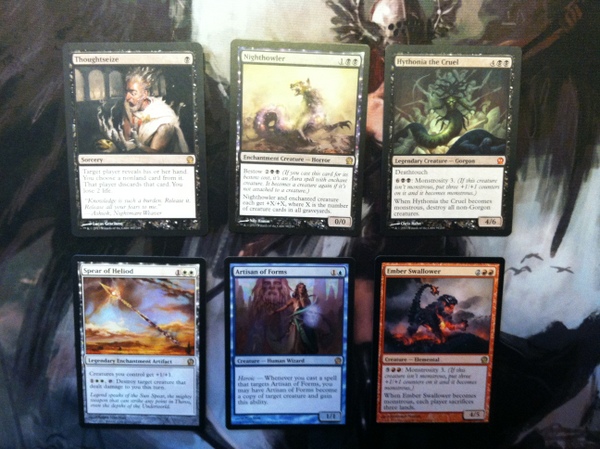 I think the build is relatively straight forward for this deck, though even in potentially obvious situations it is best to consider all possibilities before narrowing them down. Here I want to break down each color and talk about the possible considerations regarding each of them.
Red—Red had many playables, several removal spells, and is tied with black in total number of cards with 18. Ember Swallower is in itself a reason to consider red; it has a very efficient mana cost to power ratio, a strong monstrous ability, and can't be one-for-one'd by most removal in the format since it has five toughness. However, after really delving into red, it becomes apparent that while several of the cards are good in a certain archetype, they don't really go together. Dragon Mantle, Coordinated Assault, and Akroan Crusader are reasonable in the heroic deck, which is usually white-red. However, despite having a few of the enablers in red and white, I didn't have enough good heroic creatures; I had noWingsteed Rider, Favored Hoplites, or Two-Headed Cerberus, which despite not being heroic is an all-star in these decks. If I wanted to just splash red, I could play the two Magma Jets and one Rage of Purphoros as removal spells that only require a single red mana to play. However, after playing this format a few times, I really don't like Magma Jet, especially as a splash card. Magma Jet just doesn't match up very well against the creatures in this format; it can't kill green and red's big creatures and often has a very small window to kill white heroic creatures before they become too large to off.
White—Well…there is Spear of Heliod. Aside from the spear, white offers up the best Eidolon (Hopeful) and two God's Willing which are fantastic heroic enablers. Aside from these cards, white has some mediocre fliers, unexciting ground guys, an extremely situational removal spell (Last Breath), and one enchantment removal spell. While Spear is certainly sweet, the double white in the cost is too prohibitive to splash and the rest of the pool is too shallow to consider playing as a main color.
Blue—Out of all the blue cards, I am really only excited to play Voyage's End. There are some okay support cards in Omenspeaker, Ordeal of Thassa, Dissolve, and Artisan of Forms but these cards aren't enough to push me into blue. Despite the fact that I play blue in Theros limited more than most, I can't legitimize doing so when the pool is this shallow.
Green—This pool has two of the best rares commons in the set in Nessian Asp, which by itself makes me seriously consider playing green as my base color. Green also offers efficient beaters, a removal spell, some guys with reach, and Voyaging Satyr, a card that fixes and ramps mana. Not only does green have a bunch of good cards, but they also fit in the same deck and curve into one another. While Sealed is certainly a bomby format, a good curve will often win you more games than your unbeatable mythic. Leafcrown Dryad, into Nessian Courser, into Nylea's Disciple, into Nessian Asp, should be good enough to close out most games.
Black—I saved the best for last here. Black has bombs (Hythonia and Nighthowler), card draw (Read the Bones), removal (Pharika's Cure and Lash of the Whip), good creatures (Baleful Eidolon and Insatiable Harpy), and even hand disruption (Thoughtseize and Disciple of Phenax). Black is undoubtedly the strongest color in the pool and understandably constitutes the base color for the deck. Since we have a lot of cards that require double black, I knew as soon as I laid these cards out that I would be playing at least 10 swamps. Also before discussing artifacts, take one more minute to look over the black cards and think about Nighthowler bestowed on an Insatiable Harpy. How do you beat that?
Artifacts and Lands— Burnished Hart is really the only card I considered playing here as Raptor is overcosted and Traveler's Amulet and Unknown Shores should only be played in decks looking to splash a third color. I didn't end up playing Burnished Hart but I wouldn't fault anyone who would have found room for it if they opened this pool.
Multicolored—Shipwreck Singer and Akroan Hoplite are both awesome but just aren't in the right colors for the BG deck I knew I would be building. I don't think Shipwreck Singer is the kind of card you'd want to splash because it's difficult to play on curve with few blue sources, though it does provide a lot of utility in games that go long with board stalls, so maybe that's a consideration. While I'm sure there is a some bizarre deck out there that wants Spellheart Chimera, it's certainly not this one.
My final deck looked like this:
BG for PTQ: BOTG in PRI
The card I was most unsure of in the maindeck was Feral Invocation, and as such it was the card I sided out most often. In general, my deck felt pretty grindy and having Feral Invocation as a trick seemed a bit unnecessary when I was smashing with Nessian Asps and Vulpine Goliaths. Furthermore, if I had wanted a trick, Savage Surge might have been better because, while the pump effect is not permanent, it does often lead to blow outs when opponent's don't play around your creature untapping and blocking. March and Rescue were both interesting options as well for the 23rd card but I felt like they were both on the slow side and only really helpful in the midrange mirror where I felt my deck had the advantage anyway. Against a more aggressive deck, taking a turn to play March of the Returned and then passing feels exceptionally bad. The last card to consider for the 23rd card over Invocation was Viper's Kiss which has some utility killing X/1's and shutting down monstrous, but in general I find too weak to play in the main.
I started off the tournament 5-0. I have never had a run this good before. Though I've made a few Top 8's in my life, I've done so by taking an early loss and clawing my way up the rankings. This was totally different. Every time someone asked my record, I would smile, then try to contain myself to make sure I didn't look like a smug asshole, before saying X-0. I really tried not to get ahead of myself but I found myself thinking, "If I win just one more round, I should be able to double draw into the Top 8." I started thinking about Valencia, about actually being on the Pro Tour, about what the call would be like to my girlfriend or my brother. It was at this point that my cold started catching up with me.
While I was doing a good job of staying hydrated and making sure I was eating, I had neglected to bring any cold medicine with me. I wasn't coughing up a lung or anything, but my throat felt like it had been Chain Lightning'ed and my head was full of Fog and Exhaustion. I went into the next round wanting to win, but in the back of my mind I would have preferred blankets and tea to the drafty murderloft.
Round Six, I played a dour guy named Matt. He wasn't overtly rude or anything, I just am bothered when my opponent's refuse to speak outside of announcing triggers and updating life totals. Anyway, in game one, I fired off a turn one Thoughtseize to find: Triton's Tactics, Griptide, Destructive Revelry, Wavecrash Triton, and two forests. I took the Wavecrash Triton but made sure to write down the rest of his hand and crossed off the cards as he played them. A couple turns later I made an idiotic attack into Triton's Tactics and had my Nylea's Disciple killed off by his Nylea's Emissary. If it helps my case at all, I looked at his lands and saw they were all tapped. My fatal error was forgetting that Sylvan Carytid's primary function is to tap for mana.
Matt ends up winning that game, unsurprisingly, but I won the second one on the back of Hythonia. Game three came down to this boardstate which I have beautifully recreated: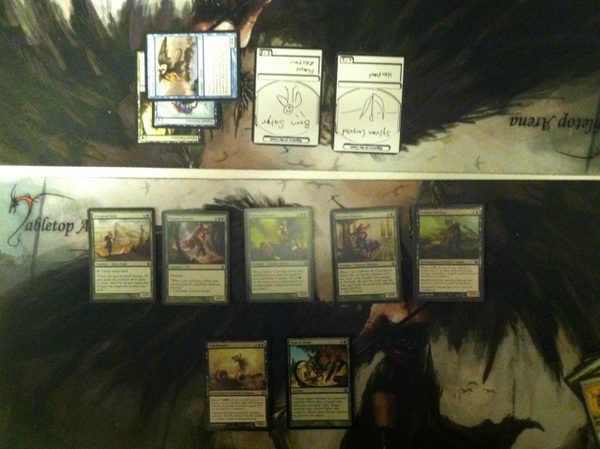 Matt is at 14 life and I am at 1. If he attacks again with his giant trampling flier, I am really dead. Matt has two cards in his hand, I suspect that one of them is a land, but the other he just drew the previous turn thanks to Thassa's Emissary. I used the Time to Feed in my hand to make Baleful Eidolon fight the Boon Satyr, which removed his blocker and added two power to the Nighthowler I enchanted to Vulpine Goliath. Vulpine Goliath then became a 12/12 trampler and I had enough power on the board to win. My plan wouldn't work if he had a bounce spell. I went through with it anyway since I was dead the following turn, and turned my guys sideways. He looked at the board for a minute and then played Voyage's End on Vulpine Goliath.
Then I was 5-1.
Round 7, I played against Rob Castellon. You know that guy that just casually Top 8'ed Pro Tour Dragon's Maze with a deck he came up with. Rob was really friendly but that didn't make it any better when he destroyed me with his insane red white heroic deck.
Then I was 5-2.
Round 8, the last round, I was paired against Jackie Lee. Game one we had a ridiculous board stall that ate up most of the time in the round. I was able to get her down to three life with my Insatiable Harpy flying over her groundpounders, but she eventually played a Sentry of the Underworld I couldn't get through. I made a boneheaded play where I attached a Cavern Lampad to Nessian Asp because I thought intimidate was fear, but otherwise I felt like I played reasonably well. Jackie ended up playing Heliod, making tons of guys, and alpha striking me down when I was at a relatively high life total. We started playing game two, but after shuffling up, we had less than 10 minutes in the round. I played as frantically as I could but couldn't prevent another board stall. When there were only a few minutes left, I realized there was no way I could win the game and tie up the round. I felt like I was going to throw up. I got it together, scooped up my cards and conceded before time was up in the round. I figured it might help with tiebreakers if she won 2-0 versus winning 1-0.
Then I was 5-3.
Jackie finished in 10th place. I finished in 26th place.
At the end of the night, I was disappointed that I had managed to bomb a tournament when I started off 5-0. But at the same time, I still finished in the money despite feeling awful throughout the day, so at least that's something. At the very least, losing meant that I could go home, crack my packs, and go to bed. And that's exactly how the night went down.