As I'm sitting down to write this article, it has been five days since I played Bant Pillow Fort (or Bantchantress). Since then, I have: played three concerts in three separate states, drove 19 hours, drank 20 beers, slept on two floors, and even jammed a DGR draft with some of the people who run this very site. I tell you all this not to humble-brag about how cool my life is, but rather to show a considerable amount of stuff happened since last week, and that my memory of this past week's events are hazy at best. I do, luckily, have pictures and notes to reference while writing the article—but without reviewing them, the thing that stands out to me about playing Bant Pillow Fort is that Ajani's Chosen sucks. I know this isn't really news per se—this guy is already gracing the bulk bins at local stores everywhere—but in a deck built to maximize the card's potential, it is still easily the worst card in the deck.
For reference here is the list I played:
Bant Pillow Fort
The maindeck was taken card-for-card from a list Patrick Chapin posted right after M14 came out. I realize he was spitballing this one, that this wasn't a competitive deck, but I wanted a place to start and this seemed as good a place as any. For those not familiar with the pillow fort concept, Travis Woo wrote a primer for the deck back in December. The basic concept is that you ramp with enchantments, play Sphere of Safety, and sit back as your opponent counts their mana and realizes they are done attacking you. Woo's list used Nephalia Drownyard as the solitary win condition, whereas Chapin's list relies on attacking with an army of cat tokens generated from Ajani's Chosen, Aetherling, or extorting them a bunch of times with Blind Obedience and a few looping enchantments (Mana Bloom and Agoraphobia).
Chapin didn't post a potential sideboard with his list, so I threw one together. The planewalkers, Negate, and Assemble the Legion come in for the control match-ups. Some amount of Sensory Deprivation and Terminus come in against against pure aggro decks. Ground Seal and Rest in Peace are for Junk Rites, which people don't seem to think is a deck anymore. Nevermore is for, well—I'm not entirely sure, though I knew I didn't want to be hit with a Rakdos' Return and wanted a way to preemptively deal with a problematic planeswalker. In his iteration of the deck, Woo said that he liked having Nevermore but thought it was an extremely difficult card to play correctly. We'll see how it goes.
I took the deck to the Wednesday Night Standard event at Pandemonium Books & Games in Central Square and spent four rounds trying to construct the perfect pillow fort. Below are my results.
Round 1—Josh with Dimir Control (0-2)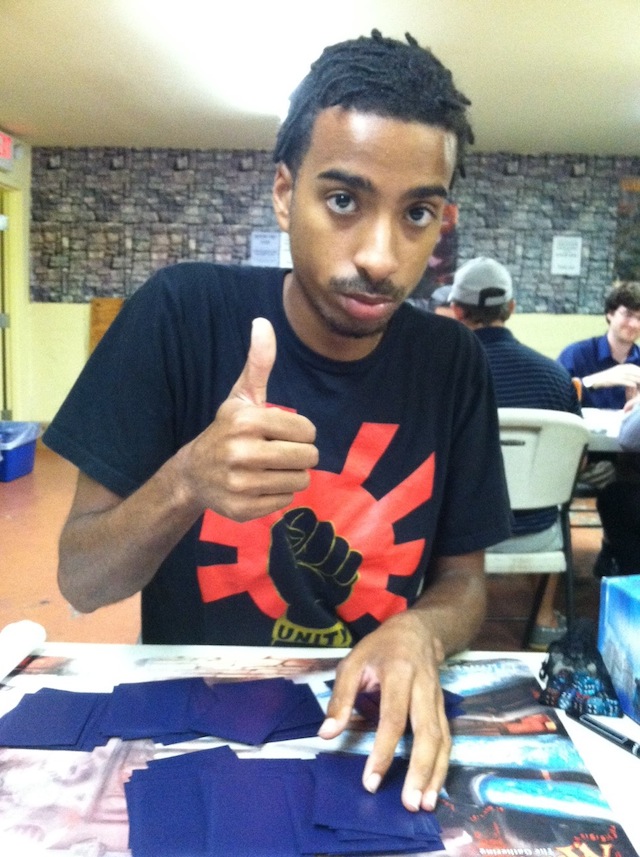 Game 1, Josh opened with Duress, I showed him my hand, and he said, "What the hell is this?" After looking over my hand, baffled at a questionable deck choice, he decided to take an Oblivion Ring. The game proceeded with him drawing a bunch of cards off of Think Twice and Opportunity and me just casting a bunch of Verdant Growths and Mana Bloom. I played a couple of Ajani's Chosen, attempting to add some kittens to my sweet pillow fort, but they were Doom Bladed, Mutilated, and paid the Ultimate Price before getting cozy. Eventually, Josh played an Aetherling but had a hard time attacking with the mana-intensive creature into my Sphere of Safety. Eventually, Josh played Nephalia Drownyard and I watched in horror as all of my win cons, and then the remaining cards of my library, were milled from the top of my deck.
Sideboard:
-4 Supreme Verdict
-4 Agoraphobia
+2 Assemble the Legion
+1 Tamiyo, Moon Sage
+1 Jace, Memory Adept
+2 Nevermore
+1 Negate
+1 Oblivion Ring
Game two, I was on the play and landed a turn four Assemble the Legion. Josh followed up with a Ratchet Bomb and started ticking it up immediately, as it was perhaps the only way to deal with my ever increasing legions of soldier tokens. Josh then played a Duress and took the Detention Sphere which would have been the perfect answer to Ratchet Bomb. Over the next few turns, I played a Nevermore naming "Aetherling" as I figured it was his best shot at racing my Assemble the Legion. I continued to smash in with soldier tokens, taking him to six life before he detonated his Ratchet Bomb and followed it up with a Jace, Memory Adept, immediately milling me for ten cards. On my turn, I played my own Jace, knowing he was ahead in the race but hoping to draw a Detention Sphere or Oblivion Ring to end the game in my favor. The next turn I drew an Aetherling and envisioned it killing his planeswalker before realizing that I had named Aetherling with Nevermore. On Josh's turn, he milled me for ten and then played a second Jace to mill me for another ten cards.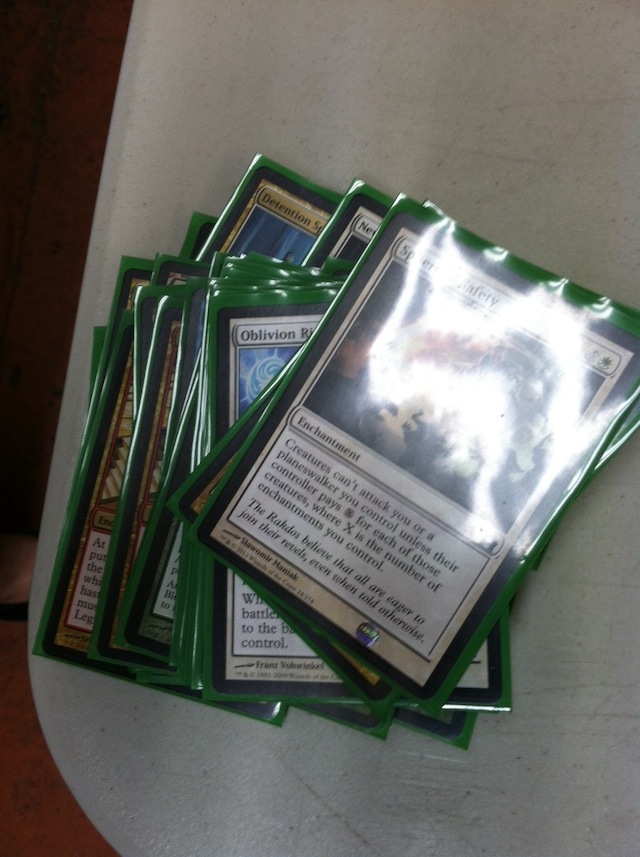 Round 2—Mike playing "Fire Surge" (2-1)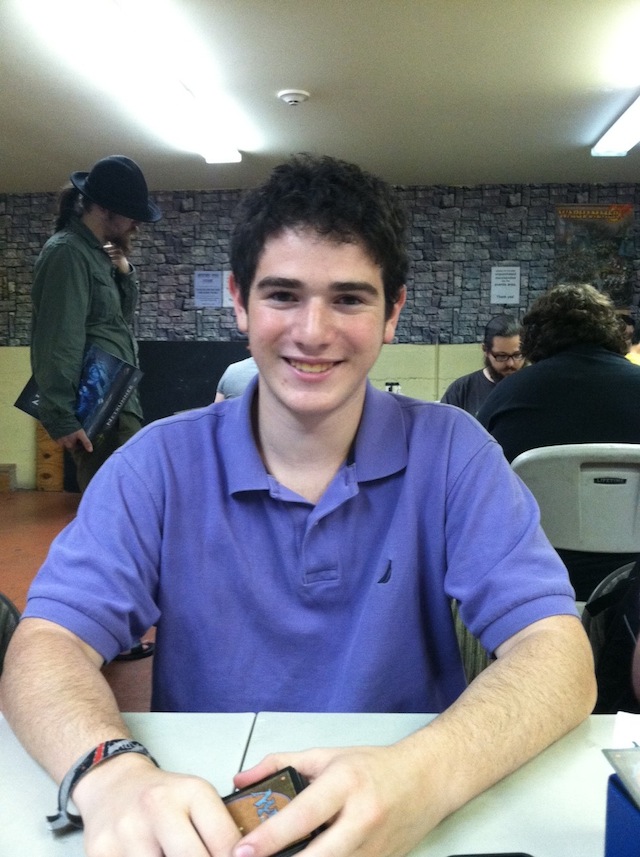 As we sat down, Mike revealed to me that he was playing an Intro Deck he had bought upstairs a few minutes earlier and said that he did not expect to win. I guess his friend wanted to play Standard, and Mike, sans deck, figured he would buy an event deck and play—only Pandemonium was fresh out of Event Decks. My friend Clark was sitting next to us and jokingly offered to lend him his Zombies deck because it looked like his opponent wasn't showing up. Mike, either unaware of the joke or just really desperate for a real deck, said, "Can I really borrow it?" Clark looked at me, I shrugged my shoulders, and he passed Mike the deck. Just as we were about to present, Clark's opponent showed up and Mike was once again relegated to playing a deck with cards like Fleshpulper Giant, Staff of the Flame Magus, and Dragon Hatchling.
Game one, something weird happened. He won. I kept a two-lander on the draw with two Verdant Havens and never drew another land. As I watched him swing for the win, I had to remind myself we weren't playing Limited.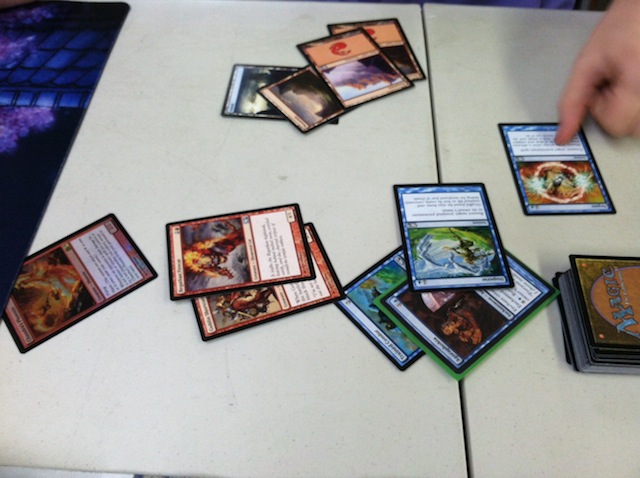 Sideboard:
-2 Agoraphobia
+2 Assemble the Legion
Game two, something else weird happened: I won with the cats generated from Ajani's Chosen. This was the only game I managed to win with the card the deck is built around.
Game three, I played an early Assemble the Legion and that was pretty much the game. He did manage to Disperse the planeswalker-imitating enchantment and counter it on the way back down, but couldn't deal with the soldiers already in play.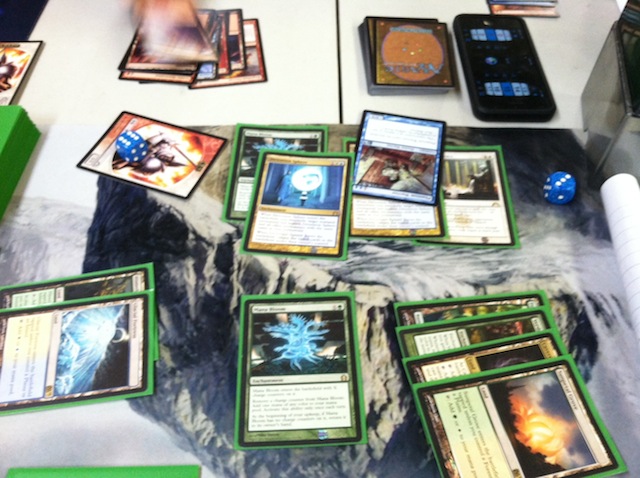 Round 3—Jacob with Mono-Black Control (2-0)
Jacob is a 14-year old kid who reminded me of my own 14-year old brother; friendly, bespectacled, and wiry. Since I didn't want to use a picture of Jacob without his parents' permission, here is a picture of my little brother, Kyle, playing Magic in his pajamas.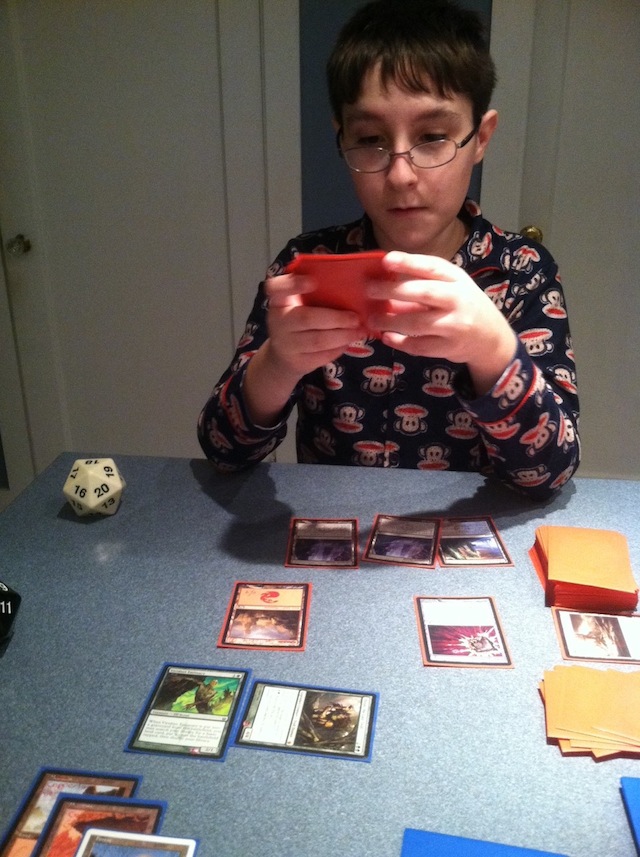 Game one, Jacob played a turn-three Vampire Nighthawk into Crypt Ghast the following turn. I used Detention Sphere to send the Ghast to the principal's office and started playing out Sphere of Safety. By the time he cast an Army of the Damned, I had three Sphere of Safety in play, forcing him to pay 18 mana to attack with just one measly zombie token. Though he surely unlocked some kind of achievement when he cast another Army of the Damned and had 26 zombies in play, I won easily on the back of Aetherling.
Sideboard:
-2 Ajani's Chosen
-4 Agoraphobia
+2 Assemble the Legion
+1 Tamiyo, Moon Sage
+1 Jace, Memory Adept
+1 Oblivion Ring
+1 Negate
Game two, I landed a Jace, Memory Adept and rode the +0 to victory. He attempted to put up a fight with Desecration Demon but I had the Oblivion Ring for it and a Detention Sphere for any subsequent threat.
Round 4—Ryan with American Midrange (0-2)
Ryan was playing American Midrange, which seems like a horrible match-up for this deck. They can counter any actual relevant threats this deck can muster and can burn out the Pillow Fort player even with a Sphere of Safety in play.
Game one was a short affair. Ryan played a few end-of-turn guys, smashed me with them, then sent enough burn at my face to finish out the game in short order. He ended the game at 35 life after a series of Warleader's Helixes and Sphinx's Revelations.
Sideboard:
-4 Ajani's Chosen
-4 Agoraphobia
+2 Assemble the Legion
+1 Tamiyo, Moon Sage
+1 Jace, Memory Adept
+2 Nevermore
+1 Negate
+1 Oblivion Ring
Game two, Ryan ran out an early Snapcaster Mage and played back-to-back Thundermaw Hellkites which dropped me low enough to burn me out. Even with me using Detention Sphere on the Hellkites at my first opportunity, the life loss was enough to do me in.
After the game, Ryan said, "This seems like a bad match-up for you." I could only nod and say, "It would be a bad match-up if this were a real deck."
Going into week two, this deck needs some serious work for it to be competitive. I understand that Chapin was attempting to brew with M14 cards and threw this list together to maximize the potential of Ajani's Chosen, but this is the first card to get cut. As the only creature in the deck without the ability to protect itself, the card ends up just eating a removal spell that would otherwise be dead in the opponent's hand. Without Ajani's Chosen, Agoraphobia seems like the next card to get the cut. While the card does go with the Pillow Fort game plan of playing enchantments and mitigating damage, it just isn't that efficient at it, and without any looping shenanigans with Ajani's Chosen, it's not good enough.
If we're taking out one of the primary win conditions, we need to find another, and I really like Assemble the Legion. Despite the deck playing no red-producing lands, with ten enchantments in the deck that produce red mana, I feel confident playing it in the main deck. Pillow Fort also needs some form of card advantage, as a lot of the game is spent sitting around hellbent, waiting to draw a win condition. We'll try a few Sphinx's Revelations to fit this role. Lastly, the deck could use a couple more defensive cards that play well with Sphere of Safety, so we will max out on Oblivion Ring. Here is what I will be playing next week:
Bant Pillow Fort 2.0
At age 15, while standing in a record store with his high school bandmates, Shawn Massak made the uncool decision to spend the last of his money on a Seventh Edition starter deck (the one with foil Thorn Elemental). Since that fateful day 10 years ago, Shawn has decorated rooms of his apartment with MTG posters, cosplayed as Jace, the Mind Sculptor at PAX, and competes with LSV for the record of most lifetime Islands played. When he's not playing Magic, Shawn works as a job coach for people with disabilities, plays guitar in an indie-pop band, and keeps a blog about pro wrestling.