By now, if you've been paying any attention to the Legacy format over the last month, you know about this newfangled Deathblade thing that's ALL the rage. Having won three of the last four SCG Legacy Opens, as well as putting another pilot in the finals, and adding two more top eight appearances, to boot, Esper (or four-color, if you want to be technical) Deathblade is the new runaway king of the format. Who would have guessed that adding Deathrite Shaman, Legacy's one-mana Planeswalker, to an already top-tier deck would raise the power-level to new levels?
Having taken the deck out for a test drive over the last week, in preparation for SCG Philly (Todd Anderson's list, to be specific, with a few small sideboard tweaks), as well as having played against the deck in Baltimore and in my local meta, I decided it might be a worthwhile exercise to take the deck apart and strip it down to its key elements, and then look at what my options are for the remaining card slots. Note that as I have only recently picked this deck up, I consider myself in the learning stages. That said, your constructive criticism (i.e. NOT "that card sucks, don't play it") is very welcome in the comments section and I would love to hear what you think about my card choices.

The Non-Negotiables
Let's start with the cards that I believe absolutely belong in the deck. From everything I've seen, read, and experienced, I don't really think there is any room for discussion for leaving any of these on the cutting room floor (but, again, please discuss if you disagree):
Esper Deathblade Shell
IN B4 SOMEONE SAYS "YOU MEAN 24 LANDS, RIGHT??" The first thing I want to point out is that while Todd's lists that placed first in two of the last three Opens ran 24 lands, but I would consider it defensible to cut a land by trimming the number of Wastelands from three to two. I've found that you sometimes flood with 24 lands. Between Deathrite Shamans and Brainstorms (as well as the optional Ponder, not listed above, because: optional), you shouldn't end up choked for mana. Also, the four non-Todd Anderson decks that placed in the top eight of an Open in the last month all ran 23 lands, and while first is pretty nice, any deck that top eights an Open is reasonably capable of winning an Open with a few more breaks or a few less misplays (I'm not belittling any of these pilots for making misplays; in Legacy, even the best players will make misplays due to the vastness and complexity of the decision trees in a game). I'm not saying 23 is the correct number, but I am saying AT LEAST 23 lands are not up for discussion, and the 24th land is a flex slot, that could potentially be something else. Lands aside, though, this is a pretty tight shell, with only six slots of wiggle room in the main.
Options to Consider
Geist of Saint Traft" data-card-name="Geist of Saint Traft">Geist of Saint Traft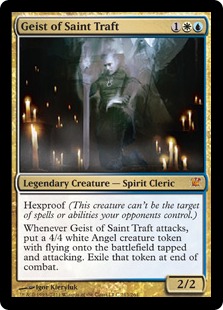 I've found myself siding into the Azorius Ball Lightning quite often in the two casual events in which I practiced this deck, and he is easily one of the biggest, "Oh shit!" cards to resolve in the format. In fact, he came in so often that a friend asked me, "Why don't you just main him?" The fact that he can come in on turn two, thanks to one of the deck's namesake cards, makes his inclusion even more bonkers. Also, for what it's worth, the deck's early incarnation featured maindeck Geists, but that deck was a bit more of a tempo deck.
Liliana of the Veil" data-card-name="Liliana of the Veil">Liliana of the Veil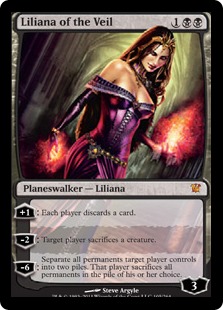 Like our friend, Mr. Traft, Lily can make her presence felt as early as turn two in those games where you lead off with a turn one Deathrite Shaman. There aren't many ways to immediately deal with her that early in the game, and she will quickly take over the game against combo and control matchups. The one strike against her is that "take over the game" doesn't necessarily translate to "win the game"; I've been able to come back and win games through a Liliana ultimate (in one case, two or three ultimates!) several times with my UWx Miracles decks. Still, having played against Deathblade variants that run Liliana on two occasions, I think she is a tool that I would like to have access to.
 + 
This mainstay has been an important part of traditional Esperblade lists ever since Tom Martell piloted the archetype to a Legacy GP victory. They often appear as a three-pack, along with an Intuition, since casting the latter to grab all of your copies of the former is one of the most powerful things you can do against the fair decks of the format. Gerard Fabiano wielded the spirits effectively against me in Baltimore, and they are certainly worth consideration. Jack Fogle, who lost out to Lauren Nolen in the Nashville Open finals, ran a single copy in his sideboard, so it IS okay to play the souls in a lesser quantity without Intuition.
And a Hail of Bullets
Disfigure: I anticipate that this will be a popular deck choice for this upcoming weekend. Having played my fair share of Grixis Delver in Modern, it is a VERY big deal who sticks the first Deathrite Shaman, because once that happens, they can blank the opponent's Deathrite. Another one-mana removal spell could turn out to be pretty clutch in winning the grindy war of attrition that is the mirror.
Ponder: Good card is good. But we do have Brainstorms, so I won't get mad at you if you leave your Ponders at home.
Vendilion Clique: Most versions run at least one copy of the dreaded fairie wizard. I don't need to convince anybody about how good this card is, giving you excellent combo disruption stapled to a relevant, evasive body. I ALMOST want to put this in the non-negotiables section, but it isn't 100% essential to our game plan.
Abrupt Decay: From my testing, I really like having access to a couple copies of this card.
Inquisition of Kozilek (or MOAR Thoughtseize): Various versions of this deck run between 2-5 one-mana discard spells. Todd's rationale for going down to two is that many decks are capable of top-decking their way out of discard, and while I was initially hesitant on cutting a few of these spells, I now agree.
Detention Sphere: Great Show and Tell protection that does a fine job of also acting as Maelstrom Pulse in other matchups.
Venser, Shaper Savant: Because we ARE playing Karakas, soooo…
Elspeth, Knight Errant: There are better four-mana Planeswalkers, but she wins head-to-head against Jace if you're concerned with winning the Jace War. Then again, the Notion Thief probably is good enough insurance in the Jace War. Wouldn't you agree, Mr. Uppal?
Food For Thought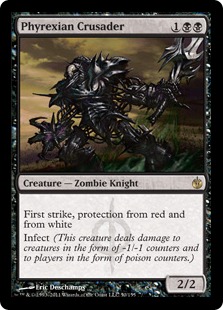 I know what you're thinking. You're about to close this tab/hit the 'x' on your browser/. Just hear me out. I was doing a bit of brainstorming on what sort of sweet trump creature we could play that carries Jitte really well. My first thought was Mirran Crusader, but his protections are a lot less relevant than those of his darker brother, who is able to dodge Lightning Bolt and Swords to Plowshares, the two premiere removal spells in the format. He is still soft to Abrupt Decay, I'll give you that, but outside of the Return to Ravnica All-Star, the only commonly played card that can deal with him is a Tarmogoyf that has been able to grow to at least a 4/5 in spite of all the Deathrite Shamans (remember, first strike + infect means that he shrinks his foes in combat before they get to smack him back). And if he's carrying a Jitte, FUHGEDDABOUDIT, I think you're gonna need a bigger 'goyf (as in, 8/9), because after first strike damage, we can activate Jitte to pump our fearless crusader up to a 6/6. We could even go a little deeper, and have our infectious knight carry a Sword of Feast and Famine so that he is UNSTOPPABLE. Well.. except for a Jace bounce, because, better than all. I will NOT be employing any Phyrexian Crusaders in Philly, this weekend, but I'll give it a little testing at the kitchen table to see if any of the above paragraph is actually reasonable, or just crazy talk.
 How Would I Build It?
Esper Deathblade
Best of luck to anyone attending Vegas. Wish I could go, but I have an Invitational to qualify for (well, at least that's what I'll be telling myself while reading everyone's tweets about how they're at the greatest GP ever)!