By Alex Kaminsky
Welcome to another episode of Only Built 4 Cubin' Lynx, the streetest Cube column on the net. After my introductory article last week, many readers were asking to see my Cube list. Ask and ye shall recieve my dear readers! This week I'll be going over my Cube list, my design philosophy for each section and the Cube as a whole, as well as explaining some more unique inclusions. I'll be diving into individual sections more fully in future articles, so this entry is meant to serve as an overview of my Cube as a whole. You can draft sample packs of my list here on TappedOut.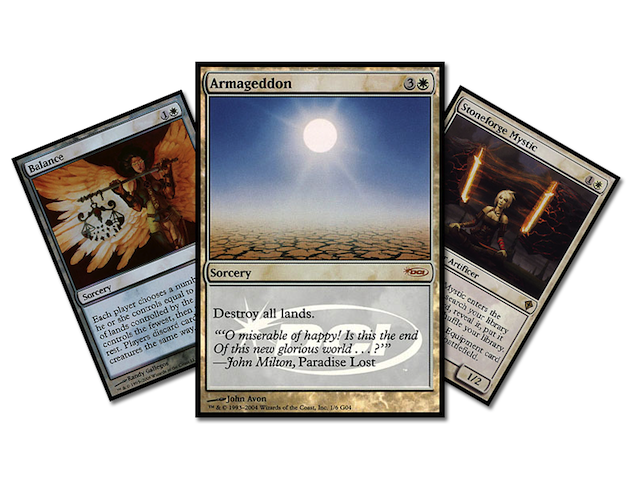 Creature / Spell Ratio: 58% Creature / 42% Spells
Aggro / Mid-Range / Control Breakdown: 45% /10% / 45%
Cards that send me into white: Armageddon, Ravages of War, Stoneforge Mystic, Balance, Elesh Norn, Grand Cenobite, Elspeth, Knight-Errant
In keeping with White's flavor, the themes and strategies of white are orderly and well defined. White drafters either focus on a swarm of efficient, small soldiers like Elite Vanguard and Savannah Lions, or head the other direction and control the battlefield with powerful effects and finishers like Wrath of God and Elesh Norn. White's mid-range creatures leave something to be desired, so it is not a huge focus in my list. Most of the mid-range cards in my Cube either serve as curve toppers for the aggro archetype or recovery tools for the control plan.
White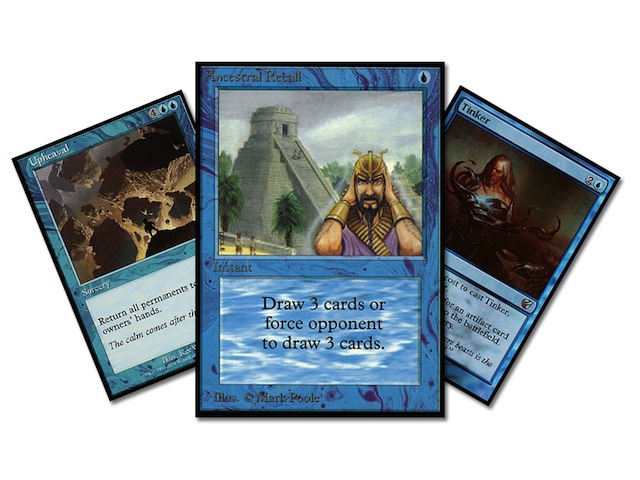 Creature / Spell Ratio: 33% Creatures / 67% Spells
Aggro / Mid-Range / Control Breakdown: 0% / 30% / 70%
Cards that send me into blue: Jace the Mind Sculptor, Ancestral Recall, Magical Hacker, Tinker, Upheaval, Bribery
One of my goal as a designer is to allow players familiar with a playstyle to easily be able to pull something together in Cube. As the seminal control color in Magic's history, I want players confortable playing blue to sit down and be able to draft a killer control deck. The blue section of Cube is packed with Magic's best counterspells, draw spells, and control effects. The average blue player wins through stealing its opponents creatures and beating with giant unbeatable threats like Meloku and Aetherling. Blue also supports a few more niche strategies like artifacts, Upheaval ramp decks, and my all time favorite, Magical Hacker, who allows you to ultimate planeswalkers for additional counters by reversing their loyalty costs.
Blue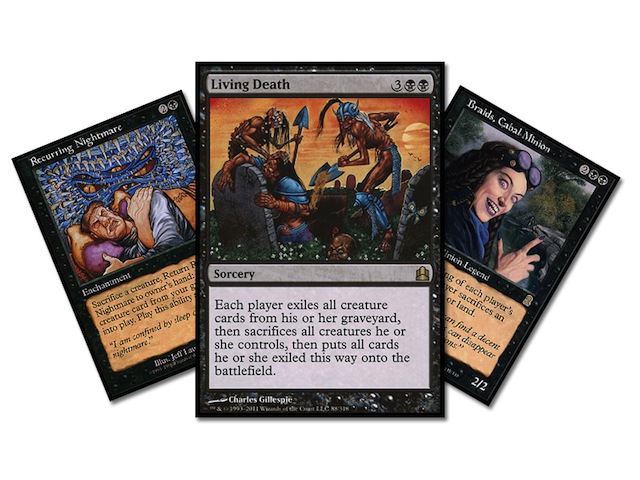 Creature / Spell Ratio: 50% Creatures / 50% Spells
Aggro / Mid-Range / Control Breakdown: 33% / 33% / 33%
Cards that send me into black: Recurring Nightmare, Mind Twist, Grave Titan, Living Death, Pack Rat, Braids, Cabal Minion
As a huge fan of combo decks, Black is one of my favorite colors in Cube. It is extremely high variance, producing some of the biggest wins and the biggest duds. It is also the most evenly spread of all the colors in Cube, supporting some pretty impressive aggro builds, combo decks fueled by reanimation, grindy lockout decks featuring Braids, and controlling decks packed with removal on sticks. Black has always rewarded players willing to go "all in" and requires a skilled drafter to know when to hop in or cut losses.
Black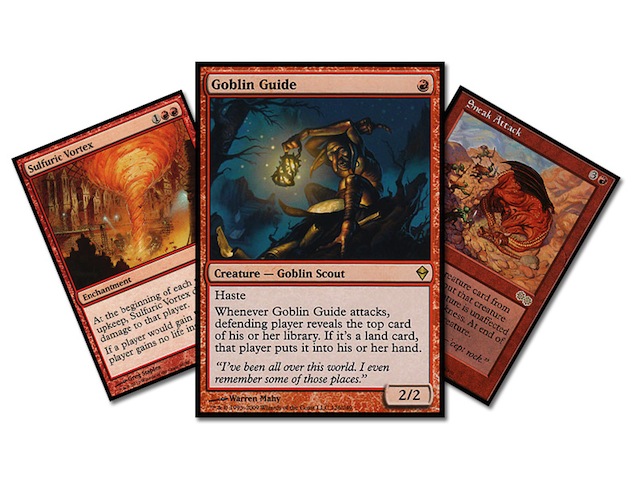 Creature / Spell Ratio: 57% Creatures / 43% Spells
Aggro / Mid-Range / Control Breakdown: 80% /10% /10%
Cards that send me into red: Shrine of Burning Rage, Sulfuric Vortex, Goblin Guide
Red is the color you can count on in Cube. It's by far the most consistant color, and you are almost always able to develop a reasonable aggro deck by just plucking all of the burn and aggressive creatures out of the pack. Because red is so all-out focused on aggro, it doesn't leave a ton of room to do much else. Because of this, the remaining slots are dedicated to improving red as a splash color and creating interesting interactions. Kiki-Jiki can go infinite with Restoration Angel or Zealous Conscripts, Goblin Welder / Sneak Attack can cheat out early fatties, Squee supports various reanimator / pox strategies, and many decks touching red are happy to pick up some of its premier burn spells.
Red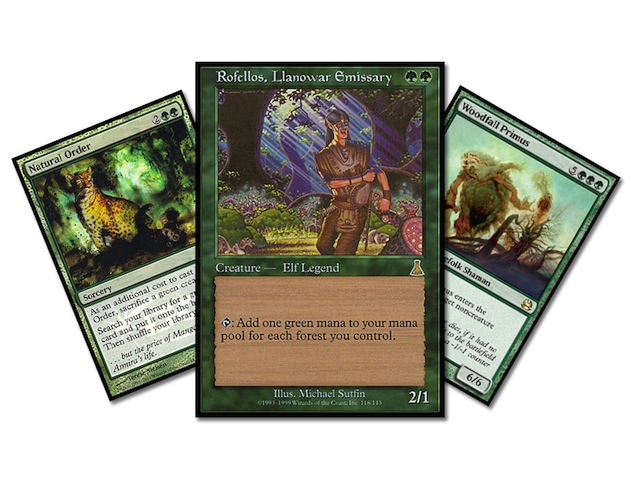 Creature / Spell Ratio: 66% Creatures / 44% Spells
Aggro / Mid-Range / Control Breakdown: 20% / 60% / 20%
Cards that send me into green: Rofellos, Garruks, Channel, Natural Order, Sylvan Library
Hoping to provide a something for every type of Magic player, green is my cube's Timmy color. Green is packed with premier ramp spells and mana elves, making it easy to consistantly hit early four- to six-drops. It also has a number of fast ways to get your biggest fatties out, like Natural Order and Channel. Green decks pair extremely well with almost every color (Green / White probably being the weakest, sorry Selesnya) as mana is a resource that nearly every deck needs.
Green
Colorless is a really fun section in Cube to maintain. This section has some of the most busted cards in the Cube, and the fact that they can go in almost any deck makes them see a lot more play than colored and especially gold cards. It also allows for a little more play room because the impact of an inclusion / exclusion of a specific card is balanced across all colors, allowing you to take some liberties with pet cards here. My pet cards are the Eldrazi, I love cheating these bad boys out with a well placed Channel or Sneak Attack, or paying the iron price with green's super ramp package.
Colorless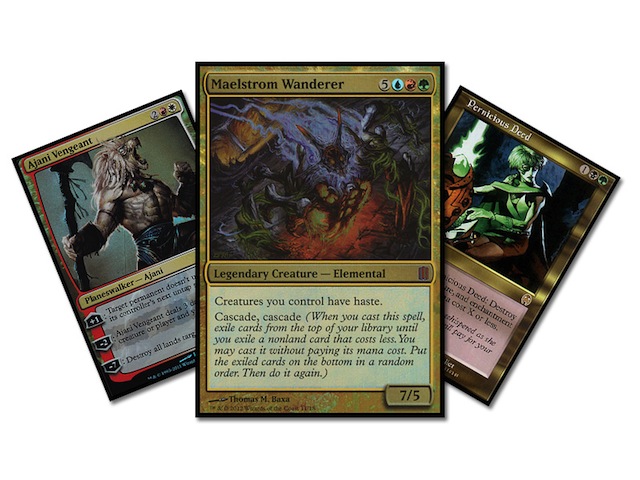 The multi-color section is such a huge frustration to many Cube designers. The unfortunate truth about gold cards is that on average they get played less than any other card in Cube because of their restrictive mana costs. I have seen stellar gold cards like Sorin, Lord of Innistrad and Ajani Vengeant go around the table and end up in a sideboard pile because nobody happened to be in that color combination. Because of that, you have to place a limit on how many gold cards, no matter how powerful, are in your Cube and in each color combination. I choose to support three in each guild, plus a handful of tri-colored cards which exceptionally powerful. One thing you may note is that hybrid cards are classified under mono-colored sections. This is because unlike gold cards, hybrid mana is actually less restrictive and therefore played in more decks. Its for this reason I don't impose the harsher limits on them as I do with multi-color.
Multi-Color
So there you have it Cubers. The list as it stands. Feel free to post comments and questions if you have them. Until then, what would you first pick?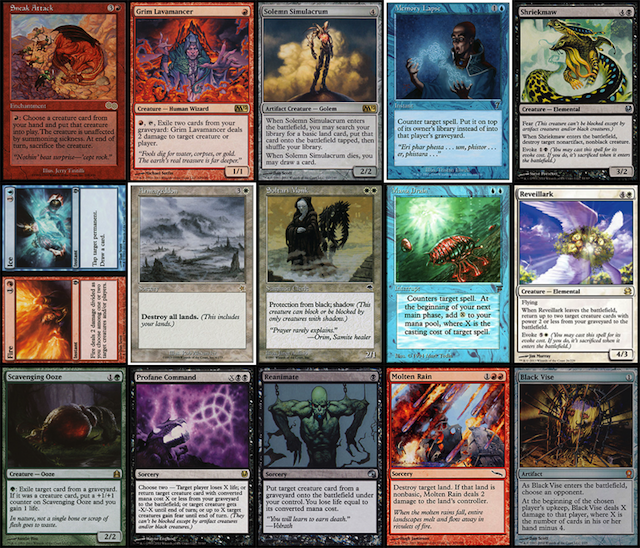 Alex Kaminsky is one Magic player you don't want to mess with. He has been playing since Ice Age, swinging in with his Polar Kraken against his Hebrew School peers. With a rich knowledge of the history of the game, and an equally rich collection of cards, it is a no-brainer that he is one of New York's biggest Cube advocates. He currently lives on the hard streets of Brooklyn with his wife and french bulldog Urza.