5:45 a.m. The soft sounds of Rob's "wake me up gently" alarm start to permeate the room. It starts at a very low volume with dim light and slowly increases both parameters over the course of a few minutes. I try to sleep through it but I decide to stop fooling myself once it hits a billion decibels. It's the weekend of the highly anticipated and largest Grand Prix in history! My flight leaves at 9 am and I have some last minute unpacking to do, yes you read that correctly, before the car arrives.
It's always hard traveling across the country. You always want to be sure you have all the essentials, and then some. I felt the weight of my carry on and decided eight outfits are way too many for a 4 day trip. I hesitantly decide to leave behind my vibrant orange peplum dress with matching shoes, along with a few other superfluous items of clothing, putting the health of my back above my desire to be a fashionista. I mean, I'm going to be at a Magic tournament with almost 5000 players dressed in their Sunday best, right? Wrong. One of the things I love about our community is their ability to ignore, or at last pretend to ignore, the superficialities that plague our society.
7:07 a.m. We arrive at Newark International Airport at a decent hour; the security line is just beginning to fill up by still moving swiftly. While waiting at our gate, I decide to play an innocent game of "Guess what they'll be doing in Vegas". The magic players are the first to be spotted with their large backpacks and graphic tees depicting iconic nerd culture images. Our next easy spot was a group of six twenty something guys bragging loudly about their past sexual conquests and making fun of the groom-to-be's eminent lock down. After boarding, these khaki/bright button-up wearing bunch proceed to buy out the mini bar and toast to the future raunchiness that this Vegas style bachelor party has in store for them. I try to nap over their gleeful cackles but soon give up, grab my copy of Hitchhikers Guide to the Galaxy, and get lost in the antics of Mr. Ford.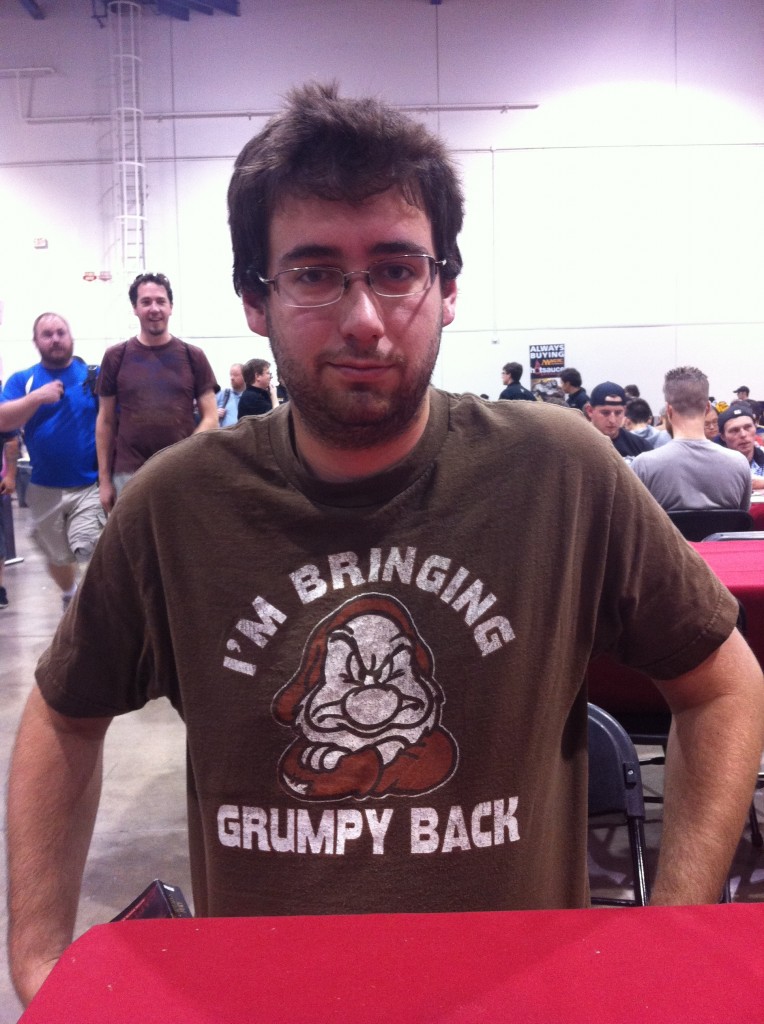 11:05 a.m. "Good afternoon fliers. Where are just about to land at LVI airport with a lovely temperature of 102 degrees…"
:: insert record scratching sound::
Hold up! Did he just characterize that temperature as lovely? Luckily I packed lot of shorts and sunscreen.
The ride the hotel is more like a tour of the strip. Our cabbie Mike details the history of most of the buildings we pass. Mike is a Vegas addict, originally from Pittsburg, he visited the city 37 times in a 5 year span before deciding to pick up and move his entire existence across the country. Over the course of 30 minutes, we learn that he started off as an emergency room tech, lost his job during the recession and was homeless for two years, witnessed a suicide jump off of the 18th floor of the Rio by a woman who had just lost $11,000, and culminated with him showing us picture of his kids, two little Shih Tzu's.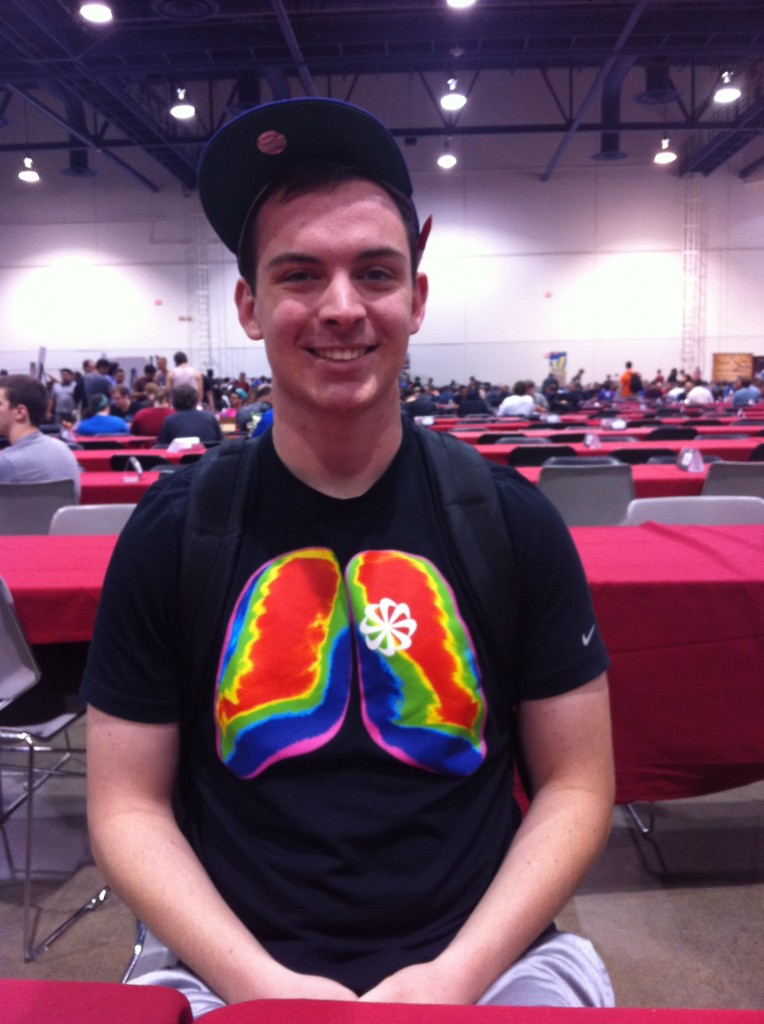 11:47 a.m. We are greeted by the bellhop at the Golden Nugget hotel over in downtown Vegas and enter what appears to be a playground. Little girls in pink tutu's and rambunctious boys in trunks whiz by, likely just coming from a swim in their famous fish tank water slide. I unpack quickly and begin walking over to the Cashman Convention Center, ready to experience the madness.
Cool T-shirts everywhere! I love Magic events because these folks know how to find their shirts man. Since I arrived after the venue later in the day, I was able to get my promo (which I sold for $7) and a pack of Vegas themed sleeves. Rob and I head over to a very long last minute grinders line and after about 45 minutes of waiting, finally get signed up for an M13 draft. An hour after that, our seatings go up and I groan when I see that we are in the same pod. One guy from our pod doesn't show up and is replaced by a familiar face, fellow Brooklynite Sean and eventual grinder winner. The draft goes fast as I fall into the clearly open BW exalted archetype, passing a Krenko, Mob Boss in the process.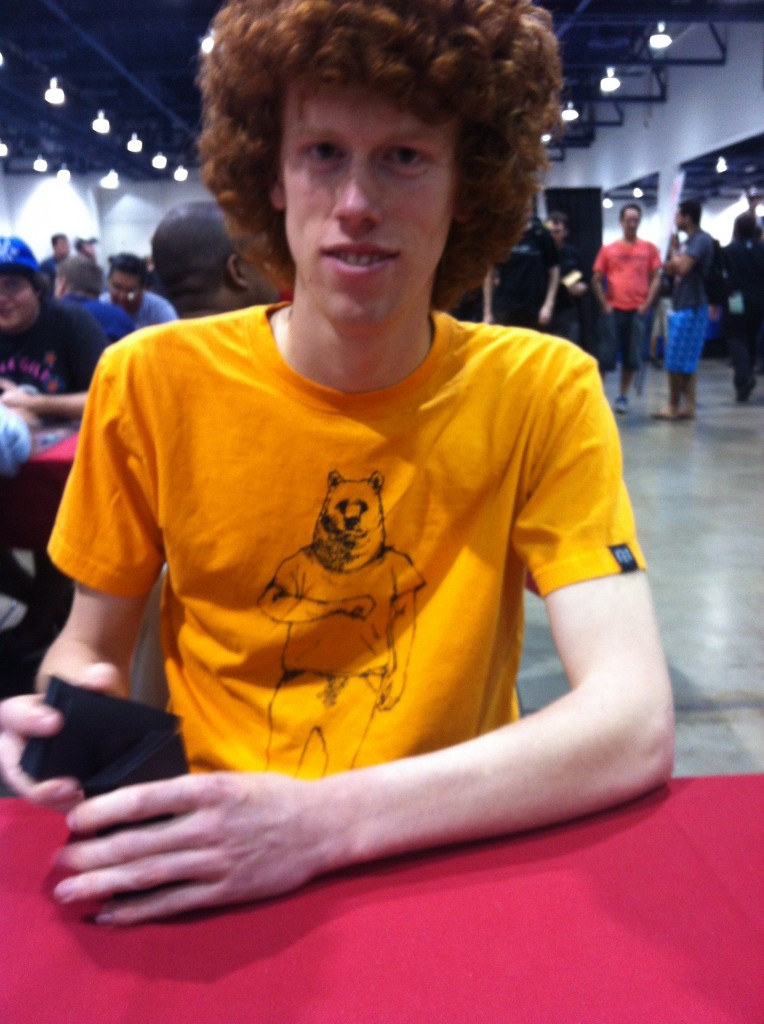 4:14 p.m. I'm not surprised to wait another 30-40 minutes after drafting for round one pairings to go up, but am relieved to get paired with a name I don't recognize. The round begins and my opponent is nowhere to be found! I assume he didn't hear the announcement over the hustle and bustle of the event hall but after about five minutes, he saunters over and the judge issues him a game loss. He appeals to the judge stating that the pairings were posted at a different location than the original seating. The judge points to everyone else and says "They all figured it out. I'll only overturn the decision if your opponent doesn't mind." I don't mind at all, my deck is solid and I have a lot of experience with the format. What I do mind is the fact that my opponent doesn't say thank you, so I proceed to crush him quickly with a few swings of my quadruple exalted Tormented Soul with a smile. I get dream crushed out of the tournament in three intense games during round two, and proceed to check out what everyone is up to.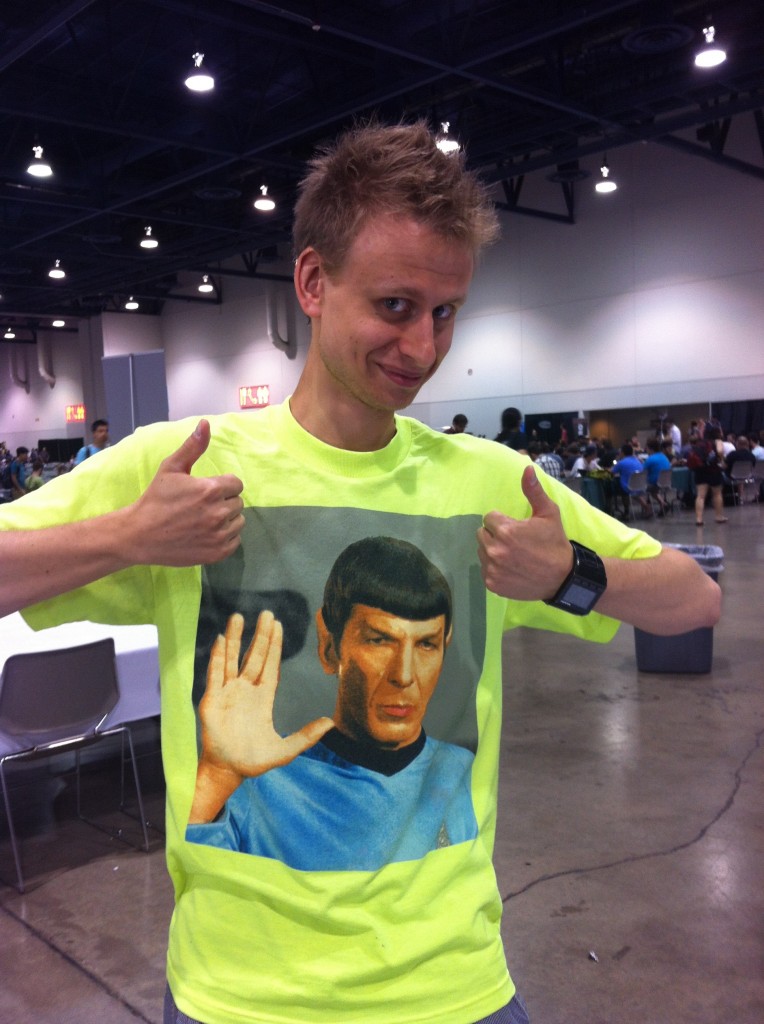 One thing that I love about Grand Prix's is the fact that many pro level players mingle amoung the crowd and happily engage in any light conversation you may initiate. I watch as a crowd of interested players await their window of opportunity to chat with LSV and quickly snag a picture with one of my favorites, David Ochoa (hat included)!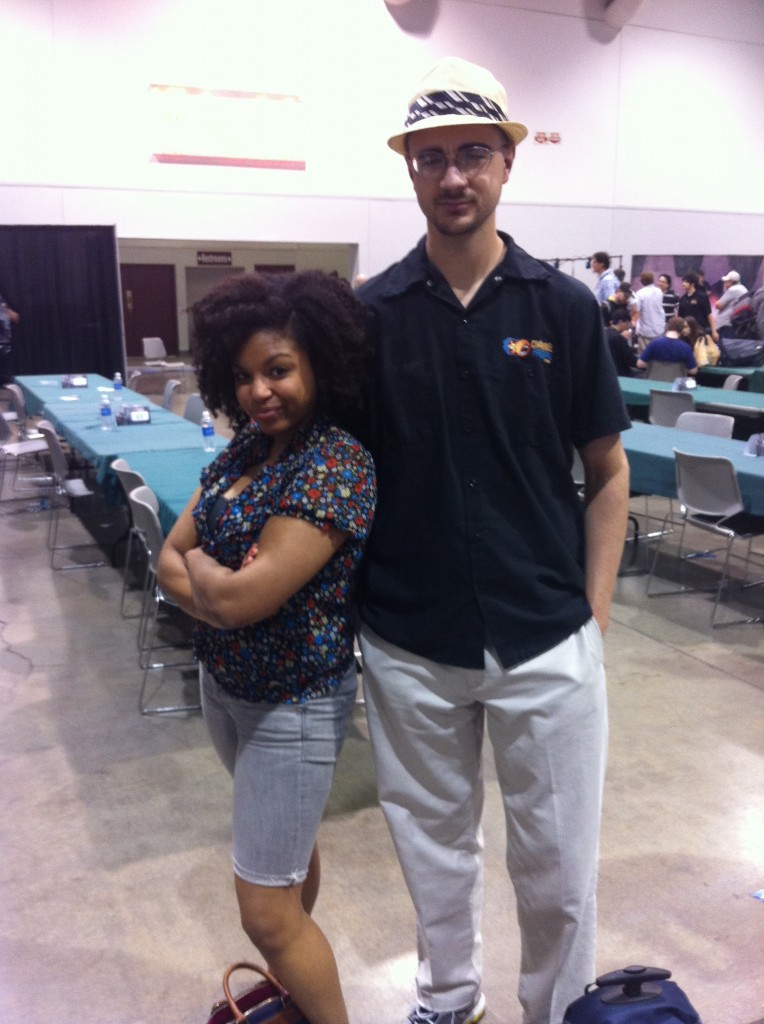 7:48 p.m. The day of traveling and socializing is beginning to catch up with me. Matt, Hunter, Dave, Bones, Dana, Rob and I head to Palace Station's Italian restaurant for some good food and great conversations. There's no better way to spend my first night in Vegas than with awesome friends, tons of laughter, and playing lots of Magic!
Monique Garraud is a Brooklyn native who started playing Magic in 2011. "Grinding It Out" is her weekly take on the trials, tribulations, and joys of being a competitive tournament player.