After a pretty stressful Friday, which you can read about in Matt Jones' stellar lineographic here—which was redeemed by a fun dinner with fellow Team 20-Sided members, featuring New York ex-pat Big Dave, at the Palace Station Hotel & Casino, as well as some killer Craps action (I found some nice no deposit casino bonus codes here), wherein I doubled my money and Dave nearly septupled his—I woke up bright and early on Saturday morning and decided to walk the 3.2 miles to the venue for Grand Prix Las Vegas, at the forlorn and far-flung Cashman Center, north of Downtown Vegas.
As my buddy Sean later said in a voicemail, "The only people I've ever heard of taking a long walk in Vegas are people without any money." And, sure enough, the impecunious were largely the few other pedestrians I passed, on what was rapidly moving toward a hundred-degree day. It's a new thing I'm doing: urban hiking. I saw the following amazing sights along the way, along Sahara Avenue onto North Las Vegas Boulevard and north through Downtown Vegas, which I'd never visited:
Before I go any further, I wanted to give a shout-out to this cool dude-bro named Jason, who tapped me on the shoulder during the Mini-Masters event on Friday, asked me if I was from Hipsters, and wanted to show me his kind of amazing 30-card deck. Here's Jason: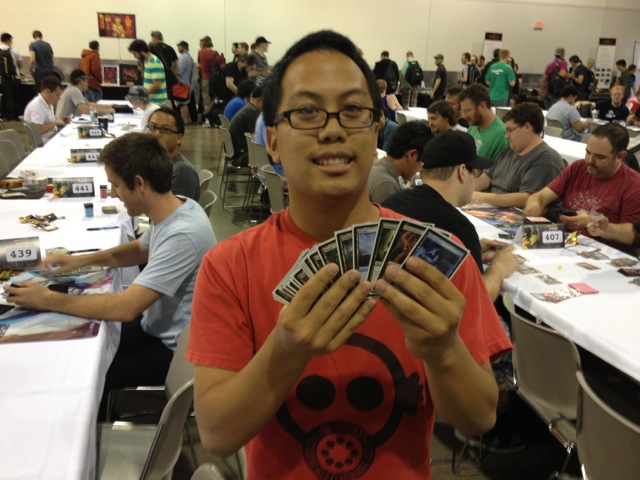 And here's his deck: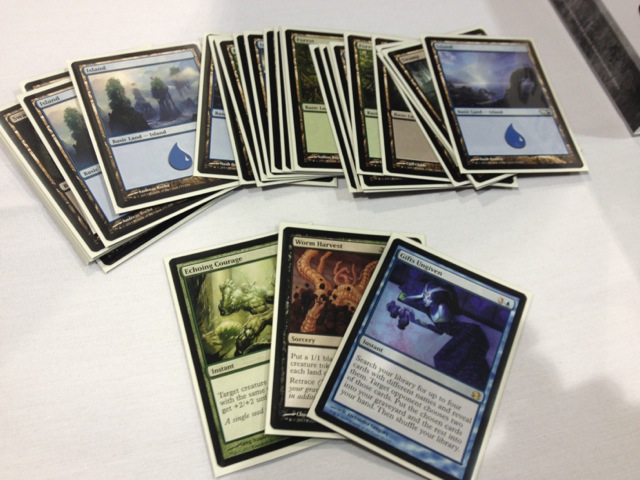 If you can't tell, he's running Worm Harvest, Gifts Ungiven, Echoing Courage—and 27 lands. Brilliant. I didn't find out how he ended up doing, but I think he won his first match. The Mini-Masters was actually kind of fun, and I won two rounds—and two more free packs of Modern Masters, before getting knocked out by Big Dave, who went on to straight-up 6-0 the event, in R3:
But so back to my main story: After about an hour and a half of walking, I made it to the Cashman Center, twenty minutes or so before the two-bye build time. I chilled with Team 20-Sided near the white flight build tables, and soon we got seated. Here's my pool:
Modern Masters GP Vegas sealed pool
After recent team sealed events, and their attendant hour-long build time, the half-hour we were allotted for this build seemed super-short. And my deckbuilding choices, as you can see from the above, were really difficult. I was sitting across from former Hipsters columnist Li Xu, and after I handed in my decklist, we talked about my choices. "Your pool had a lot of strong cards, but it was pulling you in a lot of different directions," he said. Li seemed skeptical as to whether or not I'd settled on the correct build.
Thus, in the time I had left before the start of round three, surrounded by fellow Hipsters and 20-Siders, I sketched out two additional decks I could board into, if I felt the situation called for it. I'd laid out these decks during the official build time, and dismissed them both for various reasons. Each kept red as their base. One was RB Goblins-ish:
Red/Black deck
And the other was RW Giants-y:
Red/White deck
But here's the URw build I registered, featuring the classic Kiki-Jiki/Pestermite combo:
Kiki Combo
I'd be really curious to hear in the comments whether or not you you readers out there in TV Land think I landed on the correct build; or what, if anything, I should have done different. But for now, on to the matches!
Round 3—Russell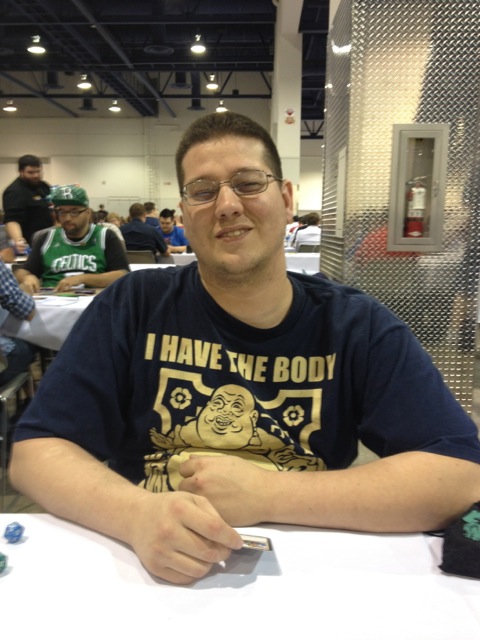 After two byes, my first-round opponent was playing a four-color deck with Trygon Predator, Grand Arbiter Augustin IV, Ivory Giant, and Cloudgoat Ranger. I beat him G1 with Cloudgoat Ranger, and in G2 the reverse happened. In G3 I boarded into my red-black deck and kept a two-Swamp hand on the play, with Facevaulter, Mad Auntie, and three red cards. It took forever to find a red source and I died to Cloudgoat beats after getting him down to eight life. 2-1
This was not how I wanted to start the day. After the match, Big Dave took a look at my deck and advised me on a few things: one, to stick with the blue-red build, which for the rest of the day I (mostly) did. He also thought I should maybe board out Thirst for Knowledge or Petals of Insight for Cenn's Enlistment, as well as one Island for another Mountain, in order to more easily hit Kiki mana. Dave's a good player, and I took his advice often throughout the day.
Round 4—Nima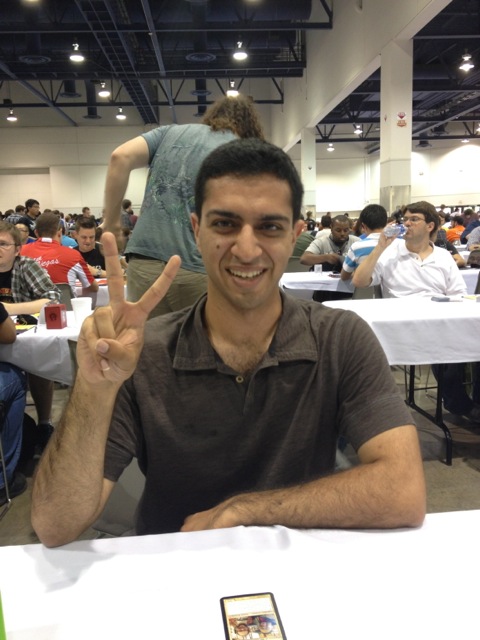 This cool customer from San Diego—who, if I heard him correctly, hadn't been able to find a reasonably priced place to stay, and thus was "sleeping in my friend's Honda"—was on Naya. In G1 he rapidly and scarily ramped into—well, not much. He dropped Doubling Season with a billion mana, though, and I bounced it with Aethersnipe and killed him with Greater Gargadon and pals. I boarded into Cenn's Enlistment and Terashi's Grasp, the latter of which I had in my G2 opener. Nima again ramped but I had pressure in the form of Figure of Destiny, Bonesplitter, and 2X Pestermite. He ended up clearing my board with Lightning Helix and Tarpitcher, but a hasty Kiki-Jiki, equipped with Bonesplitter, droppped him to one life, and Spellstutter Sprite finished him off. 3-1
Round 5—Ryan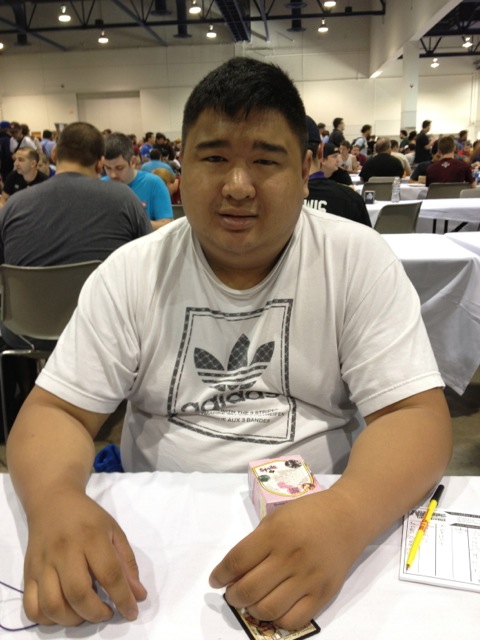 In G1 Ryan got off to a quick start with giants and Cloudgoat Ranger. I had Kiki-Jiki and Pestermite in hand—the first time I'd seen the combo thus far—but I was missing two Mountains. I did, however, also have Gifts Ungiven in hand. I'd never, ever cast Gifts before! So I was nervous and weirded-out about what to do.
On Ryan's end of turn, I cast Gifts for what I thought was a brilliant package of Vivid Meadow, Mountain, Traumatic Visions, and Cloudgoat Ranger—which meant that, no matter which two cards he gave me, I was going to hit my two more red mana. My opponent thought for a while and gave me the lands. On my turn I played the Vivid Meadow and passed the turn, with Pestermite mana up. He tapped out for Feudkiller's Verdict, going up to 30 life and adding a 5/5 to the board—but then I flash in Pestermite, follow up on my turn with Mountain and Kiki-Jiki, and Ryan scooped up his cards without a word. Thirty life isn't enough to beat a billion hasty 2/1 fliers.
In G2 I boarded into RW Giants, thinking that I needed to match his big plays and big creatures. What's better than a Cloudgoat Ranger and a Feudkiller's Verdict? Two of each of them. And, sure enough, I had an opener of Feudkiller's and 2X Cloudgoat.
On the turn after I cast Ranger No. 2, he cast Molten Disaster with kicker for one, killing all of Kithkin (three of which, in response, I used to put a Cloudgoat in the air—which I just now realized I shouldn't have been able to do, given that Molten Disaster had split second). Nevertheless, after blocking his Avian Changeling with my lofted Ranger, he wiped my board with Tarpitcher and a sacced-and-returned Murderous Redcap.
That was rough, but Feudkiller's Verdict helped me stay alive until I found some blockers and Figure of Destiny, who over the course of a few turns I fully leveled up. Ryan was at 19 life, while I was (and had been for some time) at five. I had Kiki-Jiki in hand, and my plan was to copy the 8/8 Figure on my next turn and swing in with both figures and Avian Changeling for 18 in the air. Thus, I needed to get in this turn with Avian Changeling, putting him to 17 life, aka lethal on a following-turn swing with 2X Figure and Changeling yet again. (I wanted to hold back with figure, as I was at five life and was trying to play it somewhat safe.) So that's what I did. On my next turn, after copying Figure and swinging in for 18 in the air, he killed Changeling by saccing his Tarpitcher, and took 16 from the two Figures, putting him to one. He didn't find an answer—Lightning Helix was two or three cards further down—and conceded. 4-1
Here's a note, though. Consulting with Dave after the match, he wasn't sure whether or not Kiki copied the Figure as an 8/8, or a 1/1. I honestly had considered this, and read and re-read Figure to make sure that what I was doing was correct—but, as we discovered from a judge, the copied figure should have been a 1/1. Here's Figure:
I honestly thought that, because the card said, "Figure of Destiny becomes an 8/8 yadda yadda"—rather than, say, "Figure gets +8/+8"—that Kiki would copy him as an 8/8. I was wrong, according to a clause in the comp. rules whose precise coordinates I forget, and I apologize to my opponent for not knowing how this interaction actually worked. For what it's worth, I still think I would have won the match, given that, like I said, my opponent's next couple of cards were more or less blank. I had some other stuff on the field, too, and could have copied one of them with Kiki, thus speeding up the clock (though not as fast as two 8/8s, to be sure).
Round 6—Jon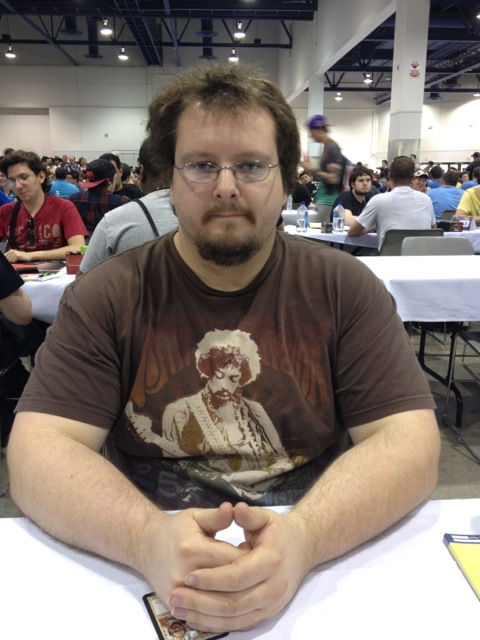 These were long games, and thus I have fewer notes. We went to G3 and he was missing lands—but he got out Vedalken Shackles, which was giving me fits. After a misstep wherein I cast Pestermite during his upkeep, in an effort to tap down Shackles— which obviously doesn't work—I had to play tight in order to set up a win with Kiki-Jiki. I used Kiki to copy Stingscourger, bouncing his Pallid Mycoderm and allowing me to swing in for seven, after which—just pouring salt in the wound, as Dave later put it, but that's not really how I meant it; I just wanted to lock up the game without question—I suspended Rift Bolt for the win, giving me two routes to next-turn lethal on the table. 5-1
Round 7—Carlos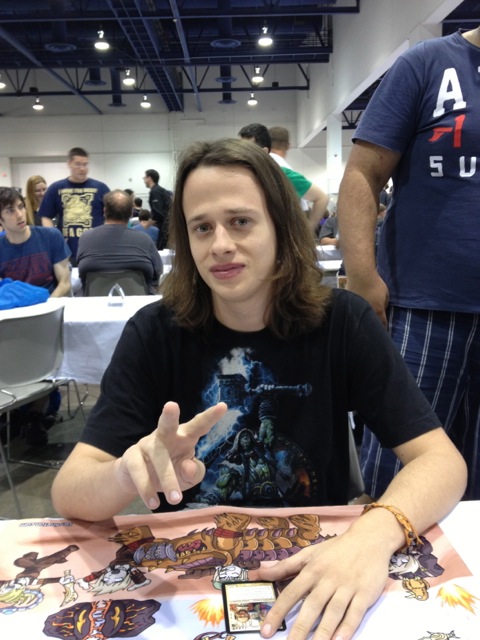 Carlos was a cool guy from Brazil, and we had some very complicated games again. He was on Esper, and insta-Path to Exiled my Greater Gargadon in both games, including in G1 when, mana-screwed for a while, I sacced three lands to Gargadon in a last-ditch effort to win. G2 was super-long. I had him down to nine life in a very cluttered board state, before he Cryptic Commanded a key Vedalken Dismisser of mine, and followed it up with a Feudkiller's Verdict, which is such a beating. After that I was mostly out of gas, and only had Cenn's Enlistment to retrace several times, delaying the inevitable. 5-2
Round 8—Steven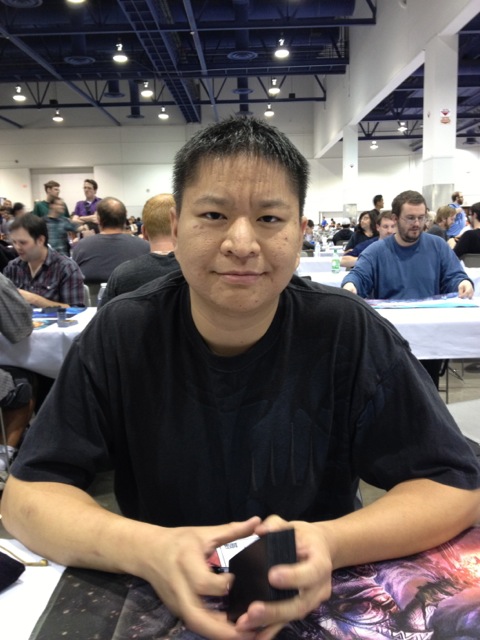 I was on the verge of elimination yet again, as were most of the rest of Team 20-Sided. During either this or the last round, Rob got paired against Li, and, in Li's words, "chopped me up."
My R8 opponent somewhow seemed familiar to me, like I'd played him before, but neither of us could place exactly where. Steven mulled to four in G1—after strongly considering keeping his seven—and I rolled him. In G2 I out-tempoed him, casting Spellstutter Sprite into Pestermite into Stingscourger, and just kept up pressure in the air while making tons of tokens with both Mogg War Marshal and Cloudgoat Ranger. We were finished in 20 minutes—and, just like that, I was win-and-in! 6-2
Round 9—Zach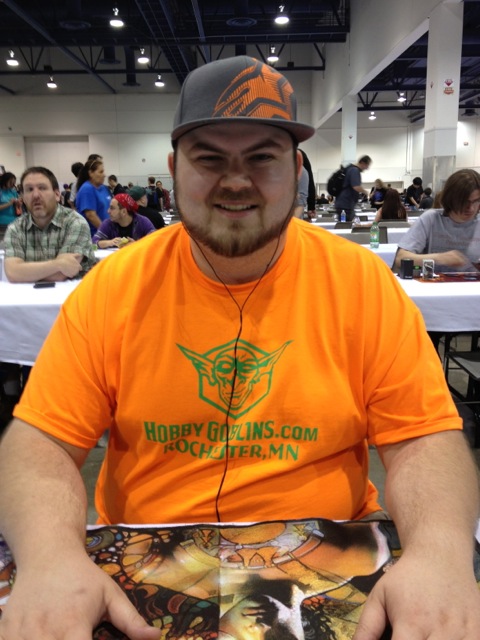 Several of Team 20-Sided was win-and-in at this point, prior to the last round of swiss on day one. After a strong 6-0 start (with no byes), Big Dave had unfortunately dropped his last two matches, and needed one more win to clench it. Dave "Bones" McCoy was also win-and-in, as was Rob "Birdlaw" Kofsky, aka my sworn and mortal enemy until the end of time. Matt Jones had dropped hours ago and was enjoying the shit out of himself at a minor-league ballgame (the Area 51s, natch) behind the Cashman Center. In round nine I was faced up against a nice guy called Zach. I was a little nervous, but I'd had a couple win-and-ins by this point, and knew I just had to play tight Magic and do my best.
I mulled to four in G1 and still made a game of it, but eventually succumbed to Zach's armies. In G2 I utterly smashed him, courtesy of two Cloudgoat Rangers. But it was G3 that was really nuts. Zach started out by very scarily suspending Durkwood Baloths on turns one and two. I had Kiki-Jiki in hand, but no Pestermite and no third Mountain.
And then I ripped it: Pestermite. I started shaking a little bit, vibrating with excitement—I've got this fucking thing! I'm going to win! Now don't fuck it up! At some point I also found my third Mountain, and on Zach's end of turn I flashed in Pestermite, after he tapped all but one Forest and one Plains for Knight of the Reliquary.
Here's where things start to go wrong. Keep in mind that I had never played with Kiki-Jiki or Pestermite prior to this day. Instead of tapping down Zach's Plains, which is what I later learned I should have done, I tapped down his Knight, as that's kind of the Limited thing to do—tap down a creature. (Also, most Limited cards usually only let you steal or tap down a non-creature permanent, whereas a lot of Modern Masters cards do stranger stuff; Aethersnipe being able to bounce any non-land permanent, for instance). Side note: A judge was sitting on our match and watching us this whole time.
We go to my turn and I play Kiki-Jiki. Before I do anything, Zach casts Path to Exile on Kiki. I panic. Then I see my Spellstutter Sprite on the table, forgotten in the middle of the Pestermite/Kiki panic—and I tap Kiki to copy Spellstutter, countering his Path. I found the out! Zach reads Sprite, says "OK," and bins his Path—a little confusedly, I thought.
After that resolves, I swing in with Pestermite and the OG Spellstutter (but not the copy, which I never actually put onto the table in any form) for three and pass the turn, crossing my fingers. A Baloth comes out of suspend and he equips it with Bonesplitter and swings for seven—and he does something else and passes back the turn.
At this point I turn to the judge and ask, "OK, what am I allowed to do here? Can I create an arbitrarily large number of Pestermites?" The judge confirms that I can, and I start the process, saying that I was making 1,000 Pestermites by tapping Kiki, copying Pestermite, untapping Kiki, and repeat.
My opponent still doesn't concede, though, which makes me worried there's something I'm missing, because otherwise why is he making me do this? I sac eight Pestermites to bring my Gargadon out of suspend, just in case, and then say, "OK, I swing with 9,992 Pestermites." My opponent seems puzzled—I don't think he knew the Mites had haste—and then, again sort of confusedly, concedes. 7-2, and my second day two!
After the match, the judge who'd been watching us asks me, "Why didn't you just activate Kiki-Jiki a million times in response to his Path, and swing in for the win?" I didn't know what to say. Like I said, I'd never before played with the Kiki combo, and in fact this was only the second time that day I'd gotten it online.
A few other weird things happened here. As someone else later pointed out, my opponent should not have been able to cast Path before I did anything with Kiki, anyway, as I had priority. And he totally used Path wrong. He should have waited until I went for the combo, at which point I would have been cold to Path.
So a lot of things went wrong and weird—and a lot of things also broke my way. Who knows? Maybe by tapping down his Knight of the Reliquary instead of the Plains I disincentivized him to go ahead and fire off his Path, giving me an opening to cast and activate Kiki-Jiki, countering path.
There's no two ways around it: I got lucky. And to be honest, I feel somewhat ashamed about this, as the rest of our crew lost their win-and-ins. I imagine that this is the way that survivors of shipwrecks and natural disasters feel. Why me, and not the others?
Nevertheless, I was elated, as you can see from this picture: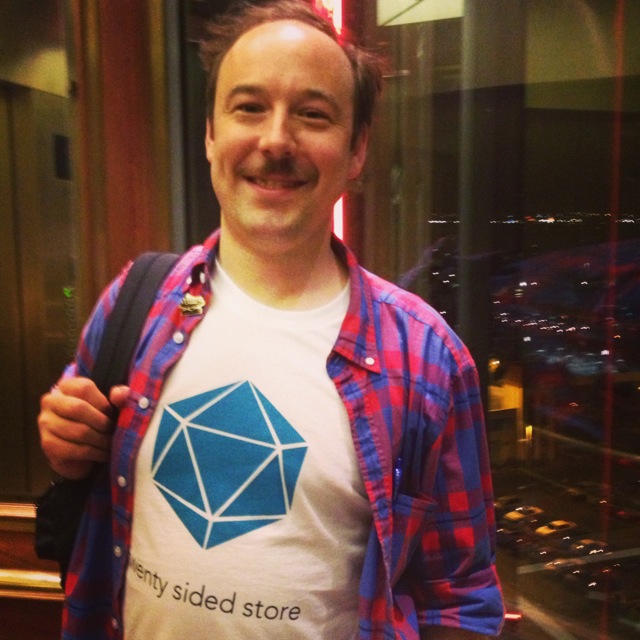 It was nearly midnight when we got back to the Palace Station, so I declined dinner with the team in order to pack up and get some much-needed sleep before returning to the Cashman Center the following morning by 8:45am—no time for a walk.
Tune in next week for my day two report, as well as breakdown of where I think my game is weak, and what I can do to improve going forward.
23/17 is a Hipsters of the Coast column focused on Limited play—primarily draft and sealed, but also cubing, 2HG, and anything else we can come up with. The name refers to the "Golden Ratio" of a Limited deck: 23 spells and 17 lands.