Some weeks the meta seems to be all Reanimator, others all control, and occasionally it's super aggro. We wondered if there were any trends and the only way to figure this out is stats and pie charts.
May 10, 2013
Twenty Sided Store
Standard Meta
3 x Jund Midrange
3 x Junk Reanimator
2 x UWR Tempo
1 x Bant Flash
1 x Bant Midrange
1 x Esper Control
1 x G/R Aggro
1 x Junk Aristocrats
1 x Omnidoor
1 x RDW
1 x UW Homebrew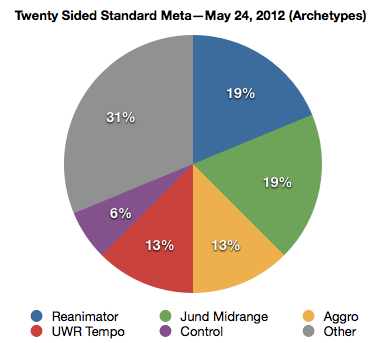 WHAT WILL THIS PIE CHART LOOK LIKE AFTER STANDARD TONIGHT?
See you next Friday with the results.
All the best,
Hipsters of the Coast