10. John Cena's U.S. Open Challenge (2015)
By the mid 2010s, fans were already sick of Super Cena always going over for years. After famously being decimated by Brock Lesnar at Summerslam 2014, Cena began a welcomed slide down the card. At Wrestlemania 31, Cena departed from the main event scene to capture the United States title for the first time since before he ever won a world title.
Cena's philosophy following his win was very simple: "You want some? Come get some!" With that said, he began hosting a weekly open challenge for his United States Championship. Throughout 2015, Cena had fresh, outstanding matches with the likes of Dean Ambrose, Cesaro, Sami Zayn, and many more, in which he revamped his moveset, eroding the internet wrestling community's negative perception of him at the time.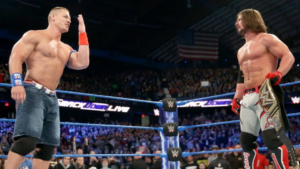 9. Beat Up John Cena (2016-2017)
If you go back to before 2016, the idea of AJ Styles, an icon in TNA and NJPW,  showing up in WWE would be laughable. Yet, at Royal Rumble 2016 Styles shocked the world and made his WWE debut. In the six years since, Styles has had a phenomenal run, including two reigns as WWE Champion. In addition to his list of championships, he also worked a dream feud with the man himself, John Cena.
Styles and Cena had a natural chemistry with each other. Everything about their program clicked. Their Money in the Bank match was a wonderful start, but their Summerslam match stole the show and is one of my favorite matches ever, especially with Styles going over clean.
Their feud would continue for the 2017 Royal Rumble, this time with the WWE Championship on the line. Once again, the two legends put on a wonderful match, without even leaving the ring once, this time with Cena walking out as a record-tying 16-time world champion. The pairing of Styles and Cena was so deeply enjoyable, especially considering how unlikely it was for their paths to ever cross, but thank god they did.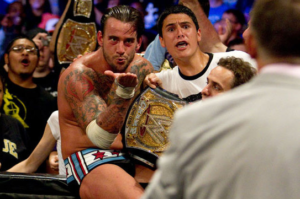 8. Summer of Punk (2011)
CM Punk is one of the best, if not the best, rivals of John Cena. Going into Money in the Bank 2011, the lines of reality and kayfabe were blurred. CM Punk's contract expired the night of the pay-per-view, giving his title match with Cena a fourth-wall-breaking element. Of course, there is also the famous Pipe Bomb, in which Punk went off script and said some things that Vince McMahon certainly did not want him to say during a live episode of Monday Night Raw with a microphone in his hand.
Punk and Cena's promos together were on fire, as Punk resented Cena for everything he was. Their match together at Money in the Bank was stellar. Punk's entrance in his hometown of Chicago always gives me goosebumps no matter how many times I watch it. Punk memorably left through the crowd with the WWE title after beating Cena with his contract seemingly about to expire and after he blew a kiss to Vince McMahon.
After Cena regained the WWE title a few weeks later, Punk returned and once again beat the face of the WWE at Summerslam to unify the two championships. Unfortunately, the Summer of Punk was derailed a bit towards the end with Punk's booking being overshadowed by Triple H and the odd inclusion of Kevin Nash costing Punk the title. However, Punk would win it back and reign as WWE Champion for 434 days, so it all worked out in the end.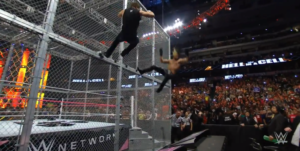 7. Dean Ambrose vs. Seth Rollins (2014-16)
The Shield is quite likely the best faction in WWE history (more on this later). After Seth Rollins betrayed and broke up the Shield in June 2014, the Hounds of Justice went their separate ways. While Roman Reigns immediately pursued world title aspirations, Dean Ambrose never got over the betrayal, and so, he was out for revenge.
Ambrose absolutely despised Rollins for what he did to him. Throughout the summer and fall of 2014, Ambrose hunted down Rollins, even preventing him from cashing in his Money in the Bank briefcase. Their blood feud originally culminated in an epic Hell in a Cell match, in which Rollins stole the victory with some assistance from Bray Wyatt. In 2015, the feud was revisited, this time with Rollins' WWE Championship on the line. Once again, Rollins slipped away victorious.
In 2016, Ambrose would achieve some cathartic revenge when he ripped the WWE Championship away from Rollins with his own Money in the Bank briefcase, along with multiple successful title defenses against him. Dean Ambrose and Seth Rollins, brothers in arms turned bitter rivals, brought a special heat and intensity to the product with their hatred for one another.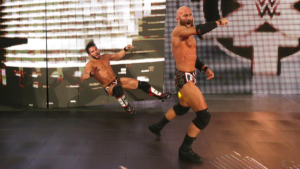 6. DIY (2016-18)
DIY, Johnny Gargano and Tommaso Ciampa, were an outstanding tag team together in the Black and Gold Era of NXT. Throghout 2016 and 2017, they were staples of the stunning NXT tag team division. Their matches and friendship commanded emotional investment from the audience.
At NXT TakeOver: Chicago in 2017, DIY failed to regain the NXT Tag Team Championships. After the match, and after the show-closing logo already appeared to swerve the fans watching at home, Ciampa assaulted Gargano. Throughout 2018, the two would go to war at several NXT TakeOvers. Gargano would take the win at TakeOver: New Orleans, while Ciampa would claim victory at TakeOvers: Chicago II and Brooklyn IV, the latter for Ciampa's newly won NXT Championship.
The Black and Gold Era of NXT was a wonderful alternative to WWE programming, despite being under the WWE flag, before AEW came around. While there was so much amazing professional wrestling during that time period coming from NXT, the journey of DIY, Johnny Gargano, and Tommaso Ciampa is undoubtedly the peak of NXT.
5. Running Up That Hill (2010)
At Wrestlemania XXV, Shawn Michaels failed to overcome The Undertaker's streak in an all-time classic. As Wrestlemania season began the following year, Michaels was desperate for another attempt, only for Undertaker to decline his challenge. Since Undertaker was World Heavyweight Champion at the time, Michaels set out to win the Royal Rumble to get his match.
At Royal Rumble 2010, Michaels put on a valiant effort, but he was unable to get the job done. Following his Royal Rumble failure, he became despondent, obsessive, and volatile. He was failing his best friend, Triple H, and assaulting referees. At Elimination Chamber 2010, he forced Undertaker's hand and cost him his World Heavyweight Championship. After this, Undertaker had no choice but to accept Michaels' challenge, on the condition that Michaels put his career on the line.
And, so he did, as being the man to put The Undertaker down at Wrestlemania was the only thing that mattered to him at this point. The two veterans went to war in the main event of Wrestlemania XXVI, but ultimately, The Undertaker put Shawn Michaels and his legendary career down.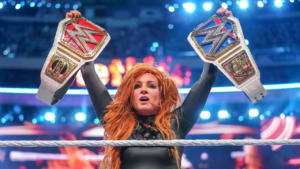 4. The Man Comes Around (2018-19)
The mid 2010s saw a revolution of women's wrestling within the WWE, led by the NXT standouts of the Four Horsewomen (Charlotte Flair, Sasha Banks, Bayley, and Becky Lynch) and Paige. As the divison and these women especially reached new heights on NXT and the main roster, Becky Lynch was always coming up short, playing second fiddle, and generally being booked as less of a threat than her peers.
In the summer of 2018 she was finally receiving a strong push. At Summerslam 2018, she had the Smackdown Women's Championship won in a triple threat match, only for her best friend Charlotte Flair to sweep in, steal her win, and claim yet another world championship. Following the match, Lynch snapped and turned on Flair, debuting a new persona she dubbed as The Man.
Following this turn, Lynch was positioned as a heel, however the points she made rang true and resonated with the crowd so much that despite her villainous positioning, the crowds went absolutely insane for her. WWE's hand was even forced to turn her back to a face. She took the title back from Flair, only for then-Raw Women's Champion Ronda Rousey to cost her the title, after their Survivor Series match was cancelled due to a concussion suffered by Lynch. Lynch won the Royal Rumble match, and Flair was inserted into her title match, and then later won the Smackdown Women's Championship again.
The stage was set. At Wrestlemania 35, the first-ever Wrestlemania to be main evented by women, there would be a winner-take-all triple threat match. When the dust settled, Lynch became the first woman to pin Ronda Rousey, walked out a double world champion, and is now one of the biggest stars of the WWE.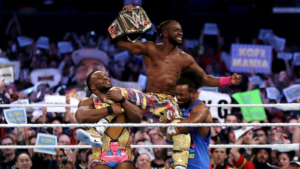 3. KofiMania (2019)
Kofi Kingston had been a standout wrestler since 2008. He had won several Intercontinental, United States, and tag team championships, but he was never able to reach world title status. In 2009, he worked a major program with Randy Orton that seemingly primed him for a world title run, but a botch and some backstage politics prevented this from coming to fruition. He found himself lost in the shuffle before reinventing himself with The New Day, now one of the best tag teams/trios in WWE history.
In 2019, Daniel Bryan was on an incredible run with the WWE Championship under a new eco-friendly heel persona known as the "Planet's Champion." He was set to defend the title at Elimination Chamber 2019 in the chamber itself. After Mustafa Ali was injured, Kingston was selected as his replacement. On an episode of Smackdown, Kingston had a stellar performance in a gauntlet match in which he defeated WWE Champion Bryan, Jeff Hardy, and Samoa Joe, before finally being submitted by AJ Styles (after a post-match assault by Joe as well). His efforts here and the reactions he drew caused Vince McMahon to strike while the iron was hot, and cancel a planned title win for Kevin Owens in favor of Kingston.
In the Elimination Chamber match, Kingston made it to the final two, putting on a gutsy effort but ultimately coming up short. Afterwards, McMahon and Bryan toyed with Kingston, preventing him from fairly earning a title match at Wrestlemania. It was a wicked, evil role reversal, as a few years prior, Bryan was in Kingston's exact position.
Kingston finally got his match after his New Day brothers, Xavier Woods and Big E, won a tag team gauntlet match against five other teams in a row (including The New Day's most storied rivals, The Usos, who forfeited their match out of respect when Woods and E were hurt, in one of the most heart-warming moments I've ever seen). At Wrestlemania 35, Kofi Kingston finally got his dues after eleven long years of hard work, and defeated Daniel Bryan to become the WWE Champion.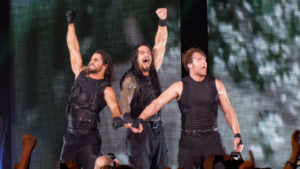 2. The Rise and Fall of The Shield (2012-14, 2017-19)
Seth Rollins. Dean Ambrose. Roman Reigns.
The Shield was in my opinion, the best faction in the history of professional wrestling. They were simply perfect. Their styles and personalities blended together perfectly. Their riot gear and entrance through the crowd made them feel so special. As soon as you heard their music start, you knew everyone in the ring was about to get their ass kicked.
Originally debuting as CM Punk-led mercenaries who helped him retain the WWE Championship a few times, while still dominating everyone in their way in the process, they eventually set their sights elsewhere. At Extreme Rules 2013, they captured the United States and WWE Tag Team Championships. For several months, they were undefeated as a trio, prompting wrestlers up and down the roster to try their hand at cracking the Shield. Later on, they'd find themselves as soldiers for the Triple H-led Authority, until eventually they turned face to clash with Hunter instead. They were the Hounds of Justice, after all.
Their wars with the Wyatt Family and Evolution in 2014 are extremely memorable. Seth Rollins's betrayal of his brothers in arms is one of the best heel turns ever (and absolutely broke my heart when I was eleven years old watching it live). While their reunions throughout 2017, 2018, and 2019 were plagued with injuries and illnesses, it was still deeply enjoyable and nostalgic to see the three of them standing together again.
While their time together as the Shield was pure magic, what makes them really so special is who these three men have become as solo superstars and multi-time world champions.
Seth Rollins has been pure fire for years. Everything he touches is gold. Heel or face, champion or not, Rollins excels at everything he does. His runs as WWE, Universal, and Intercontinental champion produced great matches and character work, and his recent trilogies with Edge and Cody Rhodes were superb.
Dean Ambrose, now in AEW as Jon Moxley, had a great WWE career but was never treated as well as Rollins and Reigns. Since jumping ship for AEW, Moxley has become the ace and top guy of that company and has carved his own path in professional wrestling.
Roman Reigns, once the crowd-rejected golden boy of Vince McMahon is now a god in this industry. While his multi-year long Cena-esque booking as a face failed, since returning in 2020 as the villainous, gaslighting, master manipulator Head of the Table and Tribal Chief, Reigns has been untouchable. He has been the reigning, defending, undefeated world champion for over two years now. His matches are excellent and he is the best character on anyone's TV today.
The Shield, one of the WWE's greatest creative successes, has spawned three of the best wrestlers of all time.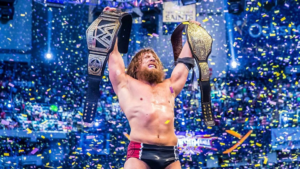 1. The Yes! Movement (2013-14)
This single arc has made Daniel Bryan/Bryan Danielson my favorite wrestler of all time.
At Summerslam 2013, Daniel Bryan defeated John Cena clean for the WWE Championship. After the match, special guest referee Triple H turned heel on Bryan, allowing Randy Orton to cash in his Money in the Bank briefcase and forming the Authority in the process. Throughout the following fall and winter, Triple H and the Authority would repeatedly cost Bryan the championship.
Despite this, the crowd's adulation never dissipated for a moment. It was perpetually overwhelming. The returning Bautista's Royal Rumble victory was rejected, forcing WWE to turn him heel, going against their original plans of having Bautista dethrone Orton at Wrestlemania XXX. As the crowd readied themselves for #30 to come out in the Royal Rumble, expecting it to be Daniel Bryan, instead came out fan favorite and legend Rey Mysterio who was met with an array of boos for the first time in his career. The audience booed Rey Mysterio simply just because he was not Daniel Bryan.
Despite Bryan's problems with Triple H and the Authority, Triple H refused to give Bryan proper respect as a competitor. In order to get what he wanted, Bryan occupied Monday Night Raw with a group of fans in a beautiful display of the Yes! Movement and Bryan's world title chase. His wish was granted: he would get a match with Triple H at Wrestlemania XXX, and the winner would be added to the main event title match between Randy Orton and Bautista.
In Wrestlemania XXX's opening contest, Daniel Bryan beat Triple H in a stunning wrestling match. As the end of the main event was near, Bryan had really been through it. Months of torment leading up to this one night. He had wrestled a grueling match earlier in the night, suffered a post-match assault from Triple H, and was now in the midst of another grueling match that even involved the medical personnel temporarily removing him from the match after a vicious team-up between his two opponents.
And yet, he overcame the odds and made Bautista tap out to the Yes! Lock to become the WWE World Heavyweight Champion. The Miracle on Bourbon Street, as WWE calls it, completely captivated me as a kid. Bryan was an underdog and a hero who pulled off the impossible no matter what stood in his way.
Looking back on it now eight years later, I still feel the exact same way about it. This is what professional wrestling is about, and the Yes! Movement and Wrestlemania XXX will forever be the peak of the sport in my eyes.
Alessandro Pogorzhelsky is a college student based in New Jersey studying political science. He used to play Magic competitively, including at the Pro Tour, and never really got over the Splinter Twin ban.