In anticipation of Summer Bloom getting the ban-hammer, I de-sleeved Bloom Titan and moved my Serum Visions and Pact of Negations to an Ad Nauseam build. I've only recently started piloting the deck but I love it. While it lacks the explosive power of Bloom Titan, there is something beautiful about drawing your deck, playing on through a negative life total, and killing your opponent with a bizarre Coldsnap uncommon.
Aside from the fun factor, which I imagine is not shared among much of the Modern Magic community, the deck is able to kill at instant speed with multiple free counterspells to keep an opponent from meaningfully interacting with you. While the deck is not as fast as other Modern combo decks, it is difficult to interact with. It doesn't use the graveyard and blanks all creature based removal thanks to never putting a creature into play. Despite being fairly linear, Ad Nauseam has a strong ability to play against a variety of hate given that your whole library is available to you if you can assemble Ad Nauseam/Angel's Grace or Ad Nauseam/Phyrexian Unlife. Leyline of Sanctity looks pretty silly when you have your entire deck in your hand and fire off a Patrician's Scorn.
For those not familiar with the deck here is a simple breakdown of the combo
Play Angel's Grace and Ad Nauseam.
Draw your entire deck.
Exile Simian Spirit Guides to pay for Lightning Storm.
Discard enough lands to Lightning Storm to kill your opponent.
The deck plays a bunch of card selection spells and tutors to find combo pieces (Serum Visions, Sleight of Hand, Spoils of the Vault), several "burst" mana producers (Lotus Bloom and Pentad Prism) to play the combo on turn four, and "free" countermagic to protect the combo.
Using the last two months of data from MTGTop8 on Ad Nauseam, I want to sketch out the basic core of the deck and discuss different variations on flex slots.
Lands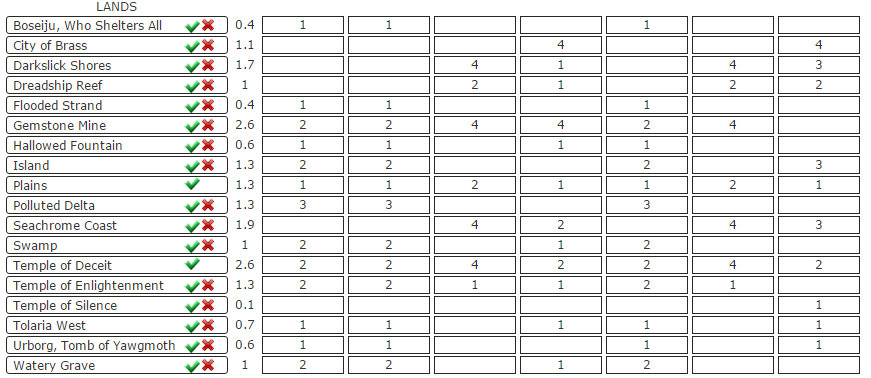 Despite the fact that all seven decks I looked at were Esper in nature, there are only two unique land cards that show up in every list, Temple of Deceit and Plains. Each deck plays 20-22 lands but each pilot came up with a different build (the three identical lists above are all from the same pilot). Unlike other decks with similar color requirements, Ad Nauseam doesn't max out on fetch lands as there is some chance you could remove too many lands from your deck to kill with Lightning Storm.
Ad Nauseam is also fairly unique in that all lists play several copies of the scry lands from Theros. While the lands have made a fairly low impact on Modern due to their come-into-play-tapped nature, here the ability to filter for essential combo pieces outweighs the fact that they are slower than shock/fast lands. Unlike most Esper decks, Ad Nauseam generally plays several Gemstone Mine. While the Mine doesn't tend to stick around for too long, the ability to generate Esper colors while also tapping for red in the event that you've already had to use several Simian Spirit Guides is relevant. Also, there are a few lists that side in off-color answers (Dragonlord Dromoka / Pyroclasm) that would be difficult to cast without Gemstone Mine.
Creatures/Spells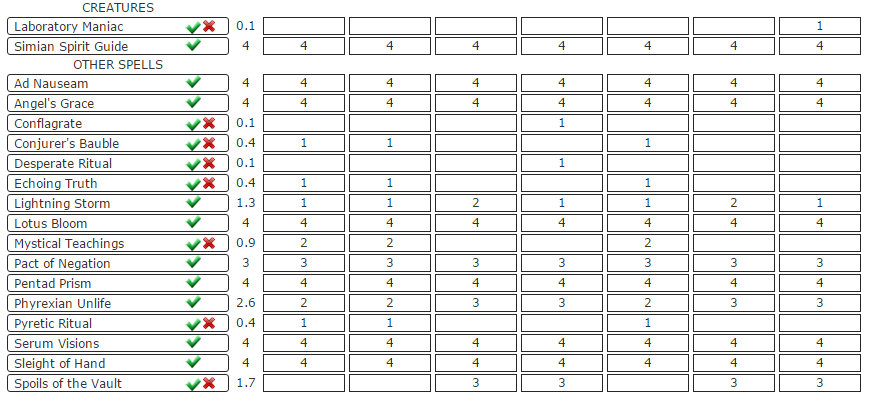 Despite the disparate mana base decisions among pilots, we are able to develop a core of the deck through the shared spells:
Combo
Mana Producers
Card Draw/Selection
Combo Protection
The bare minimum of cards to make up the core of the deck is 20 lands and 34 spells. So we have a maximum of 6 flex slots in the deck. These cards could be:
Additional Win Conditions
Fast Mana
Card Selection/Tutors
Combo Protection
Of these cards, Spoils of the Vault is perhaps the most interesting. Spoils is the most efficient way to ensure finding a combo piece. For one mana it will find you the card you need, with the lifeloss being negligible thanks to Angel's Grace/Phyrexian Unlife. Spoils is a double edged sword though as it can exile your singleton win conditions or too many lands to win via Lightning Storm. I don't love playing a card that is so risky but several lists play up to 3 copies.
After establishing a core for the deck, we can look to see if there is a common bond in the sideboard: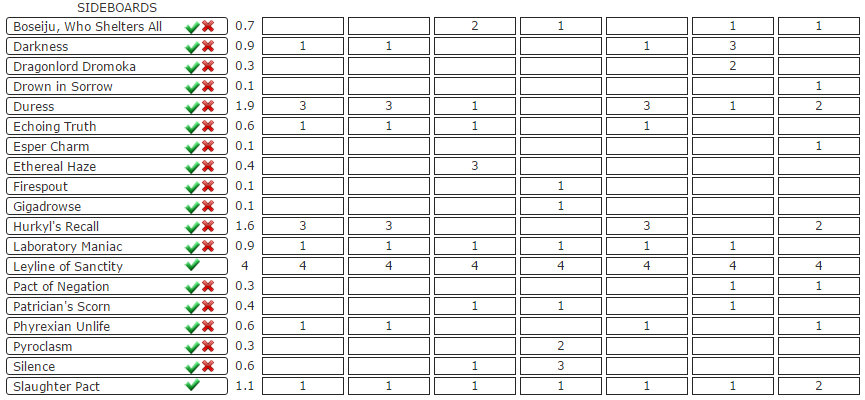 Of the four unique lists, the only cards played in every sideboard are four Leyline of Sanctity and a singleton Slaughter Pact. Leyline is crucial against Jund/Junk decks which are a pretty bad match-up thanks to targeted hand disruption, Liliana, and efficient threats. Slaughter Pact is the best way to remove problematic creatures while comboing such as Spellskite and Meddling Mage. The other 10 slots in the sideboard range from additional threats, to combo redundancy, to fog effects, to combo protection.
Without further ado, let's look over some deck lists:
TonyTriceps MTGO Daily 12/31/15 1st Place
Rodrigo Togores - MKM Series - Modern Main Event 12/20/15
Perhaps the biggest difference between the two lists is that TonyTriceps' list plays Mystical Teachings as an additional card selection spell whereas Togores chose to play Spoils of the Vault. Teachings is a clunky, but safe way to find missing combo pieces, whereas Spoils is more efficient but somewhat dangerous as you are liable to exile essential combo pieces. Togores hopes to mitigate the feel bads of exiling Lightning Storm by playing an additional copy whereas TonyTriceps has additional combo redundancy in the form of Conjurer's Bauble which can get back a Lightning Storm that had been discarded previously. The lists also illustrate the different ways you can build the manabase with Tony playing a maindeck Boseiju and a fetchland+shockland manabase and Togores playing several scars fast lands alongside some storage lands.
Next week, I'll have more on Ad Nauseam with an eye towards individual match-ups, sideboarding, and potential opening hands.
In terms of Magic, Shawn Massak is a Modern enthusiast, with a penchant for tier two decks, counterspells, and pre Eighth Edition frames. In terms of life, Shawn lives in Brighton, MA where he works as an employment coordinator for people with disabilities, plays guitar in an indie-pop band, and spends his free time reading comics, complaining about pro-wrestling, and wishing his apartment allowed dogs as pets.