Sunday morning in Pittsburgh was not supposed to be stressful. I woke up early enough after setting twelve or so alarms, took a shower, headed to the free breakfast downstairs at the hotel, and scheduled my shuttle to the event hall. While it was only a 20 minute walk, by the baseball stadium over one of the bridges to the convention center, it was cold. My shuttle was set to leave at 8:30, which was fine given the fact that it was only a five minute drive. At 8:30, Nik and I hopped in the van to find a mother and her child already in the first row.
"I'm just going to drop these guys off at the Sheraton first. Then I'll take you to the convention center."
I obliged, thinking that the Sheraton was right down the street. 10 minutes later, I was frantically google searching the hotel to make sure I could make it to the hall by nine. It was another 7 minutes away. I had a moment when I considered jumping out of the van and seeing if I could catch an Uber to the center. I was really worried about a round one loss and was mad at myself for not just walking to the hall when it was so close. We pulled up at the Sheraton. 8:48. I knew there was nothing I could do but remained anxious anyway. For the first stretch of the drive back, I swear we hit every red light possible. Just one after the other. I knew I was going to be late.
Then we pulled up at the convention center. I ran in to find them announcing seating for Round 10.
In case you missed part one of my article, this is what I sleeved up:
Bloom Titan GP Pittsburgh
ROUND TEN—Steve with Naya Burn (2-1)
Burn is generally a pretty excellent match-up for Bloom Titan. This one was fairly textbook. game one I padded my life total with Radiant Fountain/Vesuva while getting in with Primeval Titan. They don't have a good way of killing Primetime game one but will generally bring in Path to Exile to remove the giant before it creates too much value. I bring in Leyline of Sanctity to combat Lightning Bolt, Boros Charm, and Lava Spike though they have a surprising number of cards that get around the enchantment by targeting each opponent. The one thing to look out for post board is that many Burn lists have at least one Deflecting Palm in the sideboard. Palm doesn't target the creature or player, so it gets around Leyline, and can ruin your day if you get too aggressive with titan. You can play around this by padding your life total and keeping a Slaughter Pact to kill off your own Titan if need be.
+3 Leyline of Sanctity
+2 Thragtusk
+1 Pyroclasm
-1 Azusa, Lost But Seeking
-2 Hive Mind
-2 Pact of Negation
-1 Cavern of Souls
ROUND ELEVEN—? with Jund (2-0)
I neglected to write down my opponent's name. Sorry mystery opponent! Game one, I Hive Minded my opponent out on turn three. Game two, I brought in the grindy midrange package to seal the game even if they manage to kill all the Primeval Titans.
+3 Leyline of Sanctity
+2 Thragtusk
+1 Hornet Queen
+1 Ghost Quarter
-1 Azusa, Lost But Seeking
-2 Hive Mind
-2 Pact of Negation
-1 Cavern of Souls
-1 Sleight of Hand
ROUND TWELVE—Osyp with UR Twin (0-2)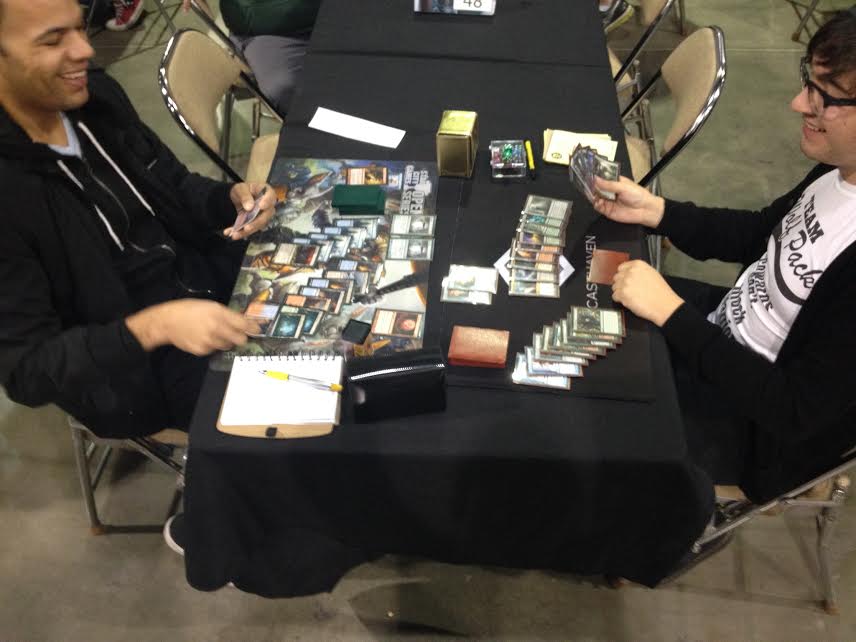 This round I had the pleasure of playing against Osyp Lebedowicz. Unfortunately these games didn't go too well for me. Game one, I managed to kill myself. I searched up Azusa with Summoner's Pact, he cast Cryptic Command to counter my Azusa and bounce my karoo land. Since that would have killed me on my next upkeep (I had only two lands in play), I cast Pact of Negation to counter back. Since I had an Amulet of Vigor in play, I was able to play a Primeval Titan and put a bunch of lands into play. On my next upkeep I had eight mana and had to play nine. Osyp was nice enough to tell me he had the Twin kill anyway. Game two, I brought in my anti Blood Moon/Splinter Twin package. I had a fast start with a turn one Amulet, unfortunately Osyp had the Ancient Grudge, then he had a Blood Moon on turn three. The picture above shows me locked out of the game with Blood Moon and two Spellskites staring across the table from me. It took Osyp 10+ turns to actually kill me but that's the way it goes. Blood Moon is a card.
+3 Seal of Primordium
+1 Swan Song
+1 Bojuka Bog
-2 Hive Mind
-1 Azusa, Lost But Seeking
-1 Khalni Garden
-1 Sleight of Hand
ROUND THIRTEEN—Julien with Jund (0-2)
Julien is a Boston local and a nice guy to boot. Round one, I punted big time and discarded a karoo land to Liliana when I was weirdly short on green mana. I had Primeval Titan but couldn't cast it. Game two, Julien played Blood Moon against me on turn three. For the record, I never expect Blood Moon out of Jund as the lists generally play very few basics and a bunch of man lands. I had not sided in any way to deal with Blood Moon and scooped shortly after the enchantment came into play.
+3 Leyline of Sanctity
+2 Thragtusk
+1 Hornet Queen
+1 Ghost Quarter
-1 Azusa, Lost But Seeking
-2 Hive Mind
-2 Pact of Negation
-1 Cavern of Souls
-1 Sleight of Hand
ROUND FOURTEEN—Curtis with Tron (0-2)
Curtis had turn three Tron game one. We battled it out in a really grindy game but eventually he played Emrakul. Game two, Curtis was able to disrupt my mana with Ghost Quarter and then played a Void Winnower. I had no outs to Void Winnower so I promptly scooped. I checked MTGtop8 afterward to check to see if Void Winnower was some secret tech I missed, apparently it was a one-of in a top eight deck from an SCG Open in Dallas earlier in the month. I hate that card.
+1 Ghost Quarter
+2 Seal of Primordium
-1 Cavern of Souls
-1 Azusa, Lost But Seeking
-1 Slaughter Pact
ROUND FIFTEEN—Brad with Glittering Abzan (2-0)
After what appeared to be a pretty stock Abzan list, Brad played a Glittering Wish to get Slaughter Games from his sideboard. Unfortunately, he didn't have the mana to cast it and I killed him the following turn with Hive Mind. I sided exactly like I would for Jund assuming I still wanted to grind it out. Game two, Brad got stuck on two lands, I played a Primeval Titan and he offered up the handshake.
+3 Leyline of Sanctity
+2 Thragtusk
+1 Hornet Queen
+1 Ghost Quarter
-1 Azusa, Lost But Seeking
-2 Hive Mind
-2 Pact of Negation
-1 Cavern of Souls
-1 Sleight of Hand
My 10-5 record was good enough for 180th place and $0. Though I didn't expect to cash, and was reasonably pleased with my record, the fact that I was breaker points off from cashing was tough to swallow. Perhaps if I hadn't punted round thirteen against Julien and had taken game one, I might have finished 11-4. Perhaps I could have played a bit differently against the tron opponent and forced a game three. Regardless, I'll take my one pro-point and be thankful that I racked up enough planeswalker points to secure myself the first bye for next year. My plan moving forward is to continue to play Bloom Titan in bigger tournaments, because the deck is great, but also to explore a variety of other combo decks in the format, namely Bubble Hulk and Ad Nauseam. As always, I'll report back with my findings.
In terms of Magic, Shawn Massak is a Modern enthusiast, with a penchant for tier two decks, counterspells, and pre Eighth Edition frames. In terms of life, Shawn lives in Brighton, MA where he works as an employment coordinator for people with disabilities, plays guitar in an indie-pop band, and spends his free time reading comics, complaining about pro-wrestling, and wishing his apartment allowed dogs as pets.