Last week, I wrote about Modern Bloom Titan and the potential flex slots in the deck. After reviewing multiple top eight decklists, I came to the conclusion that just about every player shared 57 of 60 cards in their main deck. From there it was easy to contextualize the inclusion of the last three cards and discuss their place in the deck and wider metagame. This week, I want to look at the sideboard options for Amulet Bloom. Let's start by looking at the aggregate data from MTGTop8 on the sideboard inclusions of roughly one dozen Bloom decks from the past three months.

There are 29 unique cards that compose multiple Bloom sideboards. Of these cards there are five that have an average of more than one copy in the sideboard. They are:
[casthaven]Leyline of Sanctity[/casthaven] (3)
[casthaven]Pyroclasm[/casthaven] (1.7)
[casthaven]Seal of Primordium[/casthaven] (2.3)
[casthaven]Swan Song[/casthaven] (1.4)
[casthaven]Thragtusk[/casthaven] (1.1)
Of these, the only cards that had a place in every sideboard were Leyline and Seal. So let's discuss the inclusion of these cards.
[casthaven]Leyline of Sanctity[/casthaven] is essential to this deck as it is the best singular way to combat targeted discard. Against decks like Jund, Junk, BW Tokens, and Grixis Control, Leyline is the only reasonable way to prevent the opponent from messing up your combo as early as turn one. While Leyline lowers the density of threats in the deck, ensuring that you are able to hit a turn two [casthaven]Summer Bloom[/casthaven] or have Titan to bloom into is crucial. Furthermore, Leyline also stops [casthaven]Liliana of the Veil[/casthaven] from forcing you to sacrifice your [casthaven]Primeval Titan[/casthaven] and has some utility against Burn, Ad Nauseum, and UR Storm.
[casthaven]Seal of Primordium[/casthaven] is primarily here to deal with Twin. Against UR Twin, Seal stops the Twin combo as well as [casthaven]Blood Moon[/casthaven]. While it may cost one more than [casthaven]Nature's Claim[/casthaven], being able to have Seal in play to deal with a potential issue is much easier for this deck then constantly keeping up green mana (especially with all of the tap lands). Seal is also good against Affinity, Bogles, or decks that try to disrupt your combo via[casthaven] Torpor Orb[/casthaven] (though Torpor Orb is totally beatable even without artifact removal).
Seal and Leyline are there to protect the deck against two of the most popular Tier 1 decks, Jund and Twin. Furthermore, another two of the top five most common sideboard cards are  also to deal with Twin and Jund—[casthaven]Swan Song[/casthaven] and [casthaven]Thragtusk[/casthaven]. Swan Song is a card that always comes in against Twin as it disrupts the combo, counters Blood Moon, and helps force through [casthaven]Primeval Titan[/casthaven]s in the face of counter magic. [casthaven]Swan Song[/casthaven] is also reasonable against other combo decks like Living End, Scapeshift, and Ad Nauseum. [casthaven]Thragtusk[/casthaven] helps out grind Jund. Mr. Swag himself gains life, laughs off removal, and can still generally trade with Goyf. While chaining together [casthaven]Primeval Titan[/casthaven]s via [casthaven]Tolaria West[/casthaven] is generally enough, having a back-up threat like [casthaven]Thragtusk[/casthaven] or [casthaven]Hornet Queen[/casthaven] helps increase the win percentage post board even more.
The last card to break the top five list of sideboard cards is [casthaven]Pyroclasm[/casthaven]. Pyroclasm is here mostly to dismantle robot armies but can also wipe a board full of Soul Sisters, Hate Bears, or Tokens. The card should give the Bloom player plenty of time to set up and smash with Primeval Titan.
So after discussing the cards that occupy the most sideboard space, I want to talk about other regular inclusions. My plan is to breakdown sideboards from top eight lists to discuss individual card inclusions.
Michael Tabler SCG Premier IQ—Indianapolis 10/4/15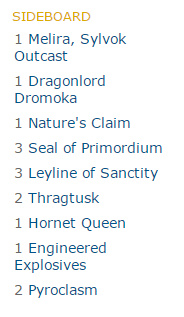 The spiciest card in this board is [casthaven]Melira, Sylvok Outcast[/casthaven]. Bloom Titan is straight up abysmal against Infect. They have a faster combo and aside from a one of [casthaven]Slaughter Pact[/casthaven] or hoping to block, the Bloom player has no way to disrupt them. With four copies of [casthaven]Summoner's Pact[/casthaven], Tabler effectively has five Meliras in the main deck. However, while Pact is a great way to search out Melira, you have to be able to pay for the pact, which means that unless you turn two [casthaven]Summer Bloom[/casthaven], it will at best be a turn four play, which is often too late against Infect. Despite being slightly clunky off of Summoner's Pact, I think Melira might be the best option against Infect unless you're going to devote several sideboard slots to something like [casthaven]Sudden Shock[/casthaven].
Tabler also plays a [casthaven]Dragonlord Dromoka[/casthaven] in his sideboard, another target for Summoner's Pact. I wrote last week that I didn't love the idea of Dragonlord in the main deck, but I don't mind the singleton copy in the sideboard. Dragonlord came come in against Grixis, UR Aggro, Jeskai Midrange, and even potentially Burn and Affinity.
Aside from these two cards, Tabler's sideboard is pretty stock. I'm a big fan of [casthaven]Engineered Explosives[/casthaven] in the sideboard as it's versatile and fetchable off Tolaria West/Ancient Stirrings. Everything else covers the necessary bases against Jund, Twin, and Affinity.
Kanister MTGO PTQ 10/3/15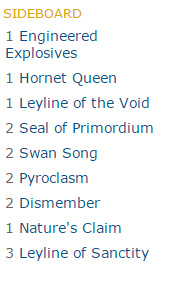 I'm a little baffled at the [casthaven]Leyline of the Void[/casthaven] in Kanister's sideboard. While I can understand wanting to combat the Snapcaster/Tasigur/Angler decks as well as the occasional Living End/Dredgevine list, I can't help but feel that Bojuka Bog is infinitely better. Bog comes into play off Titan, is found off Tolaria West/Ancient Stirrings, and is much easier to cast.
Other than Leyline of the Void, Kanister chose to jam some Dismembers into the board. Though Dismember is hardly a common inclusion is does a lot of important things; it stops the Twin combo, disrupts Infect, stops the Collected Chord decks from comboing, and is fine in creature based match-ups like Merfolk and Zoo.
LordCommanderSnow MTGO PTQ 9/19/15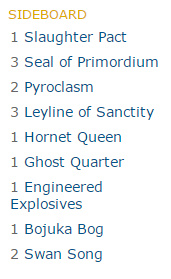 Lord CommanderSnow has two cards I really like in the board—Bojuka Bog and Ghost Quarter. While I discussed Bojuka Bog a little further up, Ghost Quarter is an excellent inclusion in the seventy-five. Ghost Quarter is able to keep Inkmoth Nexus in check, slows down Tron, and is a trump in the mirror match.
Before I wrap up, I want to give some rough sideboarding guides based on my experience. Sideboarding isn't an exact science and depends on a lot of variables, so take these as a starting point and not as gospel.
I will use LordCommanderSnow's list for reference:
Bloom Titan
UR Twin
-2 Azusa, Lost But Seeking
-1 Khalni Garden
-2 Ancient Stirrings
-2 Hive Mind
+2 Swan Song
+3 Seal of Primordium
+1 Slaughter Pact
+1 Bojuka Bog
This one is tricky since there is UR Twin, Grixis Twin, and Tarmotwin. All of them are bad match-ups. The plan here is to bring in ways to interact with the combo and Blood Moon (Swan Song/Seal of Primordium). Bojuka Bog is very good against Grixis and Tarmotwin to stop Tasigur/Snapcaster/Tarmogoyf shenanigans but is still fine against UR Twin even if it just stops Snapcaster. Hive Mind comes out since it's very difficult to resolve a six mana enchantment against Remand/Cryptic/Mana Leak, Stirrings gets trimmed down since it doesn't find any of our sideboard answers, Khalni Garden gets cut since an 0/1 plant is not relevant, and Azusa gets cut because it's the worst card in the deck.
Affinity
– 1 Cavern of Souls
– 2 Azusa
– 2 Pact of Negation
– 2 Hive Mind
– 1 Sleight of Hand
+ 1 Engineered Explosives
+ 1 Ghost Quarter
+ 3 Seal of Primordium
+ 2 Pyroclasm
+ 1 Slaughter Pact
Here we become the control deck. The Hive Mind combo comes out in order to blow up a bunch of robots. Pyroclasm and Explosives wrath their board, Seal destroys activated man lands and Cranial Plating, while Ghost Quarter takes out Blinkmoth and Inkmoth Nexus. Pact is too slow for this matchup, Azusa is awkward alongside Pyroclasm and generally the first card I board out anyway.
Jund
– 1 Azusa, Lost but Seeking
– 1 Cavern of Souls
– 2 Hive Mind
– 2 Pact of Negation
+3 Leyline of Sanctity
+1 Hornet Queen
+1 Engineered Explosives
+1 Ghost Quarter
The one thing I miss in LordCommander's SB is access to Thragtusk which really do make the Jund match-up favorable. Leyline comes in to combat Liliana and targeted discard, Hornet Queen trades with all of their threats and can't be one-for-oned with removal,  Engineered Explosives on two destroys most relevant threats (Bob/Goyf/Ooze), and Ghost Quarter blows up Treetop Village and Raging Ravine which can be a pain to remove otherwise. Though they don't have ways to deal with Hive Mind if it sticks, they can pay for Summoner's Pact/Slaughter Pact mana, and the card just feels unnecessary in what ends up becoming a grindy match-up. Cavern comes out since they don't have counters, Azusa sucks, and Pact of Negation doesn't feel very good against their cheap removal and efficient creatures.
Burn
– 1 Azusa, Lost but Seeking
– 1 Pact of Negation
– 1 Cavern of Souls
+3 Leyline of Sanctity
Leyline prevents Bolts, Bumps, Spikes, and charms from hitting us in the face. The sideboard plan here is pretty self explanatory. Also I think this match-up is pretty good in the first place.
Tron
– 1 Cavern of Souls
– 1 Azusa, Lost But Seeking
– 1 Ancient Stirrings
+1 Ghost Quarter
+2 Seal of Primordium
This match-up feels about even to me and there's not much I want to take out or bring in. Ghost Quarter can keep them off Tron and Seal can occasionally take out a clutch Oblivion Stone, Expedition Map, or momentarily stop Wurmcoil.
Infect
I'm a little bit torn on sideboarding against this deck. Most of the  cards you could bring in could interact with them but aren't particularly good at it. Yes, you might kill a Glistener Elf and Noble Hierarch with Pyroclasm but then there are times that Inkmoth is killing you or they have the pump spell to effectively counter clasm. I like the less is more strategy against Infect and just hoping that you have the nuts and can kill them before they kill you. My sideboarding would look like this:
-1 Cavern of Souls
-1 Azusa, Lost But Seeking
-1 Pact of Negation
-1 Ancient Stirrings
+1 Ghost Quarter
+1 Slaughter Pact
+2 Swan Song
On the bright side at least the 2/2 off Swan Song is usually not relevant.
Whew, that was a lot and just covered six decks in a very diverse format. Feel free to post some different sideboard plans or some super secret tech for the meta. Next week I will take a break from talking about Primeval Titan to talk about Soul Warden. I'm totally serious.
In terms of Magic, Shawn Massak is a Modern enthusiast, with a penchant for tier two decks, counterspells, and pre Eighth Edition frames. In terms of life, Shawn lives in Brighton, MA where he works as an employment coordinator for people with disabilities, plays guitar in an indie-pop band, and spends his free time reading comics, complaining about pro-wrestling, and wishing his apartment allowed dogs as pets.