The plan was simple: get off work at six, meet at Whole Foods on Bowery for a quick meal at the food court, then get in the car and get the fuck out of New York City. We were restless, overworked, and exhausted; the city had leaned its full weight on our backs. When you live here long enough, you find that your most memorable experiences often happen when sloughing off responsibility and leaving the city. We believed that visiting Quebec was the best way to engage both familiarity and a foreign country, within a manageable drive for a short holiday. After all, it was our last opportunity to get away before the new year. Our daydreams of drinking wine at cafes outdoors in soft clothing, leather soles on cobblestones, and the elegant music of the french language, they would all finally dissolve into a lovely reality after a six hour drive.
For me, my relationship to Magic had broke the ceiling and tiered into a level of obsession that permeated my headspace normally reserved for work, sleep, and love. But with Khans of Tarkir imminent, working on Standard decks had pushed my mental strain deep into insomnia territory. I was tapped out, staring down lethal. Waking up in the middle of the night to a pounding heart and a mind full of mana symbols means a vacation is not only timely, it's necessary for buoying one's sanity. I decided I would entirely forego the prerelease, and disconnect myself from my phone for the duration of the trip. No videos, no articles, no decklists. I need to be present and bask in those golden moments.
We spent the night at a Best Western in Albany after driving for three hours. It turns out getting up at five am, working for nine hours, then attempting a six hour drive in the darkness is a bit much for two minds in utter exhaustion. We bought a bottle of wine before we left New York City, and put it to good use before passing out on the dry, starched mattress.
In the morning we found a Whole Foods and raided it at opening for some breakfast and coffee.
We laid track all the way up to the border, where a few harshly put questions unlocked our way to the great northern slice of this continent; we made it to Canada without any roadway errors! Thanks to these incredible little machines we all carry in our pockets. What the hell did everyone do before these things?
We found out. Not wanting to incur roaming charges left us following printed directions to Montreal and our AirBnB home. So THIS was what the late 90's were like! I remember now. Oh Mapquest, you will not be missed.
We pulled up to the warm, tree-lined Rue de Saint Hubert in the Plateau district and met the Yoga teacher who owned this amazing basement apartment.
From here we set out on a culinary expedition. We had a few places we knew we had to hit. The first one, fortunately enough, was around the corner from our apartment. Ladies and gentleman, Au Pied De Cochon!
Here we dined, or shall I say INDULGED ourselves in the wonderful world of Fois Gras. Kate had never tried it, and since I was no longer politically interested in obliterating it — after all, I did finally taste fois gras! — I wholeheartedly demanded we try it in a multitude of preparations.
And many others. To say we left drunk and sinfull was an understatement.
On Monday we were getting to know the area when we stumbled into Valet De Coeur, a gaming store on St. Denis where, under normal circumstances i'd be in heaven. However, having indulged in the distance I had allowed myself, I merely wandered the store for a minute, then promptly left to find a drink somewhere and continue the abstinence. I knew I couldn't break what I had set out to accomplish — spend a few days not concerning myself with Magic — and not feel guilty about the whole endeavour. I joked with Kate over Caesars (that's a Bloody Mary in Quebec) that i'd like to draft while we were here. She laughed and said sure, she could go home and get some sleep.
And that was the only time we spoke of Magic. It feels very healthy to be away, in the cold north, getting my disconnection as deep as I can get it before the inevitable return to New York and my life there. My life which is so full of friends and growth and love, it almost feels wrong to put it away even for a moment of quiet. But even now, as I write this to you on Tuesday afternoon, I still cannot sleep through the night. It's the overstimulation of a life being fully lived that keeps my mind barreling forward at light speed. I don't know what it will take to find sleep, but I know that getting away from everything for a breath of air is a significant motion in the right direction.
On another note, montreal sucks at parking rules. We got a ticket.
We debated paying it, but in the end we have to, even if we ain't from these parts.
I also particularly enjoyed the national dish, poutine. In case you aren't aware, Canadians have to stay warm, and that involves eating frites with gravy, chese curds, and sometimes other goodies on top.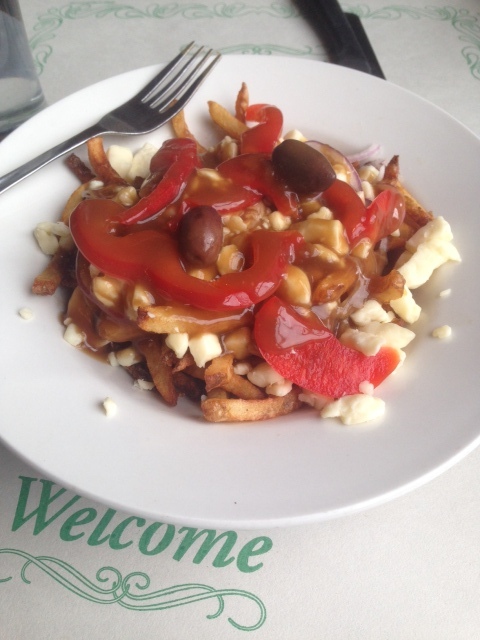 And for my last bit of food porn, we had Ethipoean food last night. Jesus, this was good. I love simple food, and Ethipoean gets a gold star for that. Having to tear up Injera and scoop up all your food with your mate is very intimate and a great way to share a meal with someone who is trying not ot be sloppy when they eat. Beacuse they can't not be sloppy.
I highly recommend eating as much as you can in Montreal. David Ochoa would approve of this message.
Montrealians are also awesome people. They're all super nice, friendly, helpful, and give great advice, which is mostly the opposite of what happens in New York City. And our AirBnB is comfortable, in a great neighborhood, and affordable. I recommend everyone use AirBnB, because the more great people that meet other great people spawns a better lifestyle, universe, etc.
I come back Wednesday night, and i'll jump right in to drafting Khans of Tarkir, which everyone has been incredibly and unexpectedly polarized on as a draft format.
After a ten-year lapse from Magic, where his favorite combo was Tradewind Rider with Stasis, Derek is back to learn the new-border variant of the game. While less frustrating cards have been printed, he now has to get used to planeswalkers, and people rolling dice when he resolves Hymn to Tourach. He qualified for the Junior Super Series in 1999 at Pro Tour New York, then used his collection to finance his college education. Years later, he works in the fashion industry as a stylist, consultant, and sometime-matchmaker for brands. He loves all things black leather, and is out to journal his level-ups with hopes of playing at the highest competitive level of the game. You can reach him at [email protected].